Column: Dynamic freshman duo again carry the Bruins to victory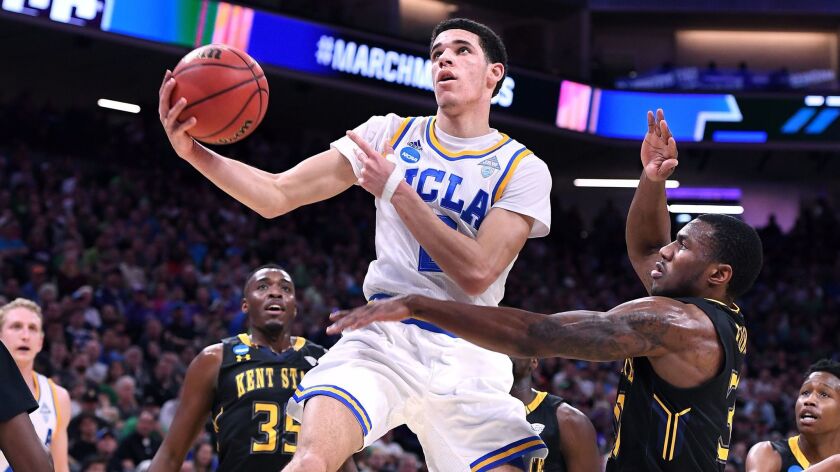 Reporting from Sacramento —
Lurking underneath all the talk of UCLA's teamwork and depth this season was a stark, tandem truth that nobody could deny.
That reality surfaced Friday night at Golden 1 Center in ways that caused Kent State to stand and stare dizzily as if suffering from severe blue-and-golden flashes.
UCLA is about Lonzo Ball and TJ Leaf.
Duh, right? Well, over the course of the previous 33 games, that fact has sometimes been lost amid oohing over the points, aahing over the improved defense, and the general buzz over the return of Bruin greatness to the college landscape.
Don't kid yourself. Don't forget how this was started, and how it will undoubtedly end, however it ends. UCLA was pulled into the NCAA tournament by its two gifted freshmen and it will go only as far in this tournament as the two 19-year-olds will take them, all plainly evident in their occasionally shaky 97-80 opening-round victory over Kent State.
At various times, various Bruins seemed rattled by this initial step into the madness. Not Ball. Not Leaf. Playing with the intensity of two guys beginning their last run as brief Bruins — both will surely go to the NBA next season as one-and-dones — they made certain that an occasional Kent rally didn't turn into a full-blown Princeton.
Next up, sixth-seeded Cincinnati on Sunday evening here in the second round. The Bearcats are good, but they don't have Ball, and they don't have Leaf, and they probably don't have a great chance.
"You've got two teams that are used to winning all year long, so obviously something has to give on Sunday," said Alford.
Here's guessing Ball and Leaf will not be among those who "give."
On Friday, Ball had a flying dunk, a couple of soaring three-pointers, a double-pump layup, and just enough where-did-that-come-from passes that he set the UCLA single-season assists record with his three assists.
"You've got to come out and play like it's your last game," Ball said.
Leaf, meanwhile, just scored and scored and scored, leading the Bruins with 23 points from all areas of the floor, most impressively dunks that were followed by roars.
"Each game could be your last, so we've got to leave it all out there," said Leaf.
The did it not only with a basketball, but bandages and bruises. Ball is playing with tape on his strained left thumb, and took a bad spill during the game that caused a bruised hip. Leaf missed time at the end of the regular season because of a sprained left ankle.
Yet there they were, carrying the Bruins to an early 16-2 lead, staving off the pesky Golden Flashes when they cut the margin to four points early in the second half, and then showing up afterward in a spot that seems built for them.
It is an NCAA tournament tradition that your best players take the stage for the postgame news conference, and, sure enough, Coach Steve Alford was joined by Ball and Leaf, and it wasn't a coincidence.
"We were sitting here 15-17 last year and now we're 30-4," said Alford. "These two guys had a lot to do with it."
Leaf is a coach's son — his father, Brad, was his high school coach — so his coolness under pressure is understandable. Far more amazing is the consistent calm deportment of Ball, whose off-court life has recently been a public whirlwind filled with controversy and worry.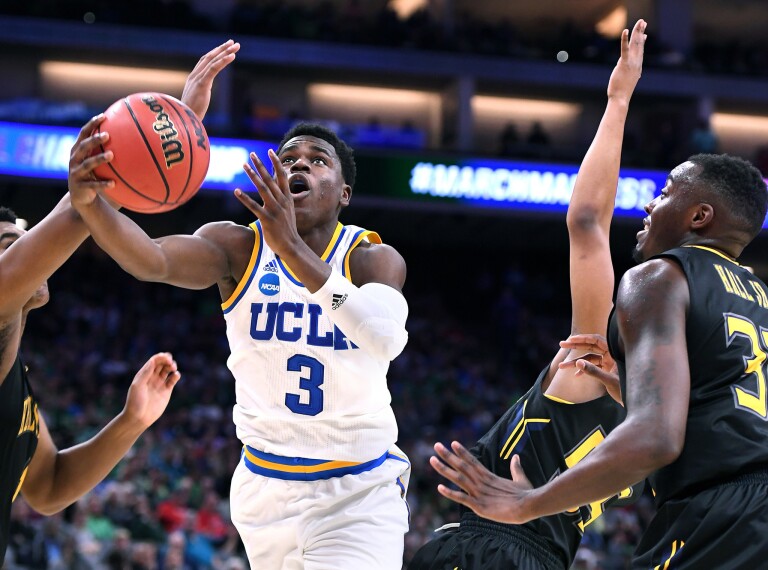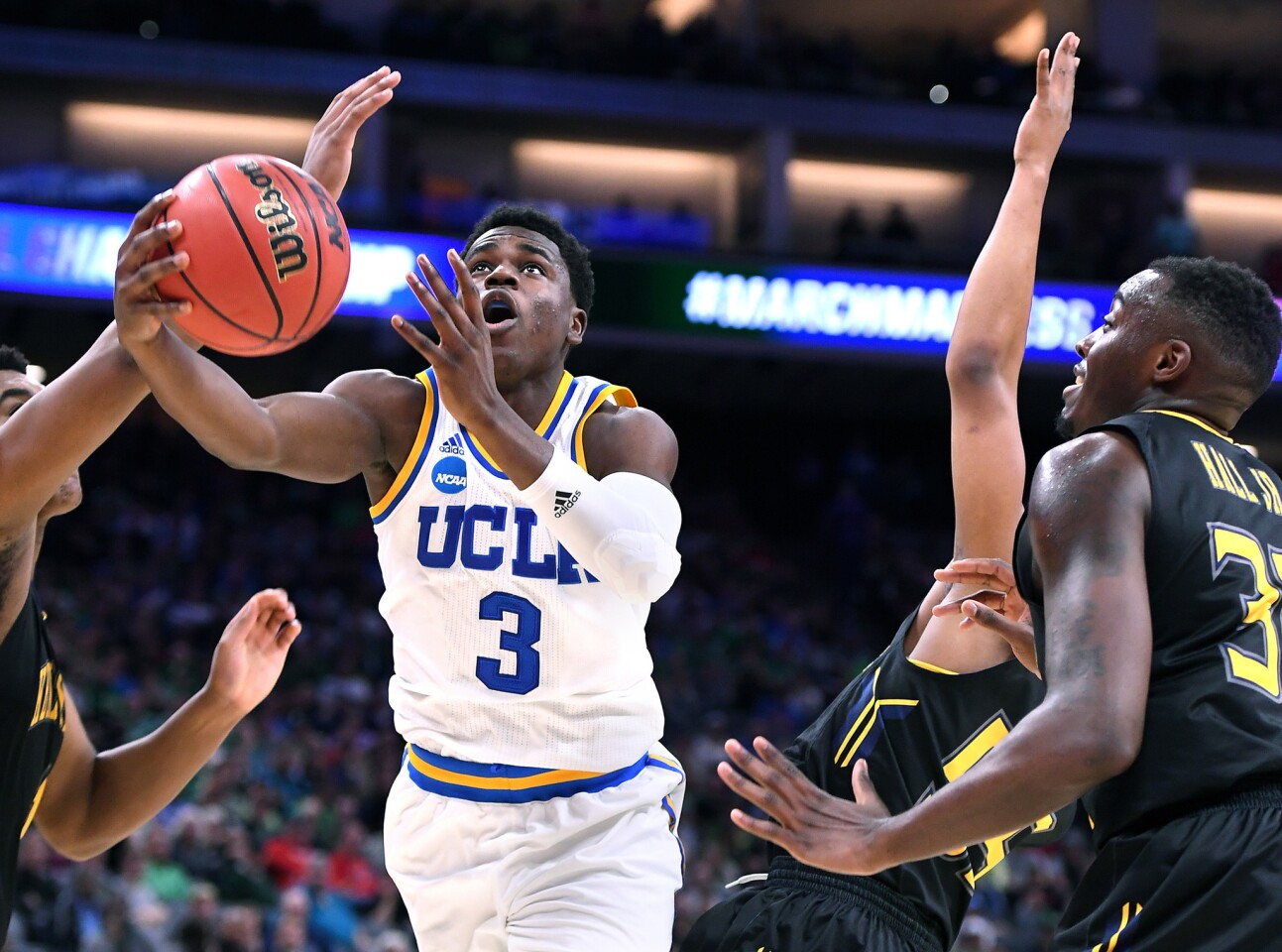 UCLA guard Aaron Holiday drives for a basket against Kent State during the second half.
(Wally Skalij / Los Angeles Times)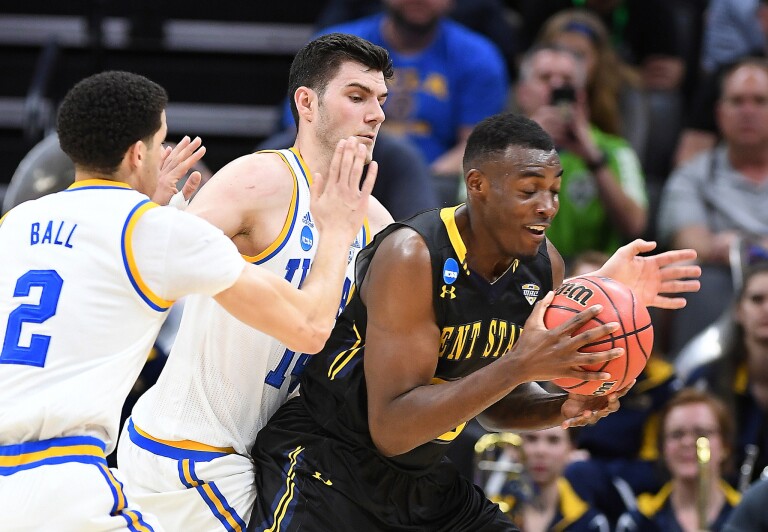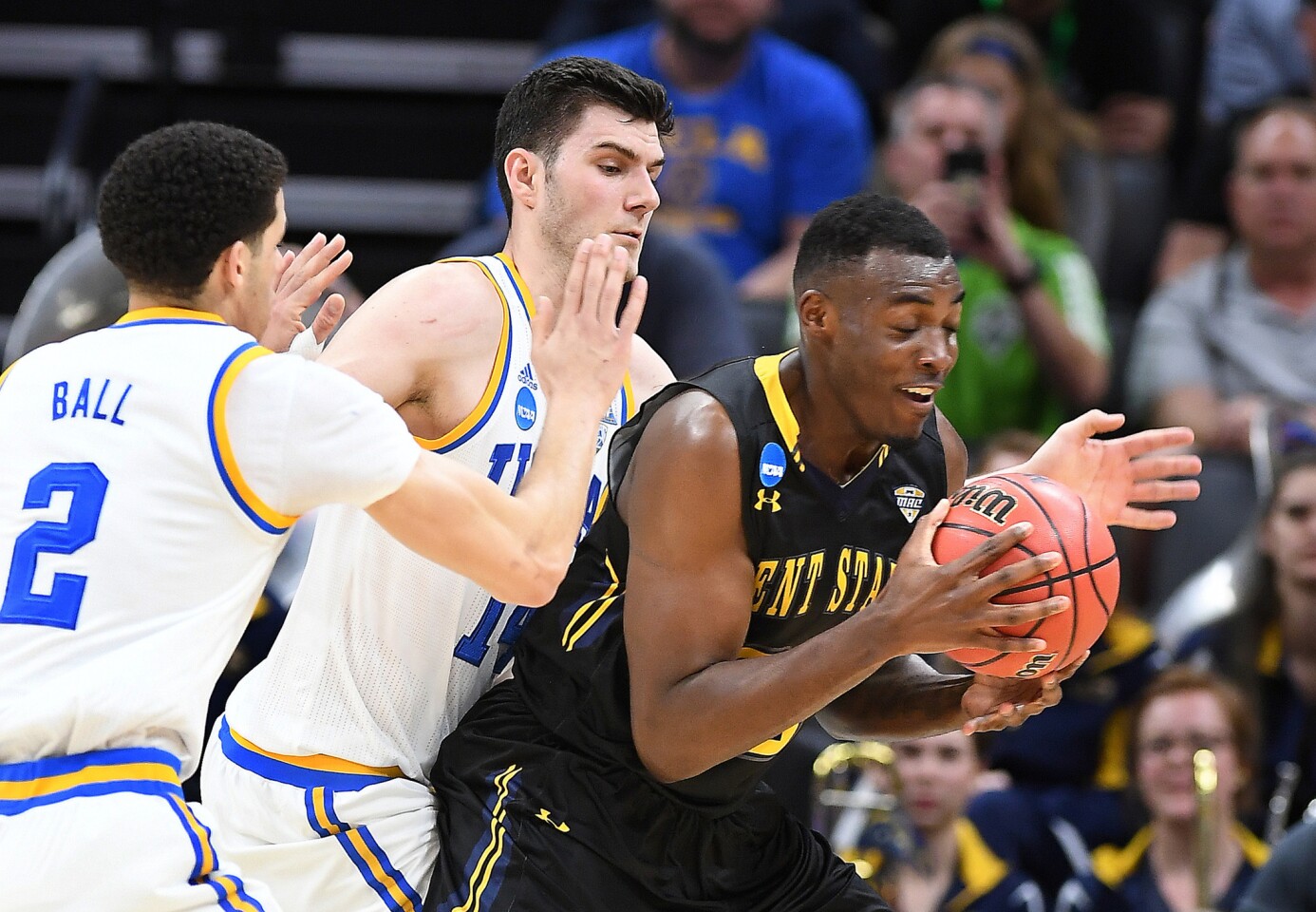 UCLA guard Lonzo Ball (2) and forward Gyorgy Goloman defend against Kent State forward Jimmy Hall during the second half.
(Wally Skalij / Los Angeles Times)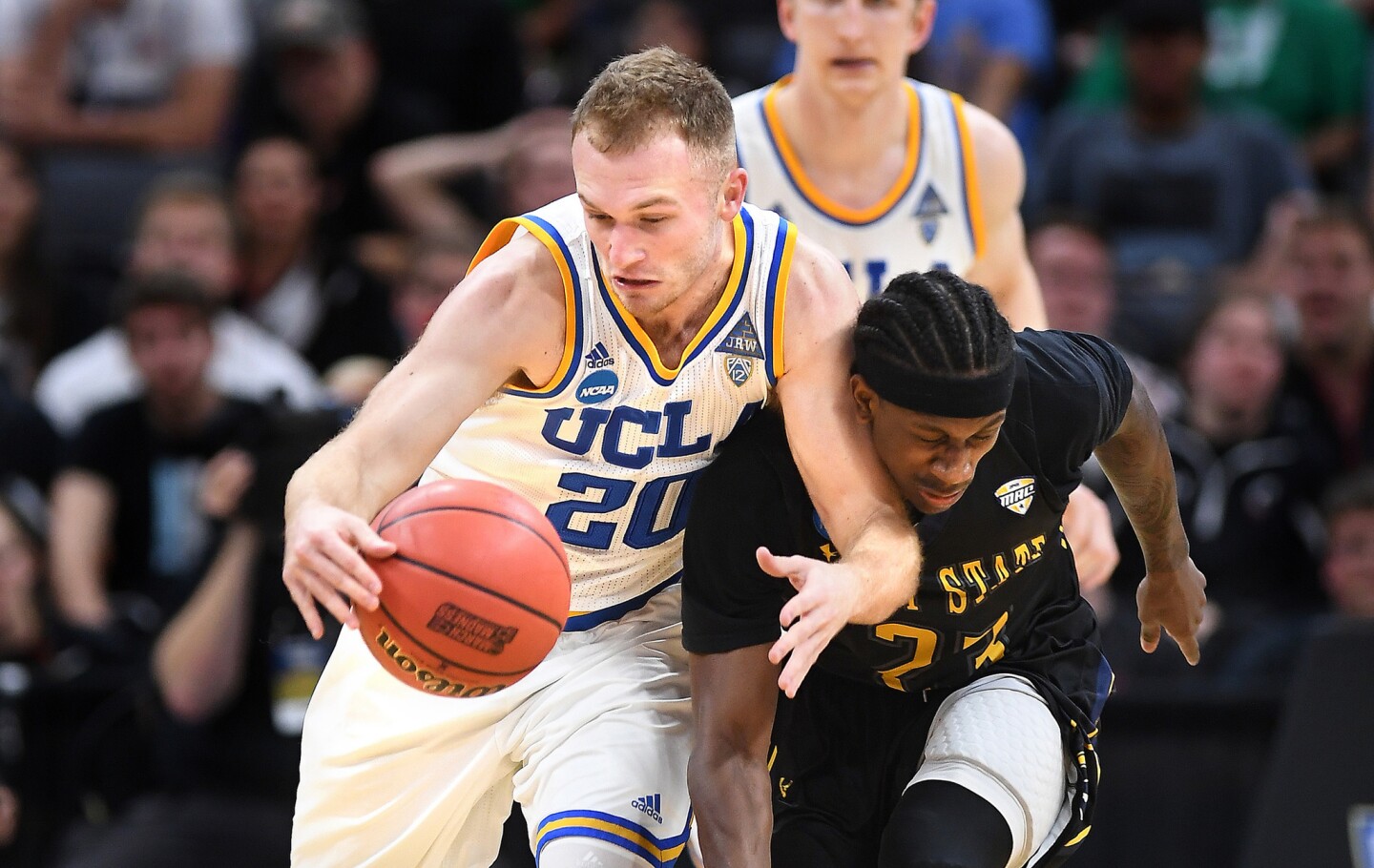 UCLA guard Bryce Alford steals the ball from Kent State guard Jaylin Walker during the second half of an NCAA tournament game on March 17.
(Wally Skalij / Los Angeles Times)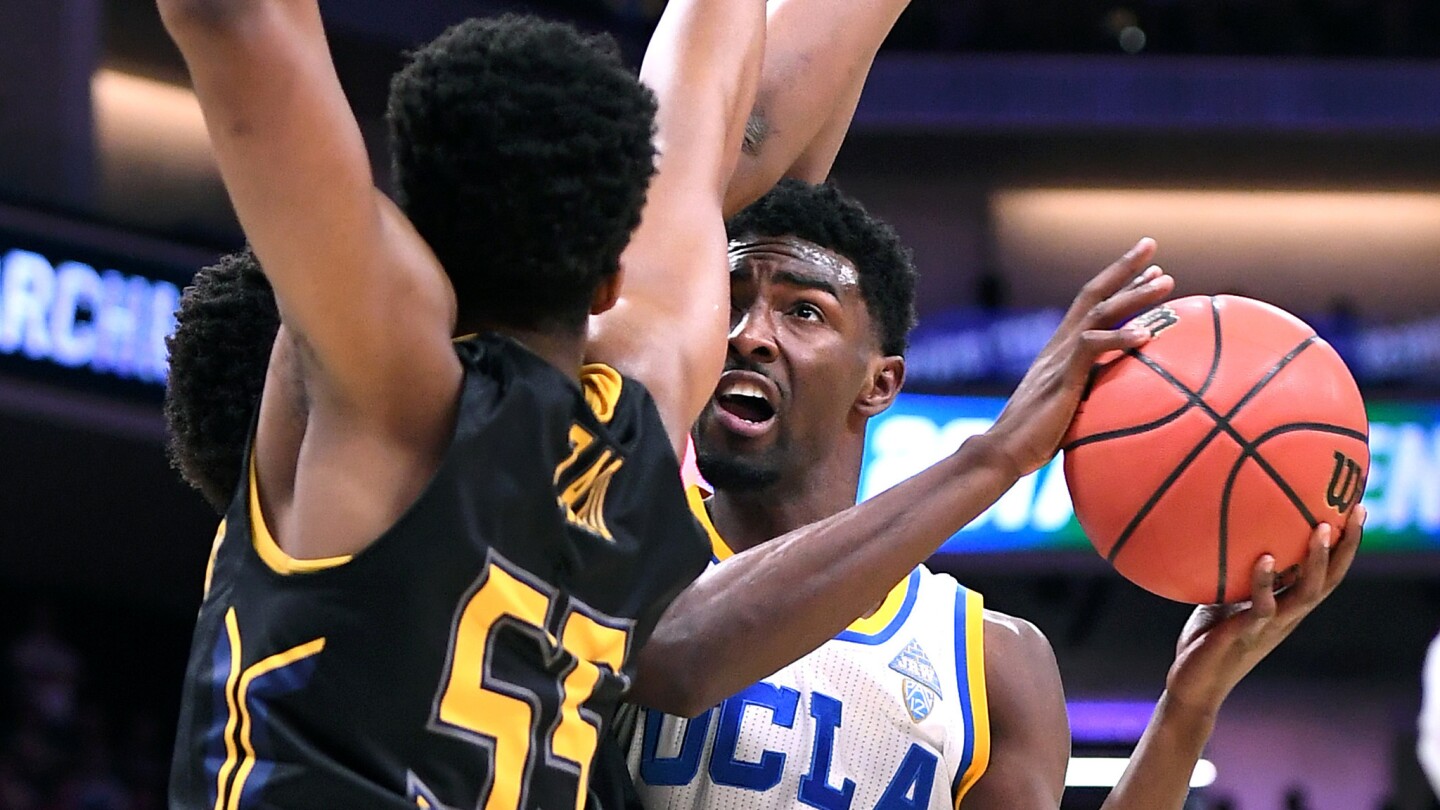 UCLA guard Isaac Hamilton drives to the basket for a score against Kent State.
(Wally Skalij / Los Angeles Times)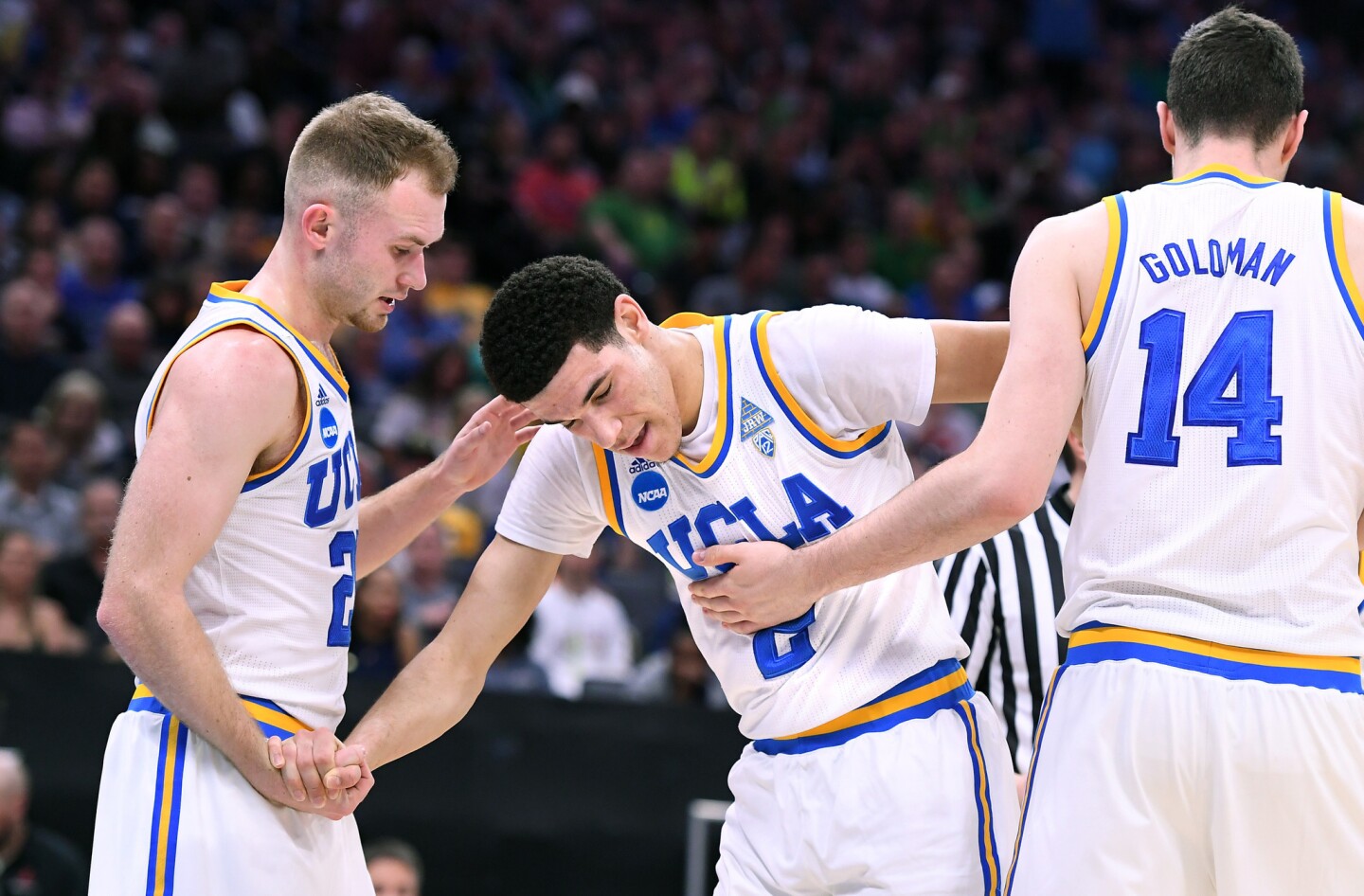 UCLA guard Lonzo Ball is helped to his feet by Bryce Alford, left, and Gyorgy Goloman after falling to the court after drawing a foul on an alley-oop pass during the first half.
(Wally Skalij / Los Angeles Times)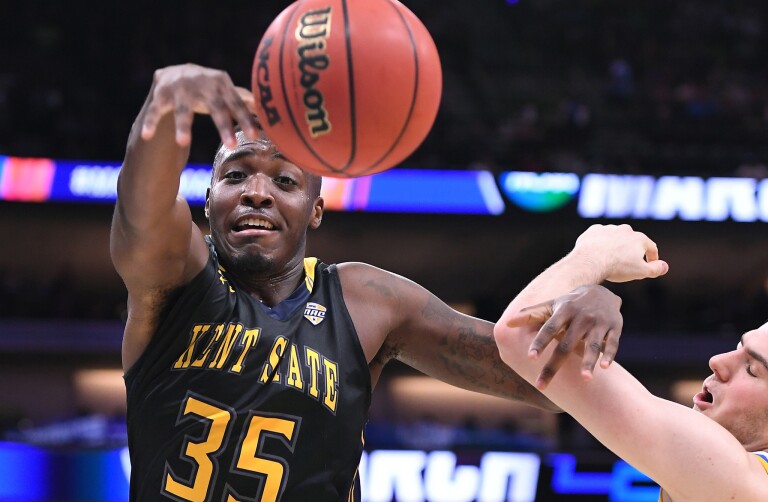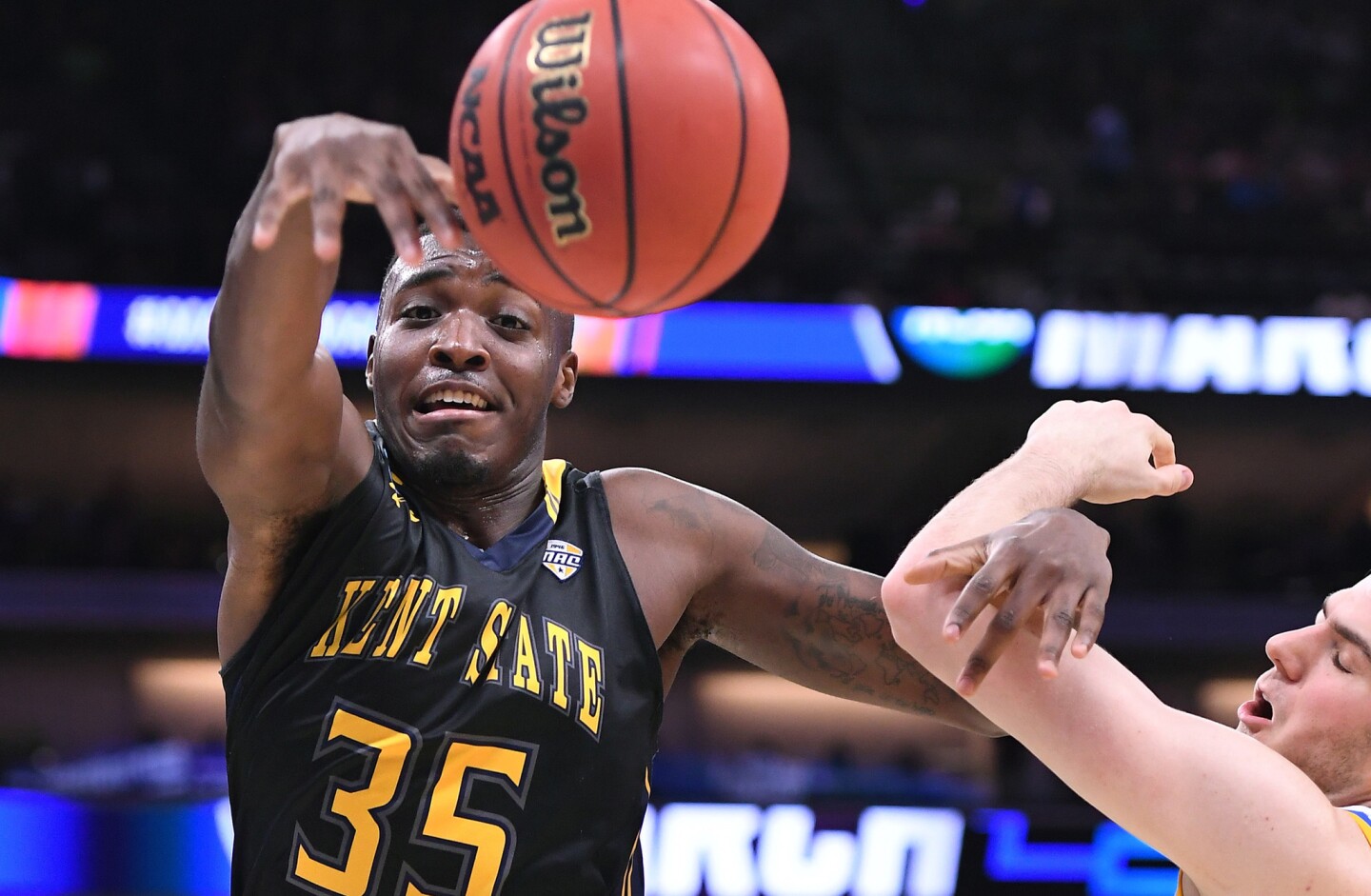 Kent State forward Jimmy Hall battles for a rebound with UCLA forward Gyorgy Goloman during the first half.
(Wally Skalij / Los Angeles Times)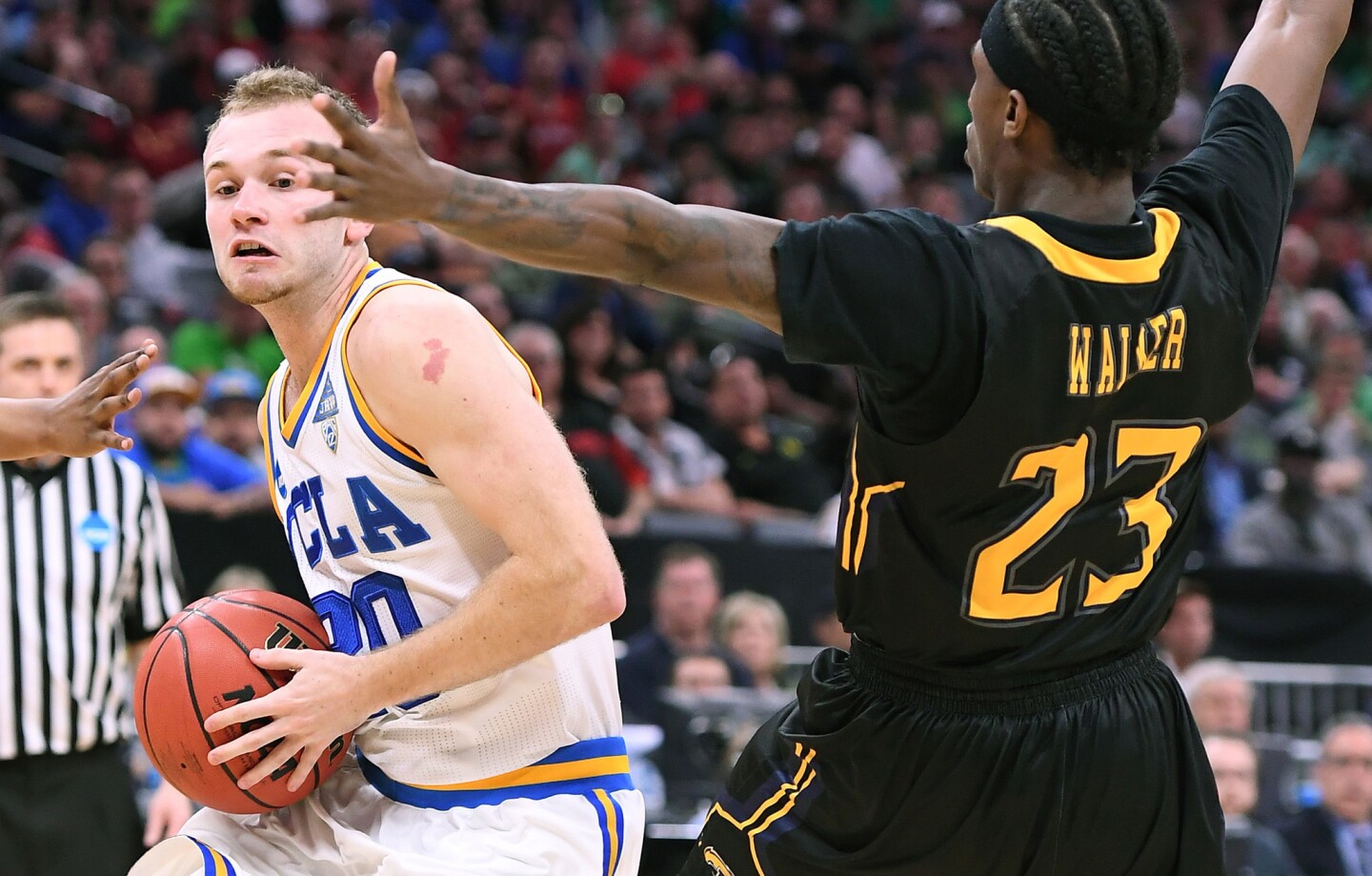 UCLA guard Bryce Alford drives to the basket against Kent State guard Jaylin Walker.
(Wally Skalij / Los Angeles Times)
UCLA guard Lonzo Ball powers his way to the basket for a score against Kent State's Kevin Zabo, who was called for a foul on the play during the first half.
(Thearon W. Henderson / Getty Images)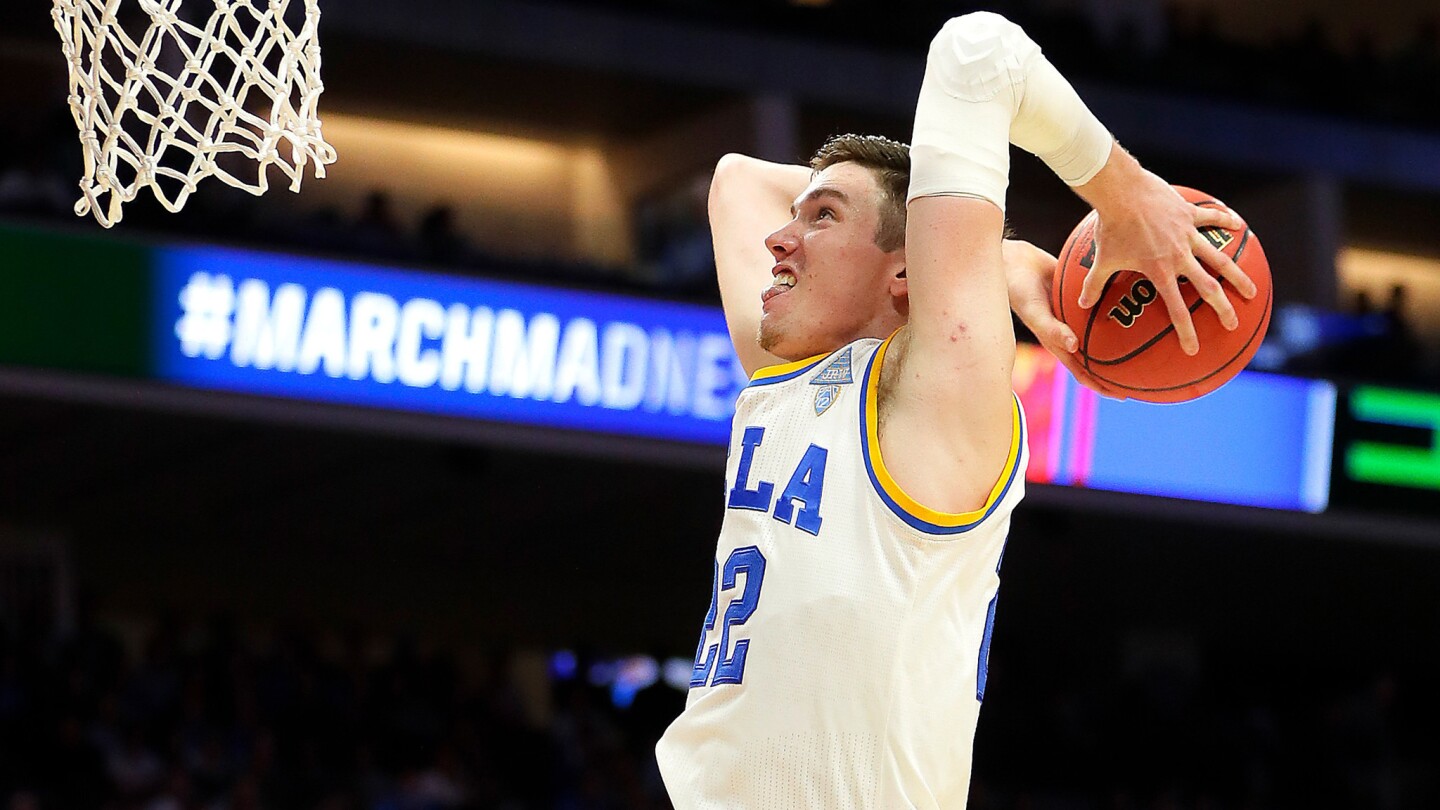 So Dwight Howard is going to start shooting 3-pointers? Um, yeah, no. But if the Hawks do want to stretch the floor, then a move toward Leaf to open the lane for Howard makes sense, especially if Paul Millsap moves on in free agency.
(Jamie Squire / Getty Images)
Ball has spent all season dealing with the constant public chatter from his father, LaVar, who in recent days has gone from promoting his children to promoting himself with outlandish statements that have made his son a target for jeers.
"He's been like that my whole life, so it's nothing new to me," said Lonzo Ball to the media here Thursday. "You guys just got a camera in front of his face now so you're all seeing it for the first time."
Then, before Friday's game, a story appeared on the website "Armchair All-Americans" that claimed Tina Ball, Lonzo's mother, suffered a stroke on Feb. 21. Until the publication, it was a well-known secret that the family had neither confirmed nor denied.
"I got no comment on that, man," Ball said when asked about the report. "It's a family thing."
When asked Friday about Ball's handling of all this pressure, Alford shook his head.
"I'm proud of him," Alford said. "Obviously there is a lot of pressure on him. He's got a huge following, so to perform at a high level all the time, that's not easy."
Echoing the motto espoused by LaVar, Alford added, "That's what he's built for. He's built for pressure. He's built to excel in the toughest environments and the toughest opportunities. He's done that time and again."
He does it not with sheer numbers, but with constant inspiration, directing the Bruins all over the court in two hours of unselfish leadership.
"He understands how to orchestrate our team," said Alford.
Ball often waves the baton toward Leaf, who made Friday's outcome official with a thunderous dunk to give the Bruins a 17-point lead with 5:20 remaining.
"I think for two freshmen these guys have been built this way," said Alford. "They get it. They understand it. They played awfully well tonight, and we're going to need 'em to play well on Sunday."
And the next game. And the next game. And the next game….
Get more of Bill Plaschke's work and follow him on Twitter @BillPlaschke
ALSO
UCLA teammates see two sides of freshman guard Lonzo Ball
LaVar Ball's royal vision: He sees his son Lonzo in Lakers purple and gold
Column: Chino Hills tops 100 points again in Lonzo Ball's final home game
---
Get our high school sports newsletter
Prep Rally is devoted to the SoCal high school sports experience, bringing you scores, stories and a behind-the-scenes look at what makes prep sports so popular.
You may occasionally receive promotional content from the Los Angeles Times.