Column: A freshman quarterback starting at USC? How the Trojans have come to rely on the potential of JT Daniels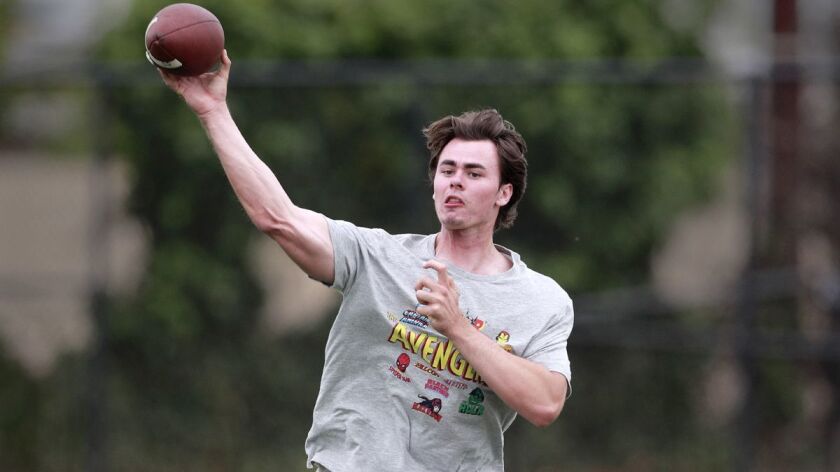 The anticipation is understandable. Los Angeles is a city of stars and USC might have the next one, a potential once-in-a-generation quarterback who could be starting as a freshman in the fall.
The possibility speaks to the promise of JT Daniels, whom recruiting experts describe in the most superlative of terms.
Strong armed. Mobile. Intelligent. Instinctive.
Daniels also is 18 years old.
In the history of USC football, the Trojans have started a true freshman quarterback in only 18 games, 12 of them by Matt Barkley in 2009.
In the history of college football, only two freshman quarterbacks have led their teams to national championships. And Daniels is barely even that, as he completed high school in only three years.
USC is the school of Carson Palmer and Sam Darnold. However gifted Daniels might be, he shouldn't be in a position in which the Trojans have to count on him.
Except that very well could be the case.
The two quarterbacks with whom Daniels will compete for the starting position, redshirt sophomore Matt Fink and redshirt freshman Jack Sears, didn't do enough to separate themselves from one another in spring practice.
How did this happen?
The simplest explanation is that Max Browne never became the player he was expected to become. A former national high school player of the year, Browne waited three years for his opportunity to become USC's starting quarterback, only to be replaced by Darnold four games into the 2016 season.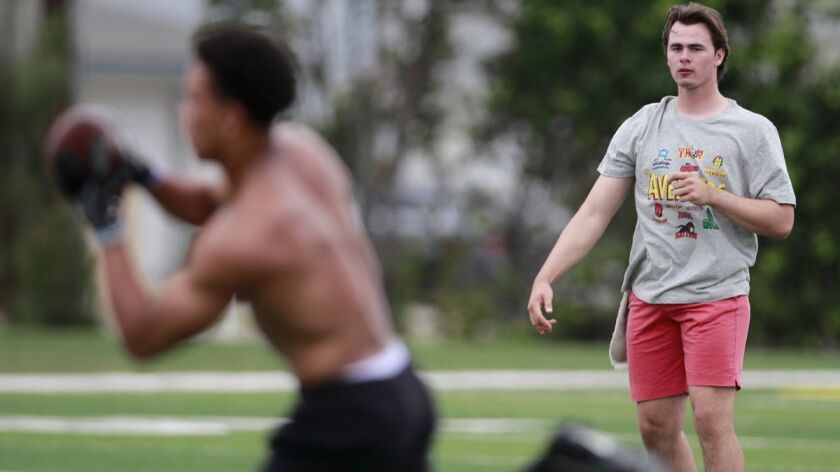 Browne's failure created the opening necessary for Darnold's meteoric ascent. If Browne had succeeded, Darnold would have spent the last two years as his backup, meaning the upcoming fall would have been Darnold's first as a starting quarterback.
Still, a program of USC's caliber should have more secure stopgap options in place in case Daniels isn't ready.
"That can be pointed back to the 2016 recruiting class," said recruiting analyst Gerard Martinez of USCFootball.com.
The recruiting class before that included both Darnold and the more highly-touted Ricky Town, who transferred to Arkansas after the first couple of weeks of his first training camp.
The Trojans followed up by pursuing two of the top quarterbacks of the 2016 high school class: five-star recruit Shea Patterson and K.J. Costello of Santa Margarita High.
Patterson chose Ole Miss, where his older brother was hired as an associate director of recruiting operations. Costello went to Stanford.
Patterson started for Ole Miss last year, after which NCAA sanctions against the school were expanded. He transferred to Michigan. Costello redshirted as a freshman but finished his sophomore season as Stanford's starter.
USC, which also offered a scholarship to highly regarded future Florida State flameout Malik Henry, settled for Fink.
The Trojans recovered nicely in their next recruiting class by landing Sears, a well-regarded, pro-style passer from the same San Clemente High program that produced Darnold. Sears redshirted last season and is yet to throw a pass in college.
USC's predicament isn't entirely surprising.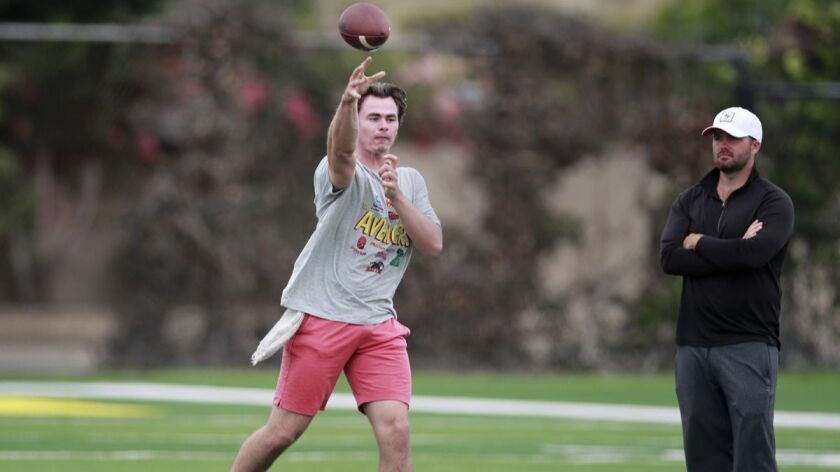 "We live in a day and age in which kids don't want to wait," said Greg Biggins, a national recruiting analyst for 247Sports. "A lot of guys are more confident in their abilities."
Many top prep quarterbacks have personal coaches and have repeated a year in school so they could be more physically mature in high school. Daniels repeated the eighth grade.
As someone intimately familiar with the high school football landscape, the Huntington Beach-based Biggins said it's not uncommon for him to receive inquiries from the parents of middle school quarterbacks about which high schools have vacancies at the position.
So if a university successfully recruits a five-star quarterback, the possibility of landing another in the near future decreases significantly.
Georgia is an exception. The consensus No. 1 quarterback of the 2016 high school class, Jacob Eason, picked the Bulldogs. Eason started as a freshman, but that didn't scare away five-star Jake Fromm of the 2017 class. When Eason injured his knee in Georgia's season opener last year, Fromm became the starter and led the Bulldogs to the national championship game. Eason has transferred to Washington, but Fromm could remain the team's starter for three more seasons. Somehow, the Bulldogs have another five-star quarterback joining them in Justin Fields.
USC's track record of developing quarterbacks could turn the Los Angeles campus into such a destination. Counting his time as USC's quarterbacks coach, offensive coordinator and head coach, Clay Helton has sent three starting quarterbacks to the NFL. The first was Barkley.
"Cody Kessler going in the third round [in 2016] helps USC," Martinez said. "That's a notch for Clay Helton. Now, you have Sam Darnold."
But while Daniels reclassifying to the 2018 recruiting class addresses USC's immediate problem created by Darnold's early entry to the NFL, it could create other issues down the road.
"It put USC behind in recruiting that position in the 2019 class," Martinez said.
If Daniels starts this fall, the Trojans could have a shortage of quarterback depth as early as the 2019 season, as Fink and Sears could transfer.
And if Daniels departs after three seasons?
USC could have to sign the next JT Daniels.
Follow Dylan Hernandez on Twitter @dylanohernandez
---
Get our high school sports newsletter
Prep Rally is devoted to the SoCal high school sports experience, bringing you scores, stories and a behind-the-scenes look at what makes prep sports so popular.
You may occasionally receive promotional content from the Los Angeles Times.