Zion Williamson is insured but could still lose millions if draft stock falls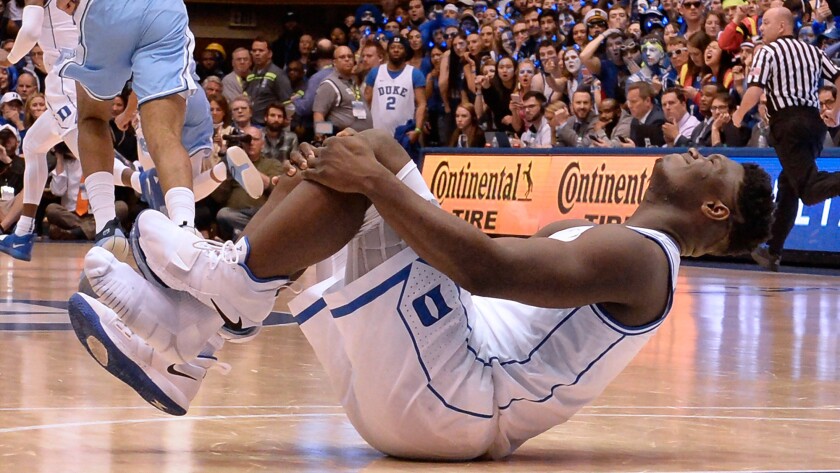 Duke basketball star Zion Williamson has an insurance policy that will pay him $8 million if an injury causes him to drop past the No. 16 pick in the NBA draft, according to the Action Network's Darren Rovell.
That could be significant right now because Williamson hurt his right knee during top-ranked Duke's 88-72 loss to No. 8 North Carolina on Wednesday night. After the game, Blue Devils coach Mike Krzyzewski characterized the injury as a mild sprain and said Williamson's knee is stable.
It is unknown how much time the freshman player, who has been projected by many as the No. 1 pick in this summer's NBA draft, will miss. Even before the injury, some people, including Hall of Famer Scottie Pippen, were calling for Williamson to sit out the rest of the season to avoid putting his draft status at risk by getting hurt.
The rivalry game between between Duke and North Carolina made some people a lot of money, with folks paying Super Bowl prices for tickets on the secondary market. Of course, Williamson and all the athletes who played in the game won't see a dime of that since college players aren't paid.
For Williamson and others, the big payday was going to come on draft day. Duke paid for Williamson's loss-of-value policy, according to Rovell, in case an injury causes his draft stock to fall. But will $8 million even cover such a loss in value?
NBA rookie contracts are based on a pay scale determined by where the player is selected. The players and teams are allowed to negotiate from up to 20% above or below that amount. For rookies in the 2019-20 season, the scale amount for the No. 1 overall pick is $8.05 million, meaning he could negotiate a contract anywhere from $6.44 million to $9.66 million.
The scale amount for the No. 17 pick this year is $2.45 million, which would result in a contract between $1.96 million and $2.93 million for that player. So if Williamson falls to No. 17, his potential first-year earnings would have dropped by as much as $7.7 million.
Sign up for our daily sports newsletter »
The insurance policy covers that amount, but there are other things to consider. What if he drops far lower than that or out of the draft altogether? What about shoe deals or other endorsement opportunities he could miss?
Or what if his value drops, but not enough for the policy to kick in? The scale amount for the No. 16 pick this year is $2.57 million, meaning that player will be making a minimum of $2.06 million. That's a potential drop of $7.6 million in first-year salary, with no insurance money to make up the difference.
Of course, the injury he suffered Wednesday night is unlikely to cause any of this to happen. But it is certainly enough to amp up the debate over whether top NBA prospects like Williamson should be playing for free in the NCAA at all.
Twitter: @chewkiii
---
Get the latest on L.A.'s teams in the daily Sports Report newsletter.
You may occasionally receive promotional content from the Los Angeles Times.