Column: Game? All talk about Anthony Davis, Lakers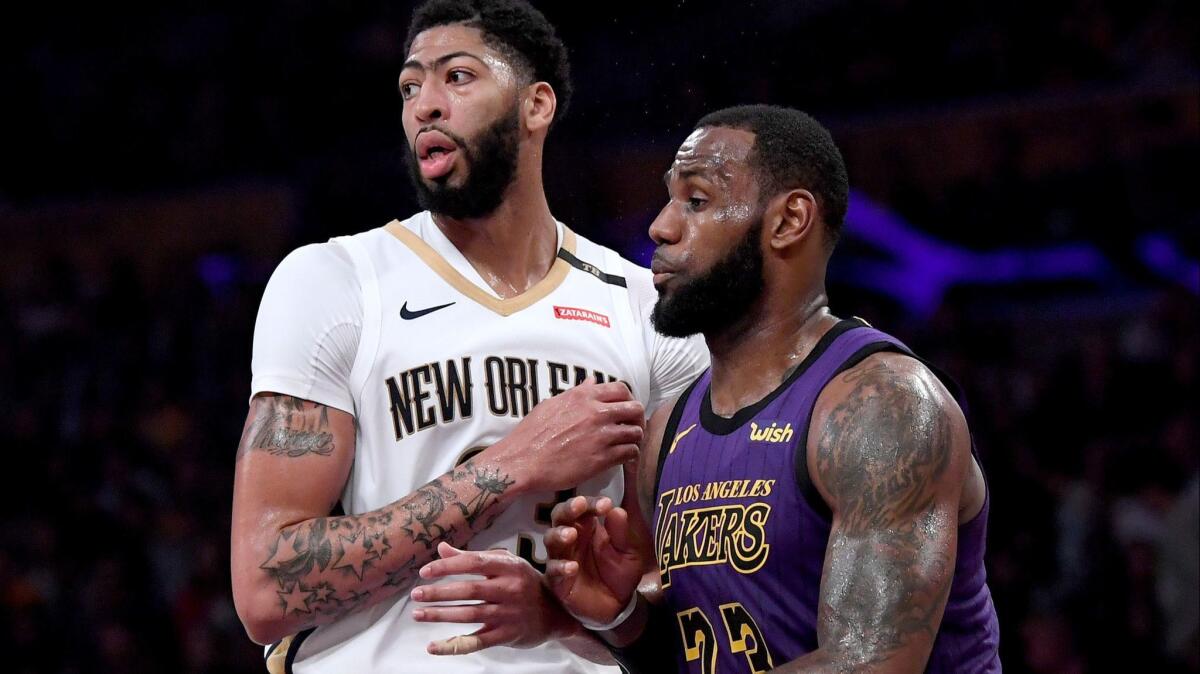 Maybe this will result in something.
Or maybe Anthony Davis will be another Paul George or Kawhi Leonard, a once-prospective Laker who ended up somewhere else.
There's nothing wrong with speculating about Davis' future. He's a great player and the Lakers need another great player to pair with LeBron James. His contract makes it possible for that to happen in the not-too-distant future.
It's certainly worth pondering.
But to this degree?
As the Lakers downed the New Orleans Pelicans on Friday night at Staples Center, 112-104, another game was being played simultaneously.
And everyone knew.
Which explains why Davis received a warm welcome at Staples Center when he was introduced as one of the Pelicans starters. As well as why, when Davis prepared to take his first free throw of the game midway through the opening quarter, some fans behind the basket chanted, "We want Da-vis!"
This was about tomorrow.
That gossip could overshadow the game itself — a game in which James had 14 assists in a triple-double — is the NBA's greatest strength. It's also the league's the greatest weakness.
This is what the league has become like in the era of the super teams, the few genuine contenders playing for today and everyone else dreaming about a better future.
The so-called hot stove served to promote baseball in the sport's offseason. Basketball's hot stove never turns off. It's roaring year-round.
The personalities have become as important as the games. The future has become as important as the present.
In what other sport could a player joke that the moon landing was faked — as Stephen Curry recently did — and that become part of the news cycle for multiple days?
This is like unscripted wrestling.
The fact the Lakers are generating more excitement over their possible 2019-20 lineup than they are about their current form speaks to where they are as an organization. James has made them respectable again. But this city is demanding more.
So the same fans who spent the last couple of seasons wondering what James would look like in a Lakers uniform are now imaging who could play alongside him.
By this point, the players know how to play to the cameras, how to feed the beast, so to speak.
No one does that as well as James, who has been in the national spotlight since he was in high school.
He started the latest storm by answering a question this week about what it would be like if the Lakers acquired Davis in a trade.
"That would be amazing," James told ESPN. "That would be amazing, like, duh. That would be incredible."
Predictably, the words were examined and reexamined from every possible direction. You would have thought Davis would be traded to the Lakers by tip-off.
Pelicans coach Alvin Gentry was understandably irked and on the morning of the game, he decided to make headlines of his own.
At his team's morning shootaround, the affable Gentry started speaking to the media before he was prompted to do so.
"No, we're not trading him," Gentry said. "We're not trading him under any circumstance. You can move on from that one."
Except, of course, no one did.
Gentry was asked if he considered James' statement about his player to be tampering.
"Yes, it is," he said. "Why would it not be?"
The league disagreed.
"Each case is assessed on its own facts," league spokesman Tim Frank wrote in an e-mail to Tania Ganguli of The Times. "In general, absent evidence of team coordination or other aggravating factors, it is not tampering when a player makes a comment about his interest in playing with another team's player."
Gentry wasn't persuaded.
"What else are they going to say?" he said. "If an executive said it, would it be tampering? … It's tampering, OK?"
Davis wasn't at the shootaround to comment. He was in his hotel room sick, but he recovered enough by game time to score 30 points and have 20 rebounds.
In his pregame address, Gentry made light of the situation.
Asked about Rajon Rondo's return to the Lakers bench, Gentry joked, "I can't talk about him. He's under contract."
When the laughter around him subsided, he said with a smile, "I had to use that."
The coach then walked back some of his earlier comments on James.
"I need to say this, too, though," Gentry said. "We keep talking, 'LeBron James, LeBron James, LeBron James.' He was asked a question and he answered it.
"If he doesn't answer it, then you guys talk about him not answering it. And he answers it, now everybody says he's tampering, so I think it puts you in a bad situation."
And this is how an otherwise ho-hum December game became a showstopper. You could imagine Don King somewhere waving his miniature American flags in approval.
In the coming days, more words will be written and spoken about Davis' future. They will explain again why Davis is unlikely to be traded this year, how the Pelicans won't deal him unless he rejects their offer of a maximum contract, how the Lakers have an incentive to make a deal now because league rules prevent the better-stocked Boston Celtics from trading for him before the end of the season.
Davis' postgame reaction to James' comments figure to be examined: "If anybody in the league says they want to play with any guy, I think that's a pretty cool deal. But like I said before, I love New Orleans, I love the city and the fans, the atmosphere, the guys I play with. My job is to focus on winning. That's it. Nothing else."
All things Lakers, all the time.
Get all the Lakers news you need in Dan Woike's weekly newsletter.
You may occasionally receive promotional content from the Los Angeles Times.