Rajon Rondo says LeBron James can take this Lakers team to the NBA Finals, too
Rajon Rondo made a few references to winning a championship with the Lakers before being asked outright about the idea. Does he think this Lakers team, with LeBron James, a group of young players and tough-minded veterans on one-year deals, can win a championship?
Rondo didn't balk at the question.
"You put any team, any group of players around LeBron James, as he has done [eight] straight times, he goes to the Finals," Rondo said Friday on a conference call. "My expectations are the exact same thing. Even with the Warriors adding [DeMarcus Cousins] and the Rockets being who they are, I think we fit right up there in the mix. It's early, obviously, and I'm not promising anything, but at the end of the day, I expect to win. Nothing else."
The Lakers signed Rondo on Friday, the first day of the offseason that NBA contracts could be finalized, to a one-year, $9-million deal, according to sources not authorized to speak publicly. They also re-signed guard Kentavious Caldwell-Pope, who started 74 games last season on a one-year deal, to another one-year deal worth $12 million, sources said.
The Lakers' draft day trade with Philadelphia also became official. The Lakers traded a 2019 second-round pick and cash to the 76ers for the 39th pick, guard Isaac Bonga. The 6-foot-9 German signed his contract before flying to Las Vegas on Friday afternoon to join the rest of the Lakers' summer league team.
The Lakers have yet to make official their agreed-upon deals with James and swingman Lance Stephenson.
Rondo, averaged 8.3 points and 8.2 assists last season and started 63 games, said the Lakers called right after midnight on July 1.
"I don't think you have to pitch much to come play with LeBron James and [Kyle] Kuzma and Brandon Ingram; [they have] talent," Rondo said. "I'm excited to be a part of this team."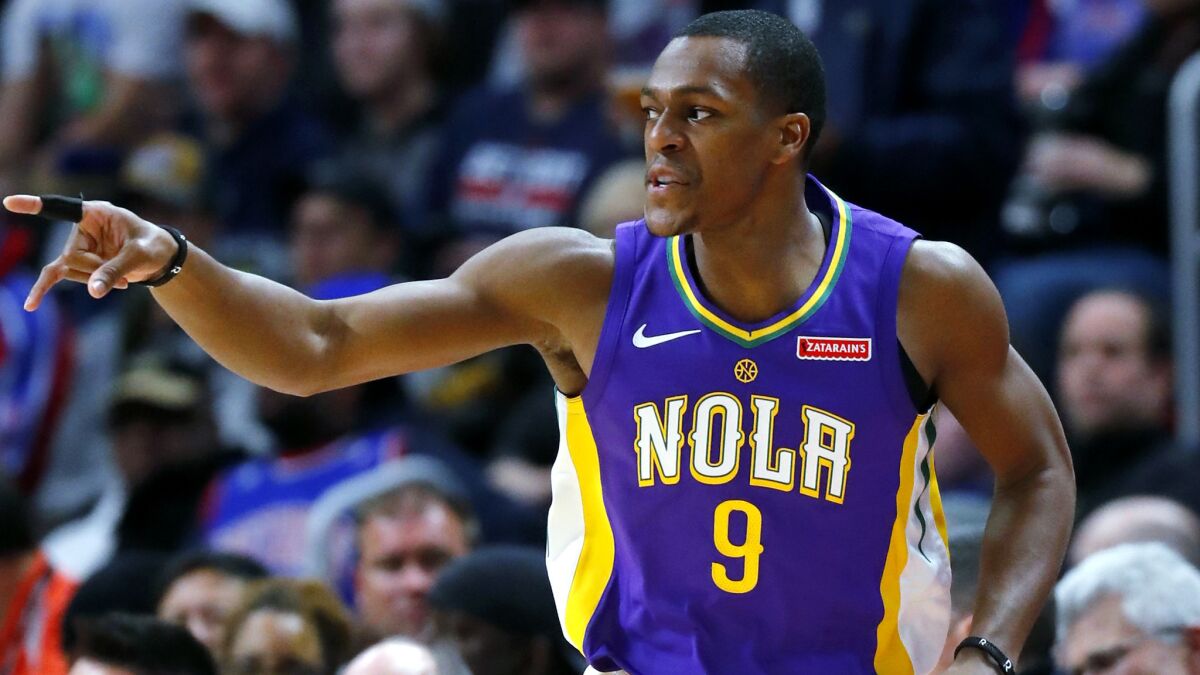 That July 1 chat renewed a conversation that began last year during free agency when the Lakers considered signing Rondo. He opted for a one-year deal with New Orleans and helped the Pelicans win 48 games and reach the playoffs.
Rondo is familiar with what it takes to win a championship, having won one with Boston in 2008 as the Celtics' point guard, at the expense of the Lakers. Two years later the Lakers beat his Celtics in the Finals.
As the years passed, Rondo developed a relationship with the most significant Laker on those teams — Kobe Bryant.
"Kobe's obviously still around the organization and I look forward to talking with him and picking his brain as well," Rondo said. "It's [going] to be exciting to be around a bunch of legends and guys with so much knowledge and hopefully I'll be able to soak a lot of it from Magic and Kobe and also especially LeBron."
Rondo spent eight seasons with Boston before bouncing around to Dallas, Sacramento and Chicago. In recent years, with aspirations of being a coach, he turned his focus toward mentoring younger players.
The Lakers told Rondo he would have a chance to compete with Lonzo Ball for the starting point guard job, sources said. Rondo insisted Friday he wasn't "caught up" in who would be starting.
"I've done a pretty good job in the last couple seasons, as far as just kind of going into that mentoring stage in my career and helping young guys develop, not necessarily on the court but also even more so off the court," Rondo said.
"How to become a young man, how to conduct business off the court, not necessarily as far as a father figure but also just a guy that's been through a lot of things they're going to go through."
Follow Tania Ganguli on Twitter @taniaganguli
---
All things Lakers, all the time.
Get all the Lakers news you need in Dan Woike's weekly newsletter.
You may occasionally receive promotional content from the Los Angeles Times.