LaVar Ball says Lakers are going too 'soft' on his son Lonzo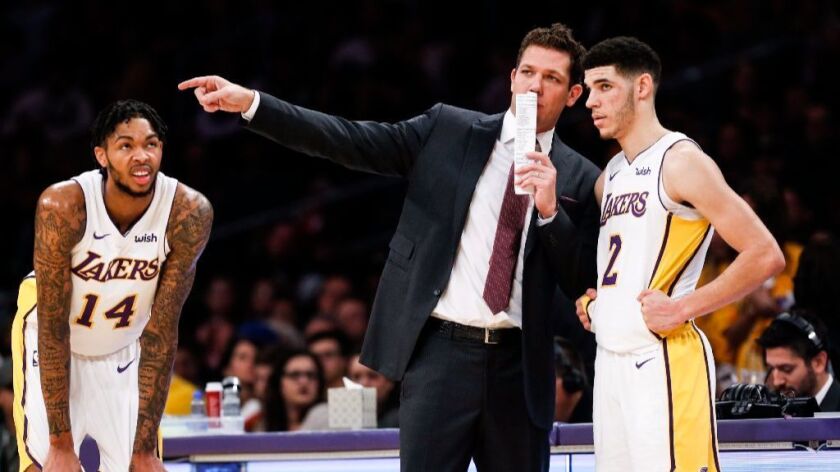 Another day, another LaVar Ball eruption.
In online comments published Tuesday, the outspoken father of Lakers rookie Lonzo Ball said the team's coaches are "messing around" and "soft" on his son.
"They're soft," the elder Ball told bleacherreport.com. "They don't know how to coach my son. I know how to coach him. I tell him to go get the victory. Stop messing around."
Although he logged two triple-doubles in the first month of the season, Lonzo Ball is under intense scrutiny for his terrible shooting. Heading into Tuesday night's game against Chicago, Ball was shooting 31.3% from the field and 22.8% from three-point range.
His father said winning is the objective, not gaudy numbers.
"Go get the W," he told the website. "Do whatever it takes. That's why I'm down here saying, `Rebound.' He's been away from me too long. I see tendencies in his game – they're trying to baby him a little bit."
Coach Luke Walton declined to specifically address LaVar Ball's comments, but he complimented his parenting in general.
"I will say this, I think he's done a phenomenal job as a father with Lonzo, because Lonzo is a special young man — he's selfless, he's unselfish, his teammates love him, he cares about them, he plays the game the right way," Walton said.
"But we're not concerned with what parents think of how we're coaching the team. We're concerned with the team and what's best for our team, and how we can continue to get better."
Rebounding niche
Ball still needs to prove he can bounce back from bad games. But he sure knows how to rebound.
Ball had his second triple-double Sunday against Denver, pulling down 16 boards in the 127-109 victory. That's the most rebounds by any rookie this season, and the most by a rookie guard since Steve Francis had 17 for Houston in 2000.
"I try to focus on rebounding for most of the game, just because I know I can go up there and get it," Ball told reporters this week. "Coaches tell me, 'Go get the rebound,' so that's what I try to do. If my shot's not falling, it's just another category I can fill up."
He said he's been paying special attention to that part of his game since he was a kid.
"I was kind of forced to rebound at a young age," he said, "because I was usually at the back of a 2-3 zone because my brothers were smaller than me, so I usually got most of the rebounds."
Walton said the coaching staff has given Ball the green light to crash the glass, as long as he gets back in transition when he needs to.
"His ability to rebound comes from, one, his desire to win because he's relentless there, and two, from his ability to anticipate where balls are going," Walton said. "There's even sometimes you'll see him where he knows he won't be able to get to the rebound, so he'll position himself to be able to strip somebody when they're coming down with the rebound. He just has a great feel for where he needs to be on the court."
Healing hand
Walton said he's targeting Monday for the return of forward Larry Nance Jr., who is ahead of schedule for his recovery from a broken bone in his hand. He might have come back earlier, but he had a wisdom tooth removed this week.
"He was going to get some practice time in with the G-league team, but because of this wisdom tooth thing I don't know if that's going to happen," Walton said. "But we have plenty of time now to get him back and get him going again. As long as there's no setbacks, he should be back soon."
On the Markk
The Chicago Bulls are getting impressive production out of rookie Lauri Markkanen, a 7-foot forward with a deft touch from beyond the three-point arc. The No. 7 overall pick is averaging 2.6 three-pointers per game, by far the most among rookies. That's in keeping with what he did in his lone year at Arizona, when he was the only player in the Pac-12 Conference to rank in the top 12 in scoring, rebounding, free-throw percentage and three-point percentage.
"He's really good," said Walton, a fellow Arizona alumnus. "One, he's obviously an intelligent player because he went to U of A, so he makes good decisions. But it's impressive for a rookie to be able to put up numbers like he's putting up right now. The NBA three normally takes a little bit of time to get used to, and he's shooting that thing pretty well and consistent right now."
Follow Sam Farmer on Twitter @LATimesfarmer
---
All things Lakers, all the time.
Get all the Lakers news you need in Dan Woike's weekly newsletter.
You may occasionally receive promotional content from the Los Angeles Times.