Lakers' Kyle Kuzma and Josh Hart make major strides in excelling in their roles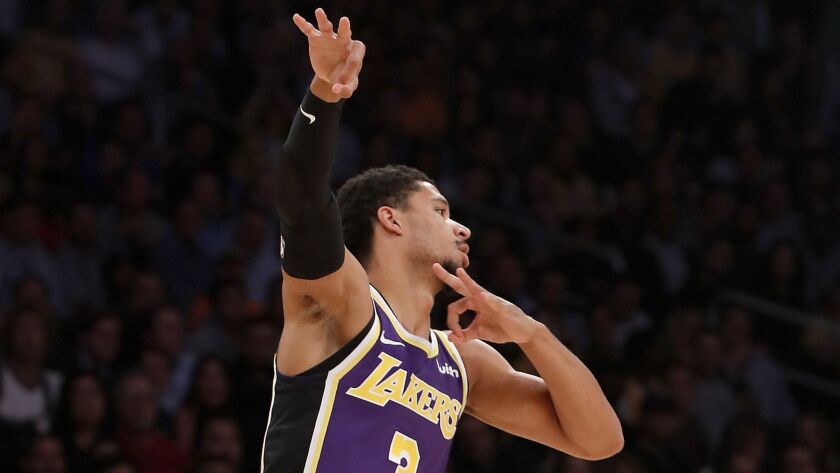 They are two of the Lakers' key role players, and Kyle Kuzma and Josh Hart were major contributors in their team escaping with a 114-110 win over the Minnesota Timberwolves on Wednesday night at Staples Center.
Kuzma did his part as the starting power forward, producing 21 points, two rebounds and one assist. He shot with confidence, going eight for 15 from the field and four for seven from three-point range. And his defense was equally as solid no matter who he guarded.
Hart did his share of work off the bench, scoring a season-high 21 points, grabbing four rebounds and picking up one steal.
He was five for seven from the field, with all of his baskets coming on three-point shots.
"They were really good," coach Luke Walton said. "They were good at what we need them to be good at. I thought both of them did a nice job, for the most part, of taking good shots, making the extra pass when they had the opportunity, taking on the defensive challenge of guarding."
Kuzma was efficient from the field because he smartly took what was available for him against Minnesota's defense.
On one play in the third quarter, he was all alone at the three-point line in the corner in front of Minnesota's bench, not a single Timberwolves player around him.
But instead of shooting, Kuzma drove the baseline and shot a floater over the outstretched arm of 7-foot center Karl-Anthony Towns for a basket.
At times, Kuzma had to defend Towns, or power forward Taj Gibson and at no time did he back down from the challenge.
"I just bring energy," Kuzma said. "We know our roles. We got LeBron [James]. We got BI [Brandon Ingram]. Everybody else has just to kind of fall in line. So, it's just bring that energy, play defense and just be ready to hit shots.
"On defense, it was just about being ready for them. I know they want to post me up and try to big-boy me. But I just try to stay strong and catch the punches."
Hart began the game going four for four on three-point shots. He missed his next two shots, both three-pointers. But he made his next shot, a three-pointer just before the third quarter ended.
"I know when it starts," Hart said about making three-pointers. "You know when you shoot the ball well pregame without defense. So for me, I know when I get in there."
In the end, it was his defense on Jimmy Butler and Derrick Rose that made Hart stand out.
With the game on the line, Hart leaped high to get the rebound of a Rose missed three-point shot that would have given Minnesota a one-point lead had it connected.
Instead, Hart was fouled by Butler and made two free throws with 1.2 seconds left for the final score.
Twitter: @BA_Turner
---
All things Lakers, all the time.
Get all the Lakers news you need in Tania Ganguli's weekly newsletter.
You may occasionally receive promotional content from the Los Angeles Times.