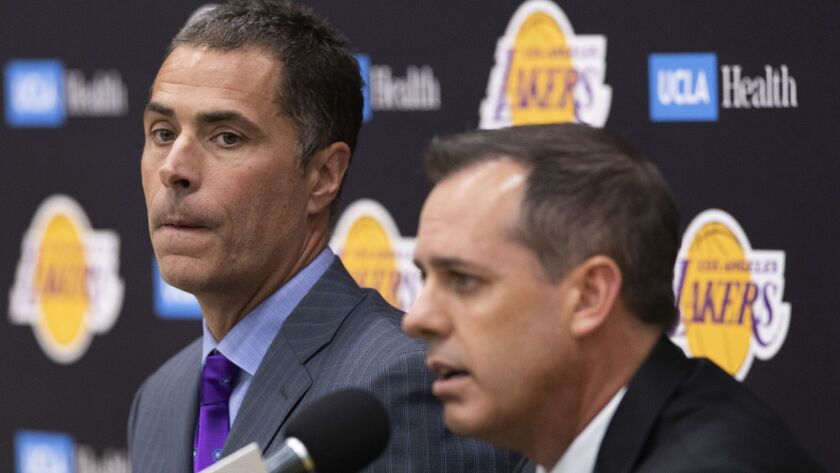 LeBron James sat in a barber's chair on his HBO show "The Shop" and declared that he longed for Magic Johnson to call him, even if to simply say, "Kiss my … ."
That call after Johnson's abrupt departure from the franchise never got made — though Magic did one better than that by going on television to essentially deliver that same message to the organization for which he's held virtually every important position.
Because while Johnson complained about general manager Rob Pelinka's backstabbing, he might have front-stabbed the team's chances with the very best free agents.
If the Lakers want to chase Kevin Durant, Kyrie Irving, Kawhi Leonard, Klay Thompson and Kemba Walker in free agency — and they absolutely will — they need to be prepared to talk about what happened Monday and what happened earlier this offseason.
Pelinka will have to address Johnson's claims about his credibility because players are going to want to know that their general manager will be honest with them.
Johnson's not the first person to question Pelinka, he was just the loudest and most public. Pelinka answered questions about it Monday by praising Johnson and acting surprised by the accusations. In meetings and discussions with in-demand free agents, he can't be taken aback if it's brought up.
He's got to be prepared to have good answers about Frank Vogel. If Pelinka tries to paint the situation like Vogel was the Lakers' top choice, and there were moments where it veered that way during Monday's news conference, it won't help Pelinka's reputation.
Sign up for our Lakers newsletter »
It'll be a challenge for the Lakers' front office to try to paint Vogel's hiring as a victory after publicly losing out on Monty Williams and Tyronn Lue. Vogel, in a sense, will have to be dynamic in those conversations. But wiping the stink off that coaching search, which became a punchline around the NBA, won't be easy.
Then there's James and his happiness or lack thereof. Anyone who is committing to the Lakers in free agency has to be confident that they're signing up for a partnership with someone who is on board. James' relative silence hasn't enforced that message.
It's why the best shot for the Lakers to land another big star probably will come via trade, and that's probably for the best.
Pelinka needs to reengage with New Orleans on trade talks now that former Cleveland executive David Griffin is in charge, the sooner the better.
With Boston essentially locked out of Davis' talks until the Celtics know what Irving's free agency plans look like, the Lakers can offer something similar to what was on the table near the trade deadline with the upcoming draft's No. 4 overall pick now attached.
The New York Knicks, who also are waiting on some free-agency moves, will be more aggressive than Boston before July 1 and be the Lakers' primary competition if New Orleans decides to trade the All-Star forward.
If those talks fail — and there's a strong chance with the bad feelings stemming from Davis' request — the Lakers would be wise to pivot quickly to Washington's Bradley Beal.
The Wizards, who still haven't hired a new lead basketball executive, are moving in the direction of a full-on rebuild and Beal might be too expensive for them to keep. Still, there are no guarantees that the Wizards will be in a rush to move an All-NBA-caliber guard.
Memphis' Mike Conley could be an option, too, if the Lakers' preference would be to pay a lower cost.
Sniffing out the trade market over the next month or so would give the Lakers a nice start when it comes to getting ahead of some of their organizational shortcomings. The instability, the backstage power struggles — all of it — won't be fixed with an influx of talent but they might be covered up.
Their dysfunction since Johnson's surprise resignation hasn't gone unnoticed. Executives mock the Lakers' misfortune. Opposing players and coaches laugh about the seemingly unending waves of drama.
Free agents? The ones with better options probably will take them.
So before they can, the Lakers need to take the focus off the gaffes that have defined them. The best way Pelinka can do that is by picking up the phone.
Twitter: @DanWoikeSports
---