GM Mitch Kupchak preaches patience for Lakers fans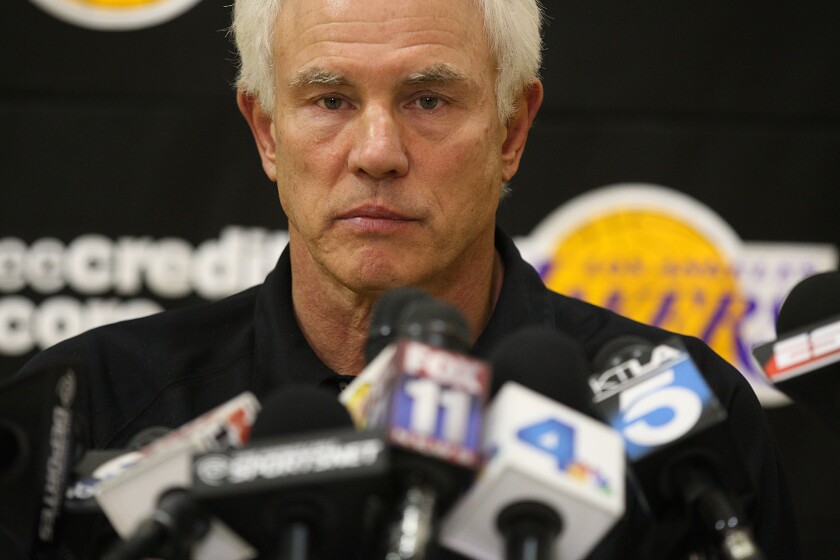 There were plenty of items to pluck from Mitch Kupchak's 41-minute meeting with reporters Friday, first and foremost the lack of a timetable for a decision on Coach Mike D'Antoni's future.
"Mike is under contract for two more years. If anything changes, we'll let you know," the Lakers' general manager said. "Under the circumstances, I'm not sure anybody could have done a better job than he did."
Only next season is guaranteed for D'Antoni, making the decision less difficult than it seems. Kupchak, though, said fans' dislike of D'Antoni would not be taken into consideration.
"I know internally we didn't canvas our 19,000 season-seat holders," Kupchak said. "We care about what our fans think. We are going to try to get them something better and better every year. Sometimes that decision might not be what the fans want. But over the course of time, I think they've come to trust us that it will be the right decision."
Said D'Antoni, who spoke to reporters before Kupchak: "I think every NBA coach, especially coming off a year that no one's happy and goes sideways, should be under scrutiny.… I'm not going to play the card 'Woe is me.' "
Kupchak said the 2004-05 season was harder for him to stomach than the last several months. Back then, Shaquille O'Neal had been traded the previous summer, Phil Jackson started a one-year sabbatical, Rudy Tomjanovich resigned midway through the season and injuries to Kobe Bryant and Lamar Odom caused a 2-19 slide that left the franchise without a playoff appearance.
The Lakers were first-round playoff knockouts the next two seasons, then got Pau Gasol and lost in the 2008 NBA Finals. They won the next two NBA championships.
"I would be happy if it took the same amount of time" to rebuild, Kupchak said, putting the Lakers on a recovery plan longer than the two years that Bryant would currently be under contract.
"I think we can do better and it may not turn out that good like it did then, but I think as long as we show progress, improvement, good decisions, I think our fans and partners are on board," he said.
While the Lakers finished their season Wednesday in San Antonio, Bryant was in France on a family vacation, leaving behind his teammates and the Lakers' 27-55 record, their most losses ever.
"I did not know he was leaving town. We had a tough year. Kobe's had a really tough two years," Kupchak said. "He's had two career-threatening injuries. This is his 18th year in the NBA. All things considered, to me it's not that big a deal."
The Lakers have plenty of cap space this summer despite signing Bryant to a two-year, $48.5-million contract extension. Kupchak said the Lakers wouldn't necessarily spend it all during the off-season.
LeBron James is the only franchise-changer who could become a free agent this summer and who the Lakers would monitor to see if he opted out of his contract with Miami (currently a long shot).
If James doesn't opt out of his contract, the Lakers will look at him next year -- when he can become a free agent again -- along with Kevin Love. Then in 2016, Kevin Durant becomes a free agent.
"There is a degree of patience here," Kupchak said. "It's not like we've worked four years to create financial flexibility and now no matter what, on [July] 8, we're going to spend it all or use it all. We have to make sure that we use it wisely. If we can use it wisely right away, we will. If we have to use part of it and wait a year to use the other part of it, we'll do that."
Gasol will be on the Lakers' radar when he becomes a free agent. He made $19.3 million this season and would have to take a fairly substantial pay cut with any team.
"Absolutely he's a priority. There's probably not a player as good as Pau on the board," Kupchak said. "But he's waited a bunch of years to become a free agent and July 1 rolls around, he's going to get phone calls. We'll do our best to stay on top of it, and I think Pau has a great relationship with the organization. I know he loves the city but he'll be pursued."
The Lakers hold the sixth overall pick in the June draft and have a 6.3% chance of getting the top pick at the May 20 lottery.
"We do have a good pick. It's going to be exciting," Kupchak said. "I think James Worthy was the last pick that we've had anywhere near this pick, and James was No. 1, I believe, in 1982," Kupchak said.
The Lakers aren't necessarily bound to keeping the pick. They might trade it.
"I think there's a possibility. Sure," Kupchak said, keeping open his options, especially if the Lakers don't move up in the lottery.
In a slightly under-reported note, the Lakers won't have their second-round pick (36th overall) because they traded it to Phoenix for Steve Nash.
Soon-to-be free agents Nick Young and Jodie Meeks are in line for pay increases after making $1.1 million and $1.6 million this season.
"There's a lot of guys on our team that I like a lot. But we don't know what the marketplace is going to dictate that their contracts will be going forward," Kupchak said. "You like one guy a lot, 'I like him at $2 million,' which is a lot of money, but somebody's offering him $5 million. We will have to wait until that marketplace [sets] and go from there."
Kupchak said the Lakers were "optimistic" about the future of point guard Kendall Marshall, who held a non-guaranteed contract for next season for $915,243.
ALSO:
Duke's Jabari Parker declares for NBA draft
Pau Gasol: 'This could be my last day, maybe' with the Lakers
Chris Kaman acknowledges frustration with Lakers Coach Mike D'Antoni
---
All things Lakers, all the time.
Get all the Lakers news you need in Dan Woike's weekly newsletter.
You may occasionally receive promotional content from the Los Angeles Times.