Jeremy Lin might have played in his last Lakers game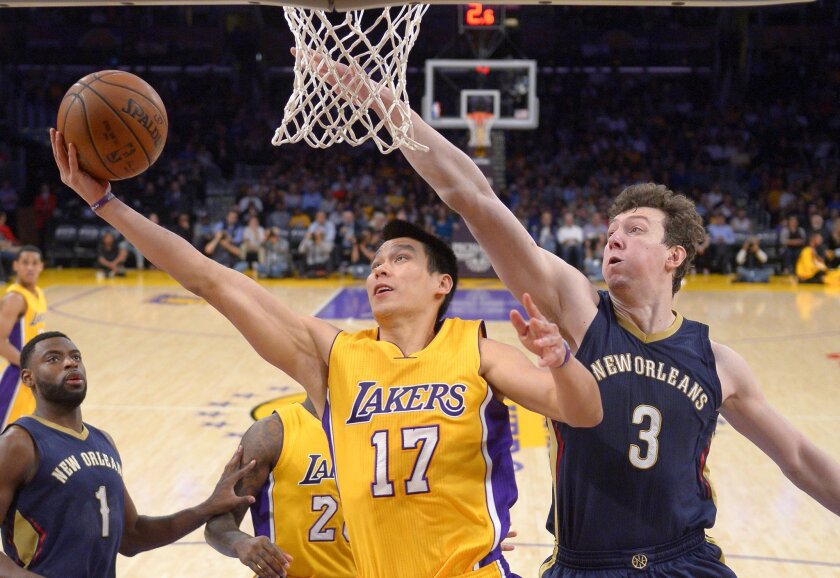 Jeremy Lin missed another game because of a sore left knee, creating a natural question.
Has he already appeared in his last Lakers game?
He wants to finish out the season, all three games that remain, but free agency is just over the horizon for the team's second-highest paid player.
Lin has been in and out of the starting lineup in his only season with the Lakers, averaging 11.2 points while shooting 42.4%, numbers slightly below his career averages.
"Up and down," Lakers Coach Byron Scott said Friday of Lin's play. "But I thought after All-Star break, he was getting it together pretty well and playing pretty well on both ends of the floor. Obviously it's another setback. Hopefully it's not something that's going to hold him out" longer.
An MRI exam on Lin's knee showed a cartilage abnormality that was not considered serious. The abnormality was consistent with post-surgery results from a knee procedure Lin had in 2012. He was listed as day-to-day by the team.
Scott declined to discuss Lin's future with the Lakers, with good reason.
Rookie Jordan Clarkson has been a discovery at point guard, and there are plenty of off-season options at the position, either in free agency or the draft if the Lakers keep their top-five protected pick after the May 19 lottery.
"We're not going to talk about long-term," Scott said. "We've got [three] games left. We'll finish those games, get ready for May 19… and then start bringing guys in and getting ready for the June draft. I don't think we're going to start talking long-term with anybody right now."
Lin, 26, has also refused to peer into the future, diplomatically saying he will hold off on making any predictions.
On the other hand, he recently acknowledged this season was "sometimes" difficult, adding that "You've got to sacrifice. Everybody has a different role, and it changes."
Lin lost his starting job after 20 games and was benched an entire game in January, but became a starter again two weeks ago.
Whether Lin returned this season, or at all to the Lakers, Scott wanted to see more of a pass-first mind-set from him.
"I'm still old school," Scott said. "I know it's a new age of point guards where they're more score-first than pass-first. But I think the next step for Jeremy as far as running the team, which I thought he did a pretty good job the second half of the season, is just that - thinking with a point guard's mentality of getting other guys involved first.
"So many of our point guards in this league, that's their first thought, is score. ... I still look at it as a position of being a quarterback running the team, getting people the ball when they need it and still being able to deliver when you have to."
Time was on Lin's side, Scott added.
Lin is making $14.9 million this season after being acquired from Houston last July, along with the Rockets' first-round pick in the upcoming draft.
"I think we all think that he's been in the league for 10 years or something, and he hasn't," Scott said. "He hasn't played a ton of basketball in the NBA. It's still a learning process for him as well. This system is a whole lot different than the system obviously he was in in New York, where it was pretty much dominated by one guy as far as the ball. I want the ball to move so everybody gets a chance to play."
mike.bresnahan@latimes.com
Twitter: Mike_Bresnahan
---
All things Lakers, all the time.
Get all the Lakers news you need in Tania Ganguli's weekly newsletter.
You may occasionally receive promotional content from the Los Angeles Times.