Memphis Grizzlies invite former Lakers forward Earl Clark to camp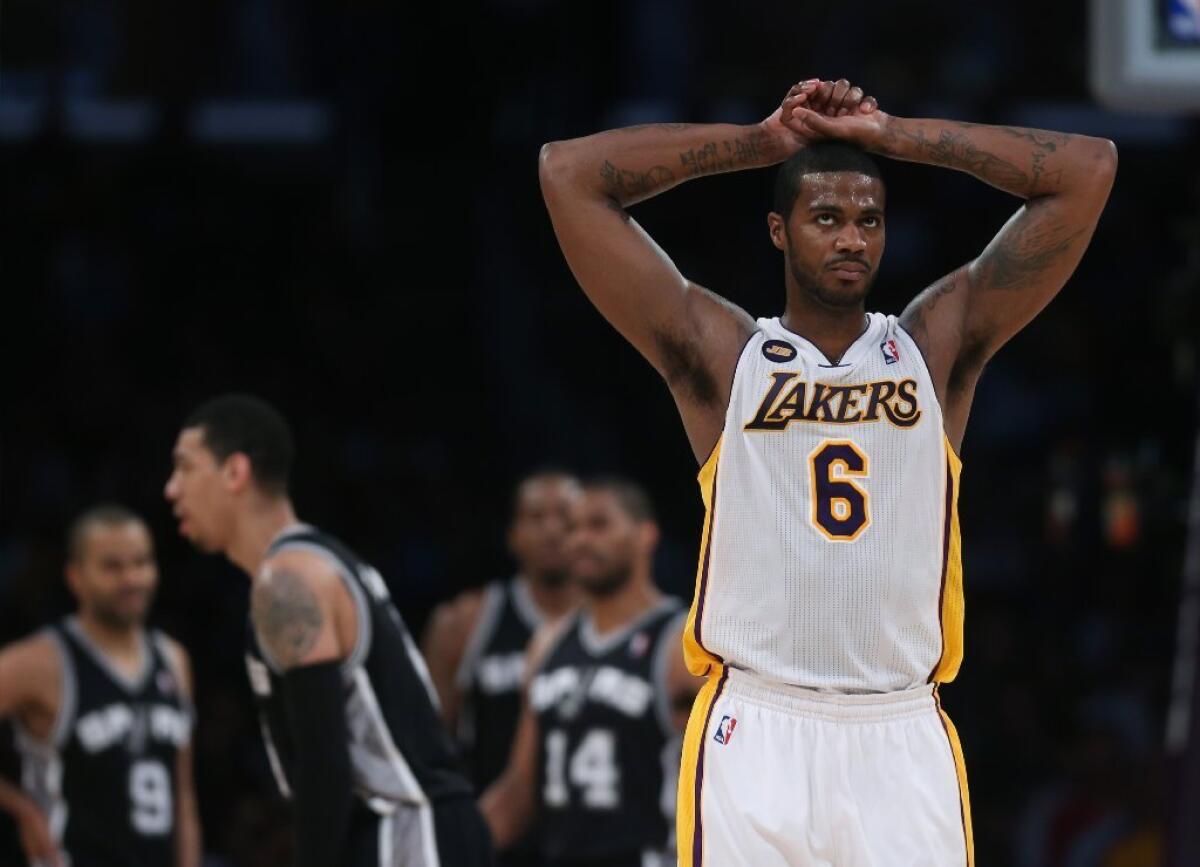 On Monday, former Lakers forward Earl Clark signed a nonguaranteed contract with the Memphis Grizzlies, but he'll have to outplay two others competing for one roster spot -- assuming the Grizzlies take 15 players to the regular season.
After a breakout season with the Lakers in 2012-13, Clark signed a two-year, $9-million deal with the Cleveland Cavaliers but the Cavs soon after dealt him to the Philadelphia 76ers for Spencer Hawes, who in turn cut him loose (before his second season became fully guaranteed).
Clark is one of many former Lakers around the league.
Pau Gasol left as a free agent to join the Chicago Bulls. Marc Gasol, who was originally drafted by the Lakers and was sent to the Grizzlies in 2008 in exchange for his brother, has blossomed in Memphis.
Jodie Meeks left for the Detroit Pistons on a three-year, $18.8-million contract where he'll play with Caron Butler. Kent Bazemore took a two-year, $4-million deal with the Atlanta Hawks.
Jordan Farmar switched locker rooms, signing up with Matt Barnes and the Clippers. Chris Douglas-Roberts, who went through training camp with the Lakers in 2012, will also play for the Clippers.
The Portland Trail Blazers added free agents Steve Blake, Chris Kaman and Darius Morris. Josh McRoberts and Shannon Brown signed with the Miami Heat.
The Milwaukee Bucks claimed point guard Kendall Marshall after the Lakers waived him in July.
Ronny Turiaf is still with the Minnesota Timberwolves. Jannero Pargo re-signed with the Charlotte Hornets.
Finally, Trevor Ariza is back with the Houston Rockets in a sign and trade from the Washington Wizards. There, he'll join former Lakers Dwight Howard and Josh Powell.
Email Eric Pincus at eric.pincus@gmail.com and follow him on Twitter @EricPincus.
All things Lakers, all the time.
Get all the Lakers news you need in Dan Woike's weekly newsletter.
You may occasionally receive promotional content from the Los Angeles Times.