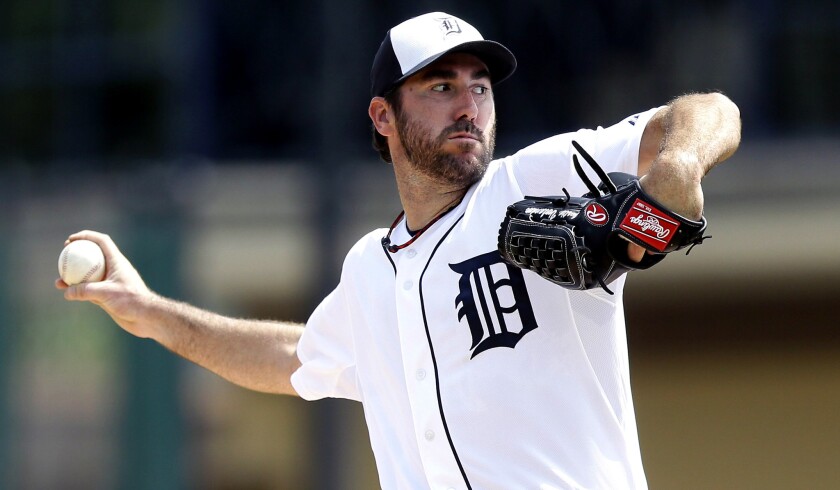 Detroit Tigers pitcher Justin Verlander is headed to the disabled list for the first time in his major league career.
The 32-year-old right-hander won't be on the active roster for Monday's opener against Minnesota because of tightness in his right triceps.
"I think they used the word strain," Verlander said. "It felt like just a little cramp but, obviously, with it taking a little longer to heal, it's probably a little bit more than that — just take it day by day."

Verlander has been throwing lightly in an attempt to work out the tightness.
"I don't think this is going to be a long-term issue," Tigers Manager Brad Ausmus said. "After throwing yesterday, he said he felt as good or better today."
Detroit will make his DL stint retroactive, making it possible the six-time All-Star could start the sixth game of the season, on April 12 at Cleveland.
::
The Atlanta Braves have acquired pitcher Trevor Cahill and cash from the Arizona Diamondbacks for minor league outfielder Josh Elander.
The 27-year-old Cahill was 3-12 with a 5.61 ERA for Arizona last season. The right-hander was an All-Star with Oakland in 2010. Cahill is 64-69 with a 4.07 ERA in six seasons.
The 24-year-old Elander is a .275 hitter in three seasons in the minors.
Etc.
Oakland A's left fielder Coco Crisp could be sidelined for up to two months after he undergoes surgery in his right elbow. ... Reliever Jose Valverde was released by the San Diego Padres after the team informed the right-hander he wouldn't make the opening-day roster. ... The New York Mets signed center fielder Juan Lagares to a four-year, $23-million contract with a team option for 2020. ...
Atlanta Braves pitcher Arodys Vizcaino has been suspended 80 games following a positive test for the performance-enhancing substance stanozolol. The suspension was announced three days after the Braves optioned the 24-year-old right-hander to triple-A Gwinnett.
---