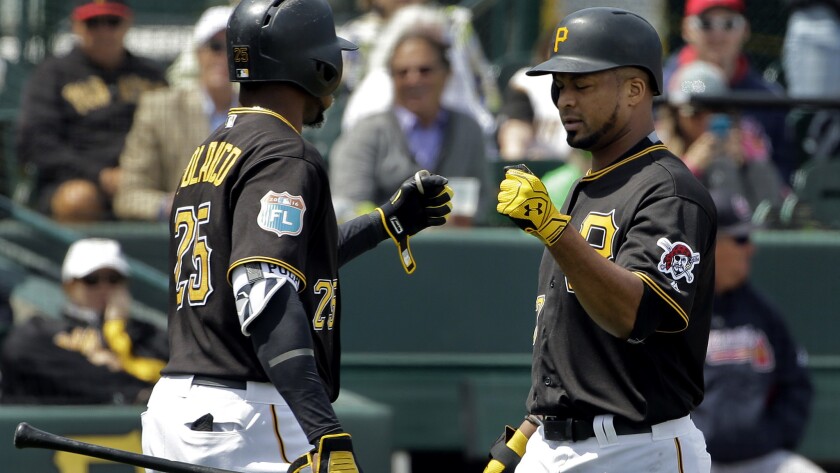 The Pittsburgh Pirates have spent the last three years making believers out of everybody, even the schedule makers.
The team that toiled in national anonymity for two decades will bat leadoff for Major League Baseball on Sunday when the Pirates host rival St. Louis in the opening game of the 2016 regular season.
"We're getting the kind of recognition as an organization that I don't think we've gotten as much in the past," pitcher Jeff Locke said. "Even as successful as we've been the last three years, really you can say it has been coming on for the last five years. This organization has really changed its face a lot."
Under Manager Clint Hurdle, the Pirates have advanced to the playoffs in three consecutive seasons and have the second-best record in the majors since the start of 2013.
"I do think it's tangible evidence we've gotten better," Hurdle said. "We got to play five Sunday night games last year. There's a whole different set of challenges in those we found out as we get into the season and we start playing good baseball and people take notice and they want to put you on TV because they like your team and they like your players."
The Pirates will send left-hander Francisco Liriano to the mound against right-hander Adam Wainwright on Sunday.
St. Louis is the only team with a better record than Pittsburgh over the last three years, the main reason the Pirates have been relegated to the wild card during the franchise's sprint back to respectability.
The Cardinals, the defending National League Central champions, are equally enthused about the new season.
"I am very, very excited about this team," said Wainwright, who will start his fifth opening day for St. Louis.
Etc.
The Atlanta Braves reached their opening-day roster, adding outfielder Drew Stubbs and pitcher Alexi Ogando and designating for assignment outfielders Michael Bourn and Emilio Bonifacio. Bourn, who went to the Braves from Cleveland along with Nick Swisher last summer, is on the books for $14 million this season. Swisher, who was released Monday, is owed $15 this season by the Braves and Indians. ... Manager Dusty Baker said the Washington Nationals will start Stephen Strasburg at Atlanta on Wednesday, the team's second game this season. ... The Milwaukee Brewers signed reliever Carlos Torres to a one-year contract. ...
The Colorado Rockies will use left-hander Jake McGee as closer and right-hander Christian Bergman as the No. 5 starter to begin the season. Manager Walt Weiss also announced that outfielder Brandon Barnes and left-hander Jason Gurka are on the 25-man roster. ... All-Star closer Brad Boxberger of the Tampa Bay Rays is starting the season on the 15-day disabled list. He is recovering from groin surgery after being injured during spring training. Right-hander Alex Cobb, who sat out last season after undergoing elbow surgery, also was put on the DL.
---