MLB: Cubs star Kris Bryant returns from disabled list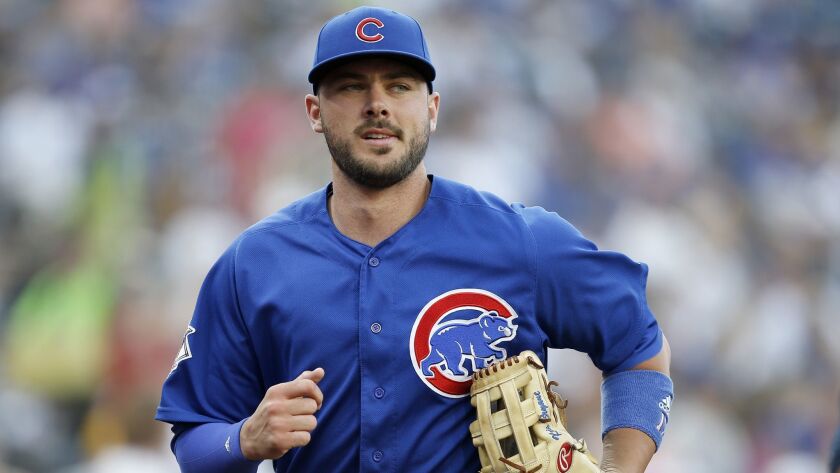 The Chicago Cubs have activated star third baseman Kris Bryant from the disabled list.
The NL Central leaders made the move before playing Saturday night at Philadelphia.
Bryant had been sidelined since July 23 with left shoulder inflammation. The 2016 NL MVP was in the starting lineup and batting fifth. Bryant is batting .276 with 11 homers and 44 RBIs in 76 games.
Donaldson's late arrival causing Indians' infield shift
Josh Donaldson experienced flight issues from Florida on his first official day as a member of the Indians.
His on-field arrival may be delayed as well.
The 2015 AL MVP was not expected to reach Progressive Field until game-time Saturday night, a day after Cleveland acquired the free-swinging third baseman in a trade with Toronto — a deal the AL Central leaders hope propels them to the World Series.
"He can hit the ball really hard," Indians manager Terry Francona said. "When he's in that batter's box, he's one of the guys who, you think, `Uh oh.' Now we can be cheering for him. That's what I told him."
Francona only spoke over the phone to Donaldson, whose sometimes turbulent tenure during four seasons with the Blue Jays ended late Friday night.
Donaldson has been limited to just 36 games this season because of an assortment of injuries, most recently a calf strain that has lingered, sidelining him for three months. But the 32-year-old, when healthy, is one of the league's most dangerous hitters and the Indians are eager to add him to their lineup.
"He's an MVP-type player," Francona said, "a middle-of-the-order bat that, a guy that when he was on the other team, I used to joke with (third-base coach Brad Mills) Millsy, `I hope he swings so hard he hurts his back.' He kinda puts a little fear into you when he gets in the batter's box.
"He plays with an edge. He plays hard. Again, there's no crystal ball, and we know that. We know there's some risk there, but it's got a chance to make us better."
Francona met with the team's medical staff Saturday and received a positive report on Donaldson. He's confident there's time left in the season for him to get ready.
Francona did not want to discuss any of the team's plans over the next few weeks with Donaldson before talking to him personally.
In the deal, the Indians also received $2.7 million to cover most of the $3.7 million remaining on Donaldson's $23 million salary. Because he was traded, he will be a free agent after the season and the Blue Jays will not receive any other compensation.
It was a low-risk, high-reward trade by the Indians, who made a similar move last season by getting slugger Jay Bruce from the New York Mets for the postseason.
And while Donaldson's bat could make the Indians' lineup deeper, he's also causing an infield shift.
When he's ready, Donaldson will play third with the Indians moving All-Star Jose Ramirez to second and pushing Jason Kipnis into the outfield.
Francona met with Ramirez and Kipnis to make sure everyone was on the same page. Francona previously said he was reluctant to move Ramirez, who came up as a middle infielder.
"His concern was going back and forth, so I told him we wouldn't do that," Francona said. "I talked to Kip and we knew this would affect Kip more than anybody, and I don't think he was jumping for joy and I don't think we expected him to."
Francona said Kipnis will soon begin taking fly balls in the outfield, and it's possible he could move around while Donaldson gets ready.
Francona told Kipnis that Cleveland owner Paul Dolan and the front office extended themselves to get Donaldson and everyone had to do their parts.
"I explained to him, `You know our owner went and did this and I have to do my job, too, so you gotta be the best option,' " Francona said. "I don't think it's fun to hear that, but Kip's a pretty good competitor, so we'll see how it goes."
It's an awkward situation, but Francona believes Donaldson will be welcomed by his new teammates.
"Guys aren't new for very long," he said. "It's amazing in this game, when you put your uniform on and you compete with your teammates, they become your teammates real quick, especially with that group."
Red Sox activate pitcher Eduardo Rodriguez from 10-day DL
The Boston Red Sox have activated left-hander Eduardo Rodriguez, catcher Christian Vazquez and knuckleballer Steven Wright from the 10-day disabled list.
Rodriguez had been sidelined by a sprained right ankle. Vazquez was out with a broken finger, and Wright had been dealing with left knee inflammation.
Rodriguez and Vazquez are slated to start Saturday's game against the Chicago White Sox. Rodriguez hasn't pitched in a big league game since July 14.
The major league-leading Red Sox also recalled five players from Triple-A Pawtucket: first baseman/outfielder Sam Travis, infielder Tzu-Wei Lin, lefties Robby Scott and Bobby Poyner and right-hander William Cuevas.
Saturday was the first day that major league rosters could expand to as many as 40 players.
---
Get our high school sports newsletter
Prep Rally is devoted to the SoCal high school sports experience, bringing you scores, stories and a behind-the-scenes look at what makes prep sports so popular.
You may occasionally receive promotional content from the Los Angeles Times.