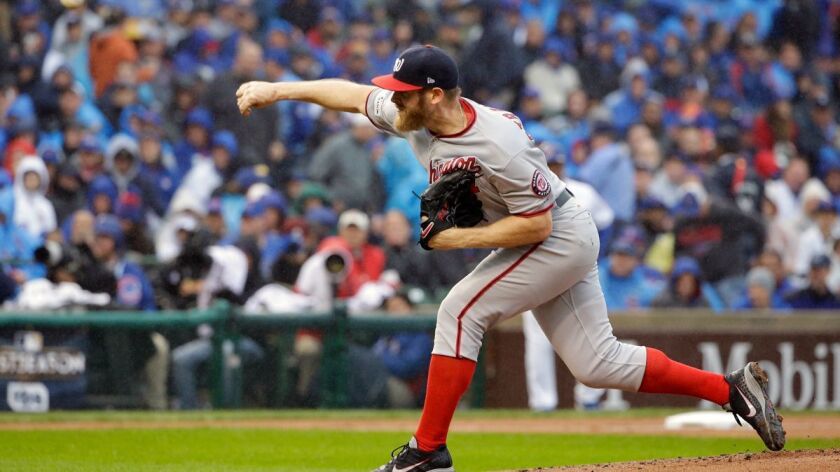 Reporting from Chicago —
The Washington Nationals can feature this event on their 2018 promotional calendar: the Stephen Strasburg bobblehead doll, featuring a springy caricature of the pitcher popping up from a sick bed.
In Nationals lore, this game will simply be known as the Strasburg game. The pitcher that the Nationals had said was too ill to pitch effectively saved his team's season. The pitcher belittled on national television for his alleged reluctance to pitch while ill saved his reputation.
Sick? We should all be so sick.
With the Nationals facing elimination, Strasburg sneezed and coughed, put up his germy hand in the faces of the Chicago Cubs, and just said no.
He pitched seven of the most dominant innings you will ever see, soaring above the elements of mist and cold and rain, letting the Nationals ride him to a 5-0 victory Wednesday. The Nationals managed an unearned run and nothing more until Michael A. Taylor hit a grand slam with two out in the eighth inning.
And so the series will extend to a fifth and decisive game, Thursday in Washington. The exhausted winning team then will fly from coast to coast, opening the National League Championship Series on Saturday at Dodger Stadium, against Clayton Kershaw and the rest of the rested Dodgers.
Strasburg struck out 12 batters, flashing a fastball that hit 96 mph and an utterly unhittable changeup. He gave up three hits. In 14 innings in this division series, he has not given up an earned run and has struck out 22.
He set the franchise record for strikeouts in a postseason game in Game 1, then broke it in Game 4. He joined Bob Gibson and Sandy Koufax as the only pitchers with 10 strikeouts or more twice in a postseason series.
Bryce Harper, nodding down toward the bright green patch of artificial turf on which he stood, thought back to the image he had of Strasburg a couple days ago.
"His face was about the color of that carpet," Harper said. "I think for him to be able to cowboy up and do his job shows how much of a great teammate he is."
Strasburg took the mound in short sleeves, an almost defiant gesture when the temperature at game time was 59 degrees and the wind whipped at 15 mph. He had taken antibiotics and intravenous fluids for several days, trying to combat a virus.
"It just seemed to suck the life out of me," he said.
The Nationals had announced Tuesday he would not pitch, without disclosing his condition. Manager Dusty Baker said only that Strasburg was "under the weather" and that there was "mold in Chicago," prompting some fans to wear face masks to Wrigley Field on Wednesday, to protect themselves from the purported civic mold menace.
Harper, Daniel Murphy and Ryan Zimmerman each said he had not appealed to Strasburg late Tuesday to pitch with the Nationals season on the line, and those players all said they did not know of any teammate that had. Strasburg might not have heard any calls or seen any texts anyway; he said he had fallen asleep right away.
Strasburg did pitch, of course, after he said a different and more effective antibiotic had kicked in, and after he had endured national questions about his fortitude. He told reporters he had nothing to prove.
"Not to you guys, no," he said. "You guys create the drama."
Strasburg, remember, did not pitch in the playoffs five years ago because the Nationals shut him down in an effort to protect the long-term health of his arm.
"Stephen wants to pitch," Zimmerman said. "He's always wanted to pitch. It's never been a matter of whether he wants to pitch or not. It's just been if he is able to pitch."
His first pitch was a fastball at 95 mph. He struck out two batters in the first inning and three in his seventh and final inning, when he skipped off the mound after 106 pitches.
What virus?
"It probably was a blessing in disguise," Strasburg said. "My energy wasn't really, like, through the roof, so it was easier to manage it."
In a season that has been all about the home run, this series has been all about pitching. The Cubs are batting .159. The Nationals are batting .130.
Kyle Hendricks, who did not give up a run in Game 1, starts Game 5 for the Cubs. The Nationals plan to start Gio Gonzalez or Tanner Roark, with Max Scherzer available in relief.
Strasburg was so spectacular Wednesday that the Cubs, who have scored eight runs in the first four games of the series, were not at all sweating Game 5.
"We like our chances," Cubs pitcher Jake Arrieta said. "As long as Strasburg isn't on the mound, we'll be all right."
Follow Bill Shaikin on Twitter @BillShaikin
---