Column: Who gets final College Football Playoff spot? Three hopefuls await their fate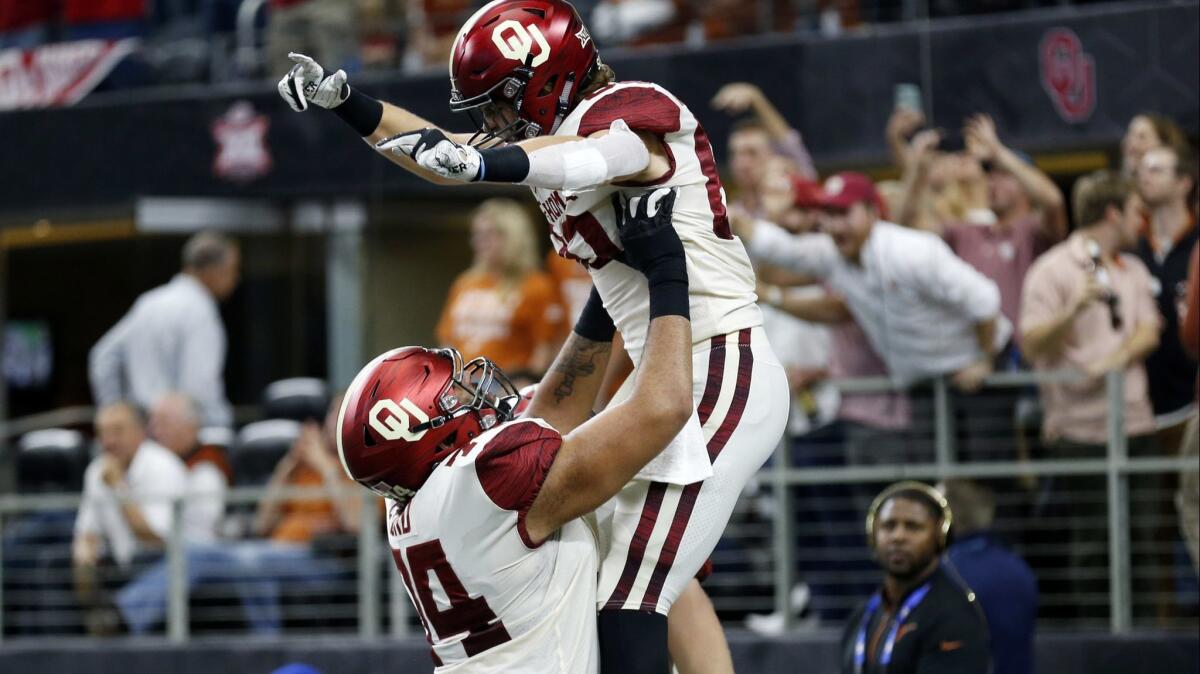 Reporting from arlington, texas —
It took a few minutes for the din — a visceral roar — to settle down inside AT&T Stadium.
Oklahoma fans had their moment of pure joy, celebrating a victory over rival Texas for the Big 12 Conference championship Saturday afternoon. Then they shifted to a bigger prize — an invitation to the College Football Playoff.
"We want 'Bama," they began chanting.
But 800 miles to the east, top-ranked Alabama trailed No. 4 Georgia in the Southeastern Conference title game, temporarily jeopardizing Oklahoma's chances and threatening to flip the postseason on its head.
"We didn't obviously play our best game," Crimson Tide coach Nick Saban said.
Saturday might have been the kind of day college football leaders envisioned when they created the current system, a three-month race to qualify for four playoff spots. Not everyone likes it, but the scheme added even more drama to a day of nail-biter finishes in conference championships across the nation.
Now, with the CFP selection committee issuing its final rankings Sunday and three teams seemingly assured of a place in the bracket, all eyes shift to three more contenders vying for the remaining slot.
Georgia, No. 5 Oklahoma and No. 6 Ohio State each made convincing arguments.
"Well, it boils down to one thing," Georgia coach Kirby Smart said. "Do you want the four best teams or not?"
The selection committee's 13 members have spent this weekend huddled at a resort in Grapevine, Texas, a little north of Dallas, watching games and poring over data. Their work was made a little easier when Alabama managed a 35-28 comeback victory in Atlanta.
The Crimson Tide, who have otherwise dominated opponents this season, faced a stern test against Georgia and needed some grit when starting quarterback Tua Tagovailoa left the game hobbled by a sprained ankle and sore foot.
Jalen Hurts, who stuck around after losing his starting job this summer, stepped in to engineer a pair of fourth-quarter touchdown drives.
"I've probably never been more proud of a player than Jalen," Saban said. "And I think this is a great example of why guys don't need to run off and just transfer every chance they get or every time something doesn't work out."
If Alabama had fallen short, Georgia would have been assured a spot and voters would have faced a tricky decision: Keep the Crimson Tide as the best one-loss team or send them packing. Hurts' clutch performance negated that headache.
As for the other safe bets, second-ranked Clemson delivered a routine, 42-10 victory over Pittsburgh in the Atlantic Coast Conference title game and third-ranked Notre Dame stayed perfect by watching from home as an independent.
"It's hard to win 12 games," coach Brian Kelly said after his team defeated USC last weekend. He added: "If you give us a little bit of rest and allow us to play in a neutral site, I think we'll play even better."
Three undefeated candidates atop the rankings allowed the playoff conversation to focus on who gets to join them.
An argument could be made that Georgia earned the right to stay at No. 4 by pushing Alabama to the brink. Quarterback Jake Fromm looked impressive passing for 301 yards and three touchdowns against one of the toughest defenses in the nation.
"Based on the teams that we've played this year, I think this team deserves to be in the playoff as well," Saban said. "I sure as hell don't want to play them again."
But the committee might not be able to look past two losses on Georgia's record. The next candidate in line, Oklahoma, has only one.
The Sooners needed a comeback of their own, racing back in the fourth quarter to win 39-27.
Their offense leads the nation in scoring with Heisman Trophy candidate Kyler Murray at quarterback. They also avenged the only loss on their record — to Texas in October — and showed signs of improvement on the defensive side of the ball.
Will that be enough to convince voters?
"We've got a great resume," coach Lincoln Riley said. "I get that there are other teams out there, but I feel very confident that this team can go forward and continue to win and I think our best football is ahead of us."
No. 8 Central Florida probably won't make a big enough jump in the rankings, even though the Knights rebounded from 17 points down to defeat Memphis for the American Athletic Conference title and stretched their national-best winning streak to 25 games.
The problem is, they don't have the strength of schedule and they don't have starting quarterback McKenzie Milton, lost to a severe leg injury in their previous game.
Which leaves Ohio State as the final piece of the puzzle. The Buckeyes have quality wins on their resume, including last weekend's 62-39 dismantling of Michigan. It helped that they played late Saturday and, thus, knew exactly what they needed to do.
In other words, given Oklahoma's win, they needed another impressive performance.
Their matchup against Northwestern for the Big Ten Conference title started well enough as they raced to a 24-7 lead at halftime. Then the Wildcats fought back to make things close for a while.
So it remains unclear if Ohio State's 45-24 win will suffice. The Buckeyes will have to wait and see, just like the other hopefuls.
Even as he made a case for Oklahoma, Riley acknowledged that it was probably a waste of breath.
"My opinion doesn't matter," he said. "I'm not on the committee."
Follow @LAtimesWharton on Twitter
Get our high school sports newsletter
Prep Rally is devoted to the SoCal high school sports experience, bringing you scores, stories and a behind-the-scenes look at what makes prep sports so popular.
You may occasionally receive promotional content from the Los Angeles Times.