Reporting from Del Mar —
The end of Sunday's racing day took a violent turn when an unidentified man was shot by sheriff's deputies outside the main gate of this seaside racetrack. The incident occurred near O'Brien Hall at the Del Mar Fairgrounds.
According to witnesses, the man was shooting a gun in the air shortly before at least one police officer shot him. His condition is unknown.
A massive law enforcement presence responded to the area as a larger-than-usual crowd was at the track for a sold-out Ice Cube concert that followed the races. The concert went on, but started late as Ice Cube had trouble getting to the track because of the traffic jams caused by the large police presence.
Track officials believed that if they canceled the concert the situation would get worse. It was part of the Del Mar Summer Concert series, which is held at the Seaside Stage at the west end of the track. It holds 18,000 people.
The racing was finishing for the day, meaning a lot of people were outside going to their cars. Gunshots could be heard on TVG, the horse-racing network that covers the races.
Just as that was happening, leading rider Drayden Van Dyke was thrown from his mount in the stretch when Tosio, a 2-year-old filly ducked to the outside, sending Van Dyke to the turf. He lay on the ground motionless and then started to move his arms and legs. Luckily, he was to the outside or the outcome could have been tragic. After about 30 seconds, he got up and walked to the ambulance. It was the last race of the day. The horse was unharmed.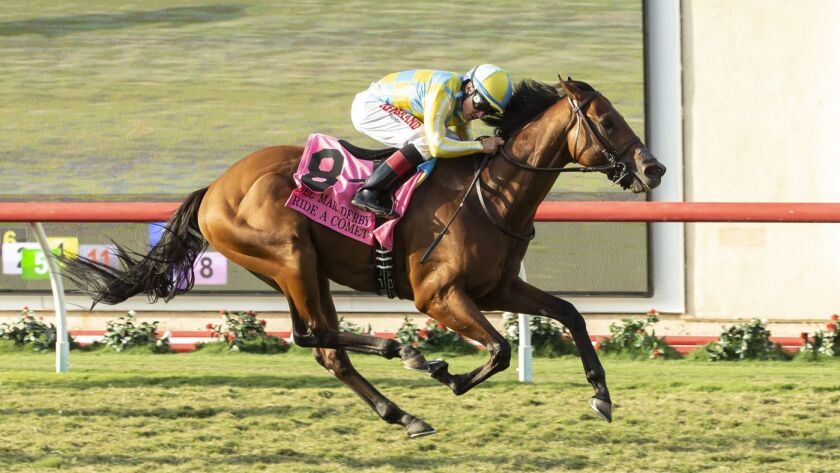 Van Dyke is scheduled to ride his seven mounts on Monday's closing day.
It appeared as if Van Dyke wrapped up the riding title when he won the $250,000 Del Mar Derby, for 3-year-olds going 1 1/8 miles on the turf, when Ride a Comet won the race by 1½ lengths. He leads Flavien Prat, 40-37. Prat has eight mounts on Monday.
Van Dyke had never ridden Ride a Comet before Sunday, given that the horse has been racing in Canada and New York. But the way this meeting has been going for Van Dyke, it seemed perfectly logical that the colt could win the Del Mar Derby.
"It's not in the bag yet," Van Dyke said after the Del Mar Derby. "It's good to get a little cushion."
Van Dyke explained his year, which included his first ever Kentucky Derby mount, as just a bit of luck.
"I just got a lot of fast horses riding for top barns," he said. "I'm getting a lot of good chances and just trying to connect the best I can."
Favored River Boyne was in perfect position for most of the race, but when they hit mid-stretch Ride a Comet came with a powerful run to win the race for trainer Mark Casse.
Ride a Comet paid $13.60, $7.00 and $4.00. Kazan was second, and River Boyne was third.
Casse was back in New York and sent assistant trainer Randi Melton to Del Mar.
"Mark gave the instructions to Drayden. 'Good luck and safe trip' was all he said," Melton said with a smile. "I think there was enough pace up front, and Drayden had him in the perfect position. He was sitting just off the pace, like you would hope, and turning for home he just took off and I started getting really excited."
"It was the 100th stakes win at Del Mar. Wow," said winning jockey Gary Stevens. "I've liked this colt right from the beginning. I was getting on him early and I told [trainer] Jeff [Bonde], 'This could be my Del Mar Futurity horse.'"
However, the colt wasn't doing well on the dirt, so a switch to turf was made.
"Jeff did and he responded much better to it," Stevens said. "It's a great feeling to be right about something like this every once in a while."
Monday's closing day features the Grade 1 $300,000 Del Mar Futurity, for 2-year-olds going seven furlongs. Roadster, for trainer Bob Baffert and ridden by Mike Smith, is the 6-5 favorite.
Click here (or type in this url: lat.ms/2wVt90g) to sign up for our free horse racing newsletter.
---