Brooks Koepka holds off Tiger Woods to win PGA Championship, his second major title of the season
Reporting from st. louis —
The fist pump for the birdie at the 18th hole was demonstrative, but didn't have the same ferocity as the celebration a decade ago at Torrey Pines.
The result was not a major triumph, but a significant step in an extraordinary comeback.
Tiger Woods didn't win the PGA Championship on Sunday, but it sure felt that way for much of a loud and raucous day at Bellerive Country Club.
When Woods closed out his best score in the final round of a major — a six-under 64 — with a birdie on the 72nd hole, he left the green like a hero on parade. As he crossed the bridge to the scoring room, thousands cheered him from below. Woods answered with a simple thumbs up.
Woods stirred roars the likes of which hadn't been heard in a major since he won the 2008 U.S. Open at Torrey Pines. He played better than one man all week. But he ended up second by two shots to the 28-year-old ball-striking machine named Brooks Koepka, who is overpowering golf courses and staving off competitors the way the 42-year-old Woods did in the prime of his career.
"I played with him in a practice round," Woods said, "and he was literally hitting it 340, 350 [yards] in the air. And when a guy's doing that, and hitting it straight, and as good a putter as he is, it's tough to beat."
The 100th version of this tournament ended with a strange vibe. Koepka captured his second major championship of the year and third in 15 months, and still it left the crowd somewhat deflated.
If anything, it plays perfectly into Koepka's narrative: the supremely talented athlete who just can't get his due.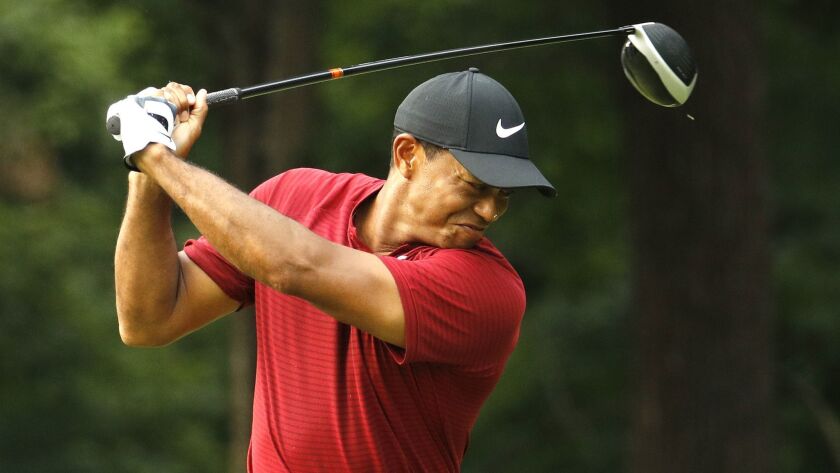 Asked bluntly Sunday evening if he would be recognized for so much greatness so early in a career, Koepka's expression turned cool.
"I hope so," he said, with no elaboration.
Koepka started the day leading by two shots, and though he was challenged on the back nine by Adam Scott, his playing partner, and Woods, he always had an answer.
He could have run away with the tournament on the back nine, but missed three straight birdie tries. When Scott tied him at 14 under with birdies at 12 and 13, Koepka answered with birdies at 15 and 16.
Koepka smoothly parred the last two holes to shoot his fourth round in the 60s — a four-under 66 that put him at 16-under 264. The total beat by one the previous tournament record of 265.
At 14 under, Woods finished second for his best showing in a major since he was runner-up in the 2009 PGA. Scott bogeyed the last hole to score 67 and place third at 13 under.
Koepka, whose only PGA Tour win outside of majors is the 2015 Waste Management Open, joined Woods, Jack Nicklaus, Tom Watson and Jordan Spieth as players to win three majors before the age of 29. He's the fifth player to capture the U.S. Open and the PGA Championship in the same year.
Yet Koepka knew that all those possible accomplishments didn't mean much to a crowd that wanted to see Woods add to his own history with a 15th major championship. He said he couldn't help but acknowledge the building roars as Woods' eight birdies on the day were posted on various scoreboards around the course.
With as much good-natured grace as he could muster, Koepka said, "I think other than me and my team, everybody was rooting for Tiger. As they should. He is the greatest player to ever play the game. To have the comeback he's having is incredible. You look at the British Open when he finally got the lead, how the energy in that crowd was.
"It brought me back to when I was a kid," he added. "When you heard those roars when he was making a charge. Being a part of that as a fan is cool, and even when you're playing it's pretty neat. It kind of pushes you to step up your game because you know he's right there if you falter."
Woods, who moved up to 20th in the PGA Tour's FedEx Cup standings and looks to be a near lock to be a captain's pick for next month's Ryder Cup, has produced a remarkable comeback after not playing for two seasons while recovering from surgery to fuse discs in his back.
But Koepka is relishing his own redemption. After suffering a wrist injury last year, he shot 13 over par at the Tournament of Champions in January and had to shut himself down. He missed the Masters and played only four times before winning the U.S. Open at Shinnecock Hills in June.
"When I look at what I've done in the past two months, it's incredible," Koepka said. "Looking at where I was, sitting on my couch watching the Masters, and to think I would do this. I would have laughed at you and told you there was no way, no chance, and to do it is incredible."
By tying the PGA scoring record of 63 in the second round, Koepka showed his game was perfectly suited for Bellerive, where the wide, soft fairways allowed him to smash his driver at will. Koepka scored a combined six birdies among eight chances on the layout's two par-fives, but was hardly one-dimensional.
In arguably his finest shot of the tournament, when he was leading by a single stroke on Sunday, Koepka hit a 151-mph iron to six feet on the 237-yard 16th. He made a birdie on a hole that surrendered only nine twos in the round.
"That will go down as probably one of the best shots I've hit under pressure," Koepka said.
It took some extraordinary grit to stare down what Koepka faced.
"I have a lot of self-belief," he said. "When everybody was making a charge, if I just hung in there, made one more shot, kept it rolling, I knew I was going to have a chance to separate myself."
Woods did nearly all he could to keep the pressure up. Three times he made back-to-back birdies. The crowd was in a frenzy when, after taking a drop from the cart path, he cut a nine-iron into the ninth green and converted a 10-foot birdie putt.
But unlike in July's British Open, when he briefly led on the back nine, Woods never did pull even. And when he arrived at the par-five 17th, he trailed by one and had to take out his driver, which had been uncooperative all week.
The result was predictable, a high slice to the right that plugged inside the red hazard line. Woods had to punch out and eventually scrambled to make a rally killing par.
"I didn't drive it good all day," said Woods, who found only five fairways. "I was struggling with my golf swing. I was hitting it right with every single club. Even my sand wedge, I wasn't doing very good. So I knew this was going to be a struggle to try to piece together a round, and I did."
---
Get our high school sports newsletter
Prep Rally is devoted to the SoCal high school sports experience, bringing you scores, stories and a behind-the-scenes look at what makes prep sports so popular.
You may occasionally receive promotional content from the Los Angeles Times.