Simone Biles leads at championships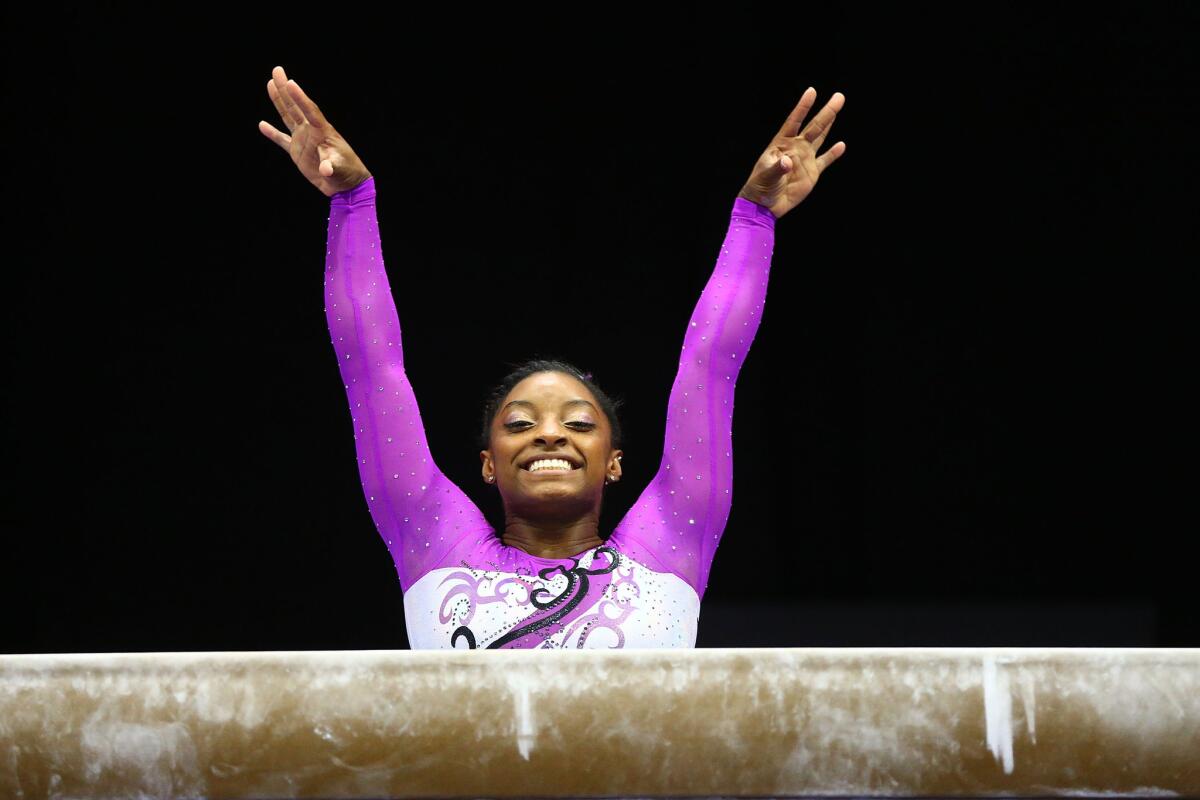 Reporting from St. Louis —
Whether it was the post-competition arena noise — preteen girls were doing their squealing best to honor their gymnastic idols or something else — but Martha Karolyi didn't quite hear the question from an industry publication.
"We don't need more all-around," said Karolyi, the U.S. women's national team coordinator, adding later, "We are very good, much better than other countries."
The evidence of all-around riches was in full effect Friday night here at the U.S. national championships, the first step in qualifying for the Olympic team. Three-time national champion and three-time world champion Simone Biles was sharp — even by her lofty standards and led with 62.900 points.
"I wanted to hit all four events and I did, so I'm pretty excited," said Biles, who had the top score in the vault, beam and floor exercise. "I think that was probably one of my best bar routines and one of my best second vaults. I struggle on that [the uneven bars] sometimes with confidence, so it just helps me."
One of the veterans and captain of the gold-medal-winning women's team from 2012, Aly Raisman was tied for second with an aspiring Olympian, 16-year-old Laurie Hernandez, with 60.450 points and the reigning Olympic all-around gold medalist Gabby Douglas was in fourth place (58.900).
What Karolyi was being asked about were the fourth and fifth spots on the team, slots expected to be left open for specialists. Once it was relayed to her again, she nodded and didn't hesitate.
"It really should be bars and beam," Karolyi said. "That's how I see it."
Hernandez had the third-best scores on the bars and beams. Madison Kocian and Maggie Nichols, both trying to return from injuries, were second and ninth, respectively, on the bars, and sixth and 14th on the beam.
Kocian (ankle injury) is ahead of Nichols (knee surgery) on the road to recovery, having already returned to competition, and was in fifth overall after Friday's action. Nichols had surgery to repair a torn meniscus in early April and this was her first meet since then and she limited herself to the bars and beam.
The calendar is about as fierce an opponent as you'll find for an injury-recovering athlete trying to make an Olympic team. Throw in the fact that Karolyi is not taking the past into account and it's a decidedly unsentimental process.
"I was just happy to be out there and do the routines the best I could after my injury," Nichols said. "I was a little bit shaky but I was just happy being out there again.
"I just wanted to be aggressive [on the beam]. I was a little bit shaky on that turn I do. I haven't done too many in the gym because it's on my bad knee. I was a little bit nervous."
Karolyi was pleased with Kocian's bar routine and thought her floor and beam events were starting to come around. The second day of nationals is Sunday night and there are two days of Olympic trials in San Jose next month.
"Maggie Nichols certainly still has to get back to [doing] the other two events," Karolyi said. "Because we have two more weeks when we finish this and it's a short time. We are expecting her to come back strongly on those two events, those are her two strong events.
"Her vault [has been] very very good and her floor routine obviously was very good … she medaled at world championships. If she's able to bring those two events back to the level she was, then she's also a strong contender."
Nichols took a bronze medal in the floor exercise at the world championships in October, and helped spark the United States to the team victory.
Despite this, from time to time, she's had to correct the record. Not about her sport but her residency. Apparently some folks have been confused about home town, Little Canada, which is near St. Paul, Minn.
She joked about it during the recent Olympic media summit in Los Angeles. A spot on the U.S. Olympic team would do plenty toward ending that confusion.
"Some people actually think I live in Canada. They're like, 'Wait, you live in Canada?'" Nichols said, looking amused. "I'm, like, 'No.'"
lisa.dillman@latimes.com
Twitter: @reallisa
Get our high school sports newsletter
Prep Rally is devoted to the SoCal high school sports experience, bringing you scores, stories and a behind-the-scenes look at what makes prep sports so popular.
You may occasionally receive promotional content from the Los Angeles Times.