Clippers' Austin Rivers has bruised right heel, will be reevaluated in two weeks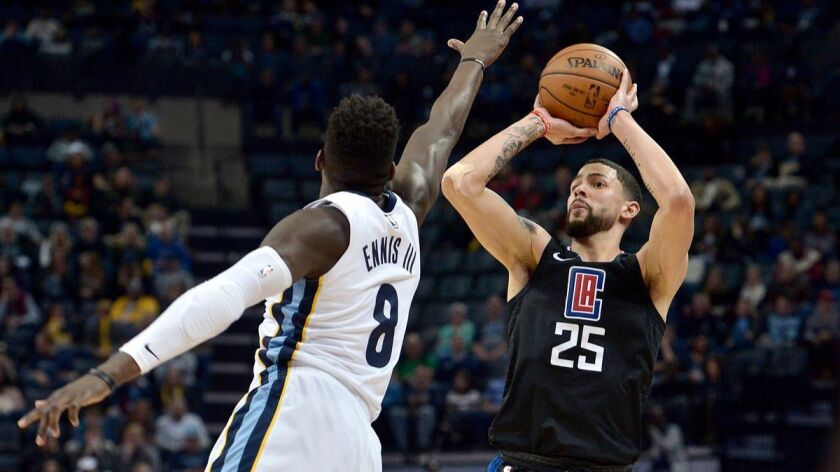 Clippers guard Austin Rivers was diagnosed with a bruised right heel after further testing.
He will be reevaluated in two weeks, the Clippers said.
Rivers was first injured against the Lakers on Dec. 29, suffering what the Clippers described as a sore right Achilles tendon. He has been out for three consecutive games.
"It's not the best news obviously," Clippers coach Doc Rivers said. "He'll be evaluated in two weeks, which doesn't sound great right now. But we'll find out. I think we'll find out a lot more in a couple of weeks."
Austin Rivers has started in 30 of the 32 games he's played in this season.
He is averaging career highs in points (15.8), assists (.3.6), steals (1.25), three-point shooting (40.5%) and minutes (32.7) per game.
"Listen, this what we've been doing all year. So, someone else will step up for us, because they have to," Doc Rivers said. "And that's what we've been doing and that's what we'll try to do again."
The Clippers have had seven players miss games because of injuries this season, for a total of 99 games missed.
Doc Rivers said he has never encountered a season like this.
"This year has just been crazy," he said. "I don't think I've ever seen anything quite like this where not only are there a lot of injuries, they are to all the scorers, the playmakers, when you think about it. It's just been one of those years.
"I love this team, I will say that. They obviously understand that we have all these injuries. It's a great group to coach. They just play hard. I've never had more game plans in my career, where one night we want to run. …They just have to be individual games is how we play and they have just been really, really good. It's been fun to coach in that way, I guess."
Without so many resources, Rivers has sold his team on their top "talent" playing with "energy and how hard we play."
The group has bought into what the coach has sold them.
"Even the guys like Blake [Griffin] and DJ [DeAndre Jordan] have bought in to that," Doc Rivers said. "Like, our No. 1 energy or talent has to be the force that we play with. And I think that's been very consistent over the last month or so."
---
Get the latest on L.A.'s teams in the daily Sports Report newsletter.
You may occasionally receive promotional content from the Los Angeles Times.