LeBron James and Stephen Curry to captain NBA All-Star teams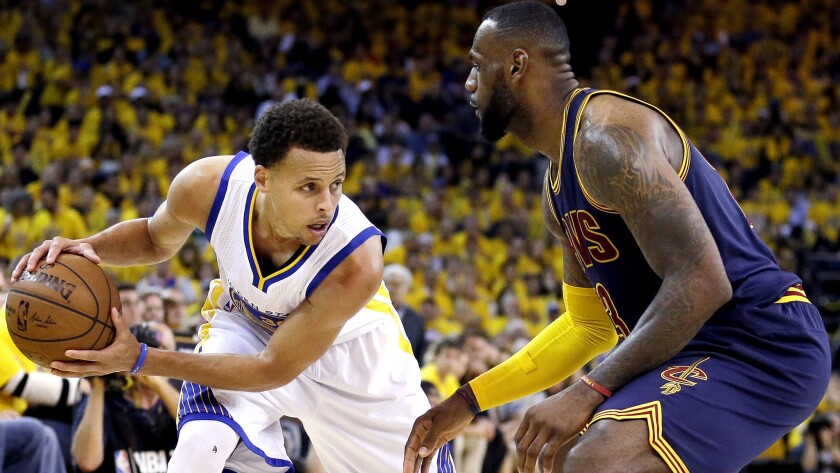 Although the NBA All-Star game on Feb. 18 at Staples Center will be played under a new format, most of the starters' faces should be familiar after the league announced the top five vote-getters in each conference Thursday.
Cleveland Cavaliers forward LeBron James and Golden State Warriors guard Stephen Curry led the balloting in the East and West, respectively. They will be the captains for the All-Star teams, which will be selected during a draft by the two superstars. Their first four picks must come from the pool of eight other top vote-getters.
It will be James' 14th consecutive All-Star appearance, one short of Kobe Bryant's record, and Curry's fifth. James will get the first pick while Curry will get to choose jersey colors since Staples Center is in the Western Conference.
"Captain huh? Really Appreciate all the votes from the fans, media and players! Honored to be an All-Star," Curry posted on Twitter.
The other Eastern Conference players voted to start were: Toronto Raptors guard DeMar DeRozan, Boston Celtics guard Kyrie Irving, Milwaukee Bucks forward Giannis Antetokounmpo and Philadelphia 76ers center Joel Embiid. It will be Irving's fifth appearance while it will be DeRozan's fourth, Antetokounmpo's second and Embiid's first.
The other Western Conference players voted to start were: Houston Rockets guard James Harden, Warriors forward Kevin Durant and New Orleans Pelicans big men Anthony Davis and DeMarcus Cousins. It will be Durant's ninth appearance while it will be Harden's sixth, Davis' fifth and Cousins' fourth.
The always-loaded West is conspicuous by the absence of reigning MVP Russell Westbrook of Oklahoma City. Other possible reserves would be Clippers forward Blake Griffin and his former teammate, Rockets point guard Chris Paul. The trio has 20 All-Star appearances; Paul has nine of those.
The rest of the All-Star players, seven from each conference to be selected by NBA coaches, will be announced Tuesday during a TNT broadcast that starts at 4 p.m. PST. The teams will be revealed during another TNT broadcast next Thursday beginning at 4 p.m. PST.
Fan ballots made up 50% of the voting, while NBA players and a media panel each were worth 25%. Every ballot listed three frontcourt and two backcourt players.
All-Star weekend at Staples Center opens on Feb. 16 with the Rising Stars game, continues Feb. 17 with the skills contests — including the slam dunk competition — and culminates with the Team LeBron vs. Team Stephen game at 5 p.m. Feb. 18.
---
UPDATES:
4:35 p.m.: This article has been updated with more details about the All-Star game voting and events.
This article was originally published at 3:25 p.m.
---
Get the latest on L.A.'s teams in the daily Sports Report newsletter.
You may occasionally receive promotional content from the Los Angeles Times.