NBA preview: A look at how the Eastern Conference teams match up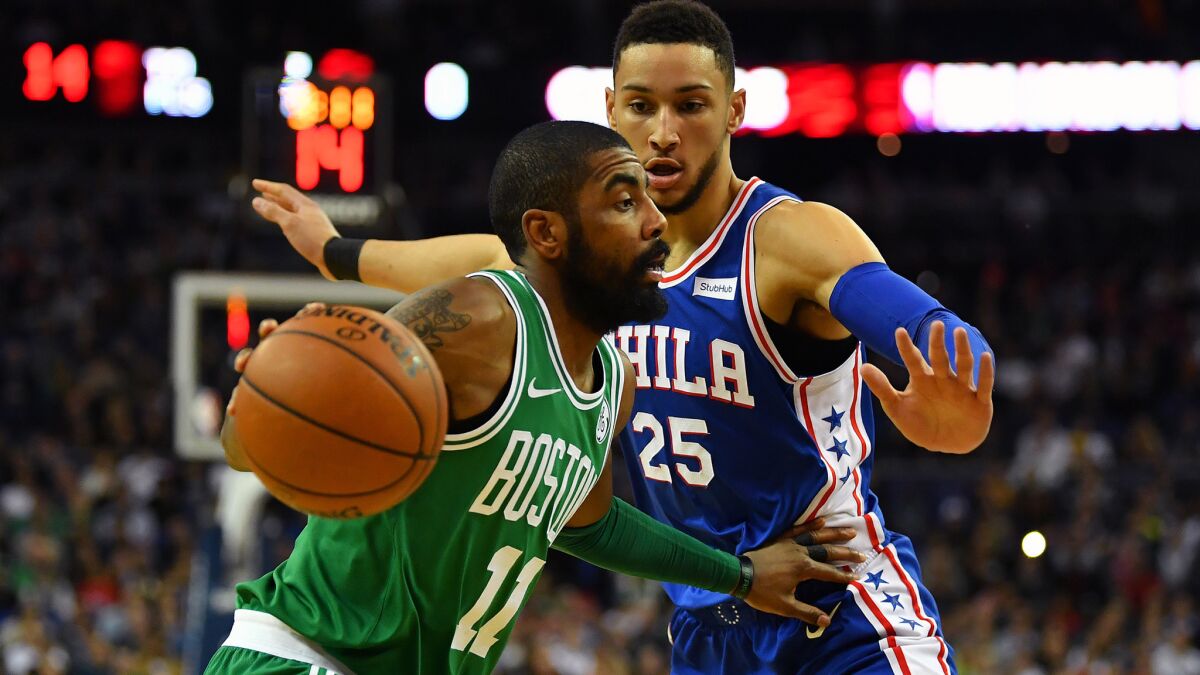 A look at how the Eastern Conference teams stack up (with predicted order of finish):
1. BOSTON CELTICS
2017-18 finish: 55-27, second
Coming: F-C Robert Williams III (draft)
Going: N/A
The Celtics made the conference finals and went toe-to-toe with LeBron James despite playing without Gordon Hayward and Kyrie Irving. Both are expected to be healthy for the new season, when they'll be joined by young players Jayson Tatum and Jaylen Brown, who had to take on expanded roles last season. Coach Brad Stevens is one of the best around, and the Celtics have the talent, depth and experience to make it to the NBA Finals.
2. PHILADELPHIA 76ers
2017-18 finish: 52-30, third
Coming: F Wilson Chandler (trade), G Zhaire Smith (draft)
Going: G-F Marco Belinelli (FA), F Ersan Ilyasova (FA)
There was a feeling by some that the 76ers were one of the losers this offseason after failing to land Paul George or LeBron James. Few teams have their combination of potential and capabilityThe 76ers re-signed J.J. Redick and they'll get improved versions of Ben Simmons and Joel Embiid. Last year's No. 1 pick, Markelle Fultz, is a massive X-factor after a lost season. If he plays to potential, it could propel the 76ers deep into the playoffs.
3. TORONTO RAPTORS
2017-18 finish: 59-23, first
Coming: F Kawhi Leonard (trade), G Danny Green (trade)
Going: G DeMar DeRozan (trade), C Jakob Poeltl (trade)
The Raptors had the best regular season in franchise's history and celebrated by firing the NBA's coach of the year and trading the organization's all-time leader in points and games. The Raptors and president Masai Ujiri knew they had plateaued, and they made the biggest bet of the offseason. By trading for Kawhi Leonard, who missed almost all of last season with an injury, the Raptors got the game's best two-way player (if healthy). But no one knows if it will last more than one season.
4. INDIANA PACERS
2017-18 finish: 48-34, fifth
Coming: G Tyreke Evans (FA), F Doug McDermott (FA)
Going: G Glenn Robinson III (FA), G Lance Stephenson (FA)
One of the surprise stories in the NBA last season, the Pacers quickly morphed after dealing Paul George to the Thunder. The return — Victor Oladipo and Domantas Sabonis — blossomed and the Pacers should be considered a sleeper pick for a run to the Eastern Conference finals. Evans, who had a terrific season last year in Memphis, was one of the best under-the-radar signings of the summer. There's a lot of young talent here that should continue to grow together.
5. MILWAUKEE BUCKS
2017-18 finish: 44-38, seventh
Coming: C Brook Lopez (FA), G Donte DiVincenzo (draft)
Going: F Jabari Parker (FA)
The Bucks open a new arena this season and they do it with the best roster of Giannis Antetokounmpo's time as a pro. He's still not a finished project, which is scary because no one in the NBA has his combination of skills, physicality and vowels. Getting Mike Budenholzer on the sidelines is a big deal, as is adding Lopez, who should get a lot of open looks in the pick-and-pop game with Antetokounmpo. The Bucks haven't shot a lot of three-pointers in the past, but to win in the modern NBA you need to launch. Expect that to change.
6. WASHINGTON WIZARDS
2017-18 finish: 43-39, eighth
Coming: C Dwight Howard (FA), G Austin Rivers (trade)
Going: C Marcin Gortat (trade), F Mike Scott (FA)
You wonder when the Wizards will reach a breaking point with this roster. They've been unable to crack 50 wins or get past the second round of the playoffs with John Wall and Bradley Beal in the backcourt. To get over the hump in a LeBron-less East, they turned to Austin Rivers to give them scoring and defense off the bench and Dwight Howard, who is playing for his fourth different team in the four seasons.
7. MIAMI HEAT
2017-18 finish: 44-38, sixth
Coming: N/A
Going: N/A
The Heat bring everyone back thanks to being strangled by the salary cap. Coach Erik Spoelstra is one of the best in the NBA and should get the group back in the fight for a playoff spot, though the Heat probably can't get better than that for a few years. The big story this season will be Dwyane Wade's final trip around the league before retiring.
8. DETROIT PISTONS
2017-18 finish: 39-43, ninth
Coming: G Jose Calderon (FA), C Zaza Pachulia (FA)
Going: F Anthony Tolliver (FA), F James Ennis (FA)
Detroit hopes that Blake Griffin, who they acquired for a lottery pick for last season, and Andre Drummond can be a better pairing after a full offseason together. Guard Reggie Jackson is the third piece of the puzzle, though his health always is a question — he's missed at least 30 games the last two seasons. New coach Dwane Casey gets a crack to figure out what Stan Van Gundy couldn't.
9. CLEVELAND CAVALIERS
2017-18 finish: 50-32, fourth
Coming: G Collin Sexton (draft), G-F David Nwaba (FA)
Going: F LeBron James (FA), F Jeff Green (FA)
The post-James Cavaliers move forward with Kevin Love as their best player and centerpiece, signing him to a contract extension this summer. The hope is Sexton, one of the top point guards in the 2018 draft, can develop quickly and keep Cleveland around the playoff race. If it's going to happen this season, Cleveland will need to get more consistent play from Rodney Hood and Jordan Clarkson, two players they traded for last season.
10. CHARLOTTE HORNETS
2017-18 finish: 36-46, 10th
Coming: C Bismack Biyombo (trade), F Miles Bridges (draft), G Tony Parker (FA)
Going: C Dwight Howard (trade)
The Hornets' path under Mitch Kupchak will soon be carved, with the organization facing a big decision with Kemba Walker, their best player by a longshot, who has one year left on his deal. A trade is definitely a possibility, with Charlotte stuck in NBA purgatory right now — maybe good enough to crack the playoffs if everything goes right but definitely not talented enough to contend. A reset could be coming soon.
12. CHICAGO BULLS
2017-18 finish: 27-55, 13th
Coming: F-C Wendell Carter Jr. (draft), F Jabari Parker (FA)
Going: G Jerian Grant (trade)
The Bulls' biggest move of the summer — matching the Kings' $78-million offer for Zach LaVine — is a gamble considering the athletic guard is coming off knee surgery. But, it seems for the second draft in a row, the Bulls added a future pillar to their roster. After taking Lauri Markkanen a year ago, the Bulls got Carter, an Al Horford clone, to hold down the middle. If Parker thrives in his hometown, the Bulls could surprise people. If not, it might be time for massive organizational changes.
12. BROOKLYN NETS
2017-18 finish: 28-54, 12th
Coming: F Kenneth Faried (trade), C Ed Davis (FA)
Going: G Jeremy Lin (trade), C Jahlil Okafor (FA)
The Nets are counting on D'Angelo Russell to take a major step this season as they're finally unshackled from the horrors of the Paul Pierce/Kevin Garnett trade that stripped the team of top draft picks for multiple seasons. Brooklyn has done a nice job putting together a stable of role players and have pieces to deal to contenders, but they're still waiting for someone to become a star. Russell has the best shot.
13. ORLANDO MAGIC
2017-18 finish: 25-57, 14th
Coming: C Mohamed Bamba (draft), G Jerian Grant (trade)
Going: C Bismack Biyombo (FA), Mario Hezonja (FA)
The bottom of the Eastern Conference is filled with teams looking to the future, and the Magic are definitely in that group. The long-term hope is Aaron Gordon, who they signed to a four-year, $76-million deal this summer, will be a good fit with ultra-raw and imposing big men Jonathan Isaac and Bamba. The future feels very far away for Orlando, though.
14. ATLANTA HAWKS
2017-18 finish: 24-58, 15th
Coming: G Trae Young (draft), G Jeremy Lin (trade), G-F Vince Carter (FA)
Going: G Dennis Schroeder (trade), F-C Mike Muscala (trade)
The Hawks are set to try to do the impossible — replicate Golden State's path to the top of the NBA — with former Warriors exec Travis Schlenk providing the blueprints. Trading Luka Doncic for Trae Young was step one for Atlanta, a huge risk that, at times, looked disastrous this summer. By trading Schroeder, Young will get the chance to learn right away what it takes to play point guard in the NBA.
15. NEW YORK KNICKS
2017-18 finish: 29-53, 11th
Coming: F Kevin Knox (draft), Mitchell Robinson (draft), F Mario Hezonja (FA)
Going: F Michael Beasley (FA), F-C Kyle O'Quinn (FA)
The Knicks seem to be headed toward making a major push in free agency after the season, giving them little incentive to try to win this year. Kristaps Porzingis is recovering from knee surgery and will miss the beginning of the season. The Knicks will be patient with him, keeping their eyes fixed to top names in the 2019 free-agency class such as Kyrie Irving.
Twitter: @DanWoikeSports
---
Get our high school sports newsletter
Prep Rally is devoted to the SoCal high school sports experience, bringing you scores, stories and a behind-the-scenes look at what makes prep sports so popular.
You may occasionally receive promotional content from the Los Angeles Times.