Chargers moving back to San Diego? Not much of a chance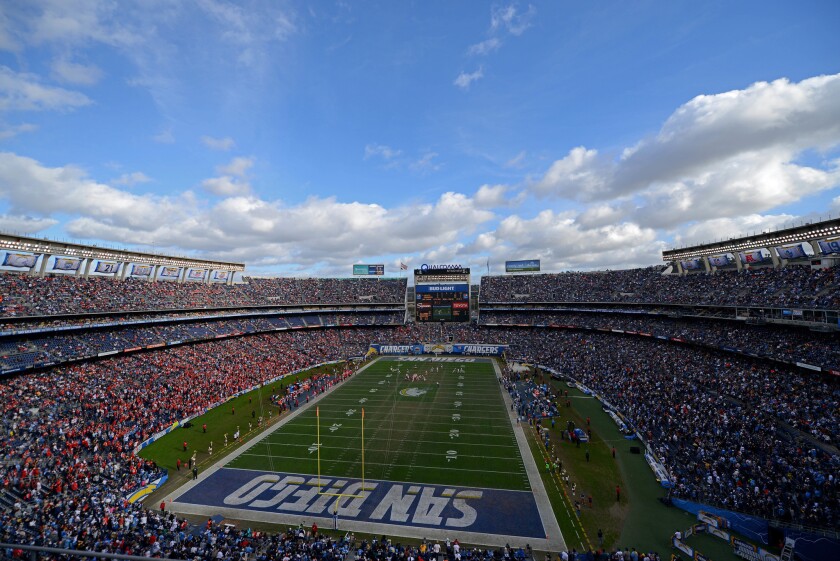 The Chargers' move to Los Angeles has been more underwhelming than any franchise relocation in memory.
The club doesn't have a big fan base here, and failed in its debut to sell out the 27,000-seat StubHub Center, less than half the size of the next-smallest NFL stadium. Although the team has talent, it lost two close games to slip to 0-2 in a division where everyone else is 2-0. It has been a turbulent start made even bumpier by the recent success of the Rams, who are finally gaining some traction after stumbling last season and going 4-12.
San Diego is seething about the Chargers, and — as many predicted before their final decision to move — Los Angeles greeted them with a yawn.
There are a lot of people in the NFL who likewise were (quietly) unhappy about the Chargers leaving San Diego, and thought the decision of owner Dean Spanos was impulsive — even though he had flirted with the idea of moving the team north for more than a decade.
Recently, there have been rumors in NFL circles that the Chargers might wind up moving back to San Diego, talk that has gone crazy on the radio and web. While that ostensibly might avert a situation that could go from bad to disastrous in L.A., there's nothing to suggest at this point that it's anything but a remote possibility.
For the Chargers to unwind this relocation, which would be unprecedented, it would almost certainly mean the Spanoses would have to sell the team, which the family has long insisted it has no plans to do. Certainly Spanos couldn't bring the team back; he's loathed in his former city. His sons might have better luck, but it's highly debatable whether even they could rebuild that blown-up bridge.
And the NFL wouldn't simply let the family turn around and sell the team, reaping the benefits of moving to Los Angeles. Financial penalties are in place to discourage owners from acting like house flippers, even if they were they so inclined. That goes for the Rams, too.
Say someone did buy the team and move it back. San Diego would still have the stadium problem Spanos complained about for so many years. Unless someone is willing to privately bankroll a billion-plus-dollar stadium (on top of buying the team), that's not going away. What's more, the Chargers' former home will be imploded at some point, so it's not as if a return is an infinite possibility.
The NFL knows the Los Angeles situation is a problem. The attendance part is unquestionably embarrassing. But there will be political spin from all corners — "This is only the first quarter … " or "It's far too early to judge … " — but there's no denying this has been a colossal belly flop.
There is a caveat to that, and a big one: winning. The Rams' worldview looked very different before the offense came alive, and they started scoring points and won a couple of games. The Chargers are banking on the notion that if they can win some games, they will win over a lot of undecided fans.
Is a return to San Diego realistic? Probably not. But the fact that people are ruminating about it now, nine months after the move, speaks volumes.
Follow Sam Farmer on Twitter @LATimesfarmer
---
Get our high school sports newsletter
Prep Rally is devoted to the SoCal high school sports experience, bringing you scores, stories and a behind-the-scenes look at what makes prep sports so popular.
You may occasionally receive promotional content from the Los Angeles Times.