Falcons vs. Eagles: How the two teams match up in the NFC divisional round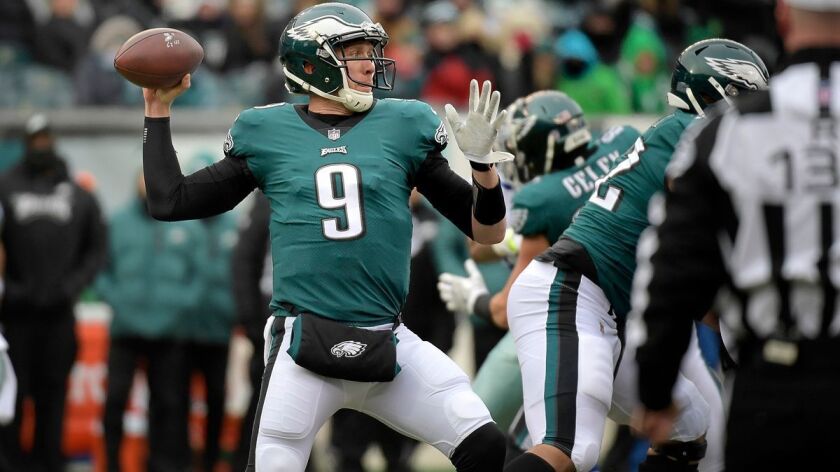 Reporting from Philadelphia —
Can the Philadelphia Eagles keep rolling without the face of their franchise?
With quarterback Carson Wentz recovering from a season-ending knee injury, Nick Foles will do his best to pick up the slack for the No. 1 seed Eagles. The early results haven't been especially encouraging.
Foles completed 47 of 87 passes for 439 yards (with five touchdowns and two interceptions) in his three games, barely playing in the third.
There was a significant drop-off from Wentz, particularly when it came to scrambling and making plays outside the pocket.
Atlanta players aren't breathing easy, though.
"I think when you've played for a while and it's been done at a high level, which he has, that lends to that kind of respect," Falcons coach Dan Quinn said of Foles.
"He's done it at a high level, and he takes care of the ball. He really looks equipped in that kind of system in the gun and doing all of the things that they do."
In the last two games of the regular season, Foles converted one of 17 third downs, alarming because that was one of Wentz's many strengths.
Eagles coach Doug Pederson said that number is somewhat deceptive.
"I don't think third down is the problem," he said. "I think first and second down is the problem, because we're losing yards on first and second down with penalties, negative rushing plays, sacks.
'That's what's put us in third and long. You can't get to third down until you fix first and second down."
Either way, it's not good.
Jay train
With uncertainty at quarterback, it's logical that the Eagles might lean heavier on running back Jay Ajayi, who has been bothered by knee issues and will see his first action in 19 days.
"I feel really good, like, I feel really good," Ajayi told reporters. "No. 1 seed team with an opportunity to go get a Super Bowl. I'm grateful, I'm blessed, I'm excited for this opportunity because it's all in front of us and if we really take advantage of what we want to do and execute how we can, we can get it done."
Ajayi, who began the season with the Miami Dolphins, ran for 130 yards against the Falcons two weeks before he joined the Eagles.
Stats all
1 — Number of touchdowns by Philadelphia in its last 18 drives.
3 — Eagles receivers with at least eight touchdowns this season: wide receivers Alshon Jeffery (nine) and Nelson Agholor (eight) and tight end Zach Ertz (eight)
5 — Consecutive postseason games in which Atlanta's Matt Ryan has had a passer rating of at least 100, tied for the second-longest such streak in league history. (Joe Montana reached eight.)
6 — Different offensive line combinations used by the Eagles; the Falcons had the same offensive line configuration in 13 of 16 games.
13 — Wins by the Eagles, tying a franchise record.
79.2 — Rushing yards per game allowed by Philadelphia, best in the league.
By the numbers
How teams compare statistically. All stats are per-game averages, except for sacks and turnover differential, which is for season (league rank in parentheses):
Points scored:
Atlanta: 22.1 (T14) Philadelphia: 28.6 (T2)
Points allowed:
Atlanta: 19.7 (8) Philadelphia: 18.4 (4)
Pass offense:
Atlanta: 249.4 (8) Philadelphia: 233.6 (13)
Rush offense:
Atlanta: 115.4 (13) Philadelphia: 132.2 (3)
Pass defense:
Atlanta: 214.3 (12) Philadelphia: 227.3 (17)
Rush defense:
Atlanta: 104.1 (9) Philadelphia: 79.2 (1)
Sacks:
Atlanta: 39 (T13) Philadelphia: 38 (T15)
Penalty yards:
Atlanta: 22.1 (T14) Philadelphia: 60.1 (T22)
Turnovers:
Atlanta: -2 (19) Philadelphia: +11 (4)
Farmer's pick
This is a tough one, because the Eagles are rested and they've had time to tweak the offense to Foles' strengths.
Still, the Falcons have a lot of speed on defense, and some momentum coming out of the win at Los Angeles. Bizarrely, the sixth seed is in a better position here.
FALCONS 27, EAGLES 21
Follow Sam Farmer on Twitter @LATimesfarmer
---
Get the latest on L.A.'s teams in the daily Sports Report newsletter.
You may occasionally receive promotional content from the Los Angeles Times.