ESPN's 'Monday Night Football' was missing a few things, mainly chemistry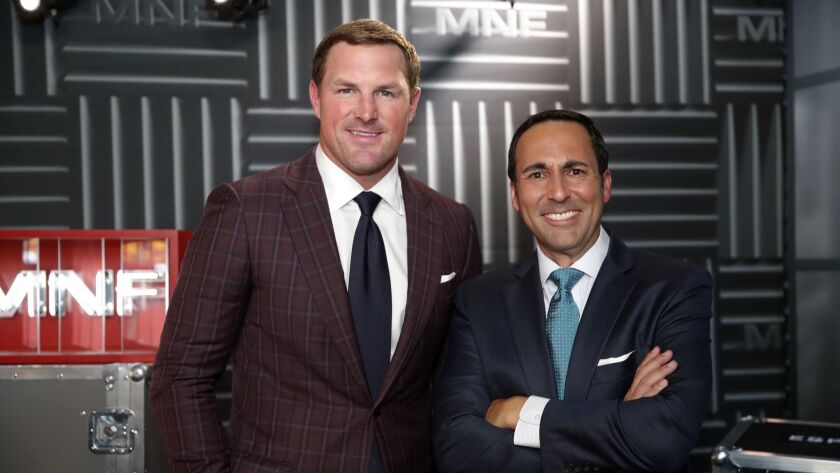 At some point this century, ESPN might make "Monday Night Football" great again.
Or is that the politically incorrect way to frame this plea?
ESPN doesn't do politics, of course. No anthem shot, no problem. But as Season 49 of the fancied franchise pulled open the curtain Monday with the Rams in Oakland to cap off Week 1, consider a guy named Booger straddled the line of scrimmage on a hydraulic lift, a recently retired tight end stammered through the run-on sentence option, and a growling play-by-play man who relies on "The Tess Factor" was overdoing his first real-life NFL broadcast.
Try selling Howard Cosell on all that.
At first blush, the decision to pull Joe Tessitore, Jason Witten and Anthony Darelle "Booger" McFarland off a Saturday late-afternoon No. 3 SEC game and chisel them in as new faces, voices and personality of the "MNF" franchise still seems a bit of a reach. Especially when all of them had to know the most recognized broadcaster in the stadium wore a headset over his visor on the Raiders' sideline.
Jon Gruden was missed while constantly visible at the same time Monday. Someone who had a nine-year run on "MNF" should have earned some dispensation to wear a live mike to add commentary from his new vantage point.
Of the three, McFarland inserted himself as the most natural potential for some longevity here, impressive in his sound-bite ability while doing so as a Keyshawn Johnson-sound alike with an infectious laugh.
Tessitore tried hard to oversell every other play, up to and including his throws to commercials that reminded us we were watching "Monday! … Night! … Football!." In retrospect, that might have put a scare in Witten to produce golden moments — even if he thought he pulled one out late in the second quarter when he laughed at his own comment about the "best bowl cut" sported by Raiders owner Mark Davis as the cameras spotted him sitting in the stands.
The optics of Witten showing his extreme height advantage over Tessitore during the booth shot exchanges were also a bit disconcerting. Try adjustable chairs in the future.
ESPN, which has this $1.9 billion a year investment to keep the "MNF" brand viable, has to know that on the social media front, it was getting roasted for its choice of Beth Mowins and Brian Griese on the New York Jets-Detroit doubleheader opener Monday. That's kind of incidental contact.
The Tessitore-Witten-McFarland trio, with sideline reporter Lisa Salters as a well-seasoned holdover, may not get enough time to be a work in progress. Viewer reaction matters, and immediate responses are taken into account.
Perhaps it'll take all our senses to get used to this newness before some common sense takes over. We might trust that ESPN knows what it's doing — even if you're not up to speed on how reshifting continues at its "Get Up!" show.
But that something for morning viewers. "Monday Night Football" has too much prime-time history to let things get sideways with a 50th anniversary season coming up.
Adam Schefter looks back at 9/11 story in new memoir
Adam Schefter isn't convinced that his new book could develop into a film treatment or a stage play. But considering all that's happened to him and his wife, Sharri, no proposal should be dismissed.
A new book from the ESPN NFL reporter, "The Man I Never Met: A Memoir" (with Michael Rosenberg, St. Martin's Press, 208 pages, $26.99), expands on a piece he pitched to his network and aired two years ago about a particular Sept. 11, 2001 casualty — an affable New York-based economic analyst named Joe Maio, who left behind a wife and a 15-month old son.
Schefter's personal connection: He married Joe's widow, Sharri, in 2007 and became the stand-in dad for his son, Devin. The couple, who also have a daughter, Dylan, live in what had been the Maio family home on Long Island, N.Y.
On Tuesday, the 17th anniversary of the Sept. 11 terrorist attacks, Schefter will be in New York to do some TV work, but Sharri still does not want to go to the World Trade Center site. She will stay home to watch coverage of the annual roll call of the nearly 3,000 victims.
Joe Maio's company, Cantor Fitzgerald, lost 658 of its 960 New York employees on that day in 2001.
"It's a very solemn, sobering day for our family, and that will never change," Schefter said Monday morning before doing his ESPN reporting on a variety of shows leading into the "Monday Night Football" doubleheader. "This is the day the country really tunes in and pays attention to honor the victims, but the families live with it every day of their lives."
As the TV story begat the book, Schefter says friends in Hollywood are already imagining the film-rights possibilities, and co-author Rosenberg is considering the idea of developing it into a play.
"The reaction was so overwhelming when ESPN aired the piece on the 15th anniversary, unlike anything I had seen in my 28 years in the business, it was kind of surreal," said Schefter, 51, who joined ESPN in 2009. He started his TV career at the Culver City-based NFL Network after a long run covering the Denver Broncos for the Denver Post.
"I didn't know if it was a TV story, or a book, or even a movie or play. Any way we can honor his life and pay tribute, my wife is all in favor of it."
More on 9/11
With the assistance of the National September 11 Memorial and Museum in New York, ESPN's "E:60" franchise presents a special called "Comeback Season – Sports After 9/11," airing Tuesday at 4 p.m. on ESPN and 6:30 p.m. on ESPN2.
Mike Greenberg anchors the 90-minute program that he pitched as a show to his bosses and officials from the museum, which is holding a special exhibit by the same name open to the public. Joe Torre, Bobby Valentine, Mark Messier and Dale Earnhardt Jr., are among the guests interviewed.
By the numbers
CBS' coverage of Chargers' home-opening loss to the Kansas City Chiefs on Sunday did a modest 5.5 Nielsen rating, 13 share and a household average of 441,000 viewers in Los Angeles on Channel 2. That didn't match up well in a head-to-head competition with the Cowboys-Panthers on Channel 11, which had a 7.6 rating.
But KCBS saw a 9% bump in viewership with Chargers-Chiefs than it had with the Rams playing host to the Indianapolis Colts in Week 1 of the 2017 season.
In San Diego, the Chargers-Chiefs contest did an 11.7 Nielsen rating (117,000 homes) compared to 5.3 for Dallas-Carolina. Each Nielsen rating converts to 53,186 homes in L.A. and 10,028 homes in San Diego.
CBS says the six regional games it had on Sunday's Week 1 averaged 17.1 million, a 29% jump over last year and the most-watched opening single-header since 1998. Fox had a 15.7 national rating for Cowboys-Panthers.
NBC did a 14.4 overnight for Chicago-Green Bay on Sunday compared to a 6.6 for its Atlanta-Philadelphia weather-delayed regular-season opener Thursday, the least-watched NFL Kickoff game in nine years.
Fight for attention
Saturday night's Gennady Golovkin-Canelo Alvarez rematch in Las Vegas, which HBO offers for $84.99 on pay per view, includes two forward-thinking media wrinkles.
The call by Jim Lampley, Max Kellerman and Roy Jones will be available in a couple dozen Southern California movie theaters through Fathom Events (tickets are $20.)
Also, Golden Boy Promotions Digital will stream it online to accommodate cable cord cutters for the full price tag on www.caneloggg.com. Beto Duran, Ring magazine editor-in-chief Doug Fischer and former fighter Kevin Kelley call the bout on that Internet platform. Duran and Jessica Rosales also host a 7-to-10 a.m. weekday show on Golden Boy Live Dash Radio digital station covering all the week's events leading to the Friday weigh-in, with show replays on RingTV.com.
---
Get our high school sports newsletter
Prep Rally is devoted to the SoCal high school sports experience, bringing you scores, stories and a behind-the-scenes look at what makes prep sports so popular.
You may occasionally receive promotional content from the Los Angeles Times.