Ask Farmer: Have there ever been games played on Tuesday, Wednesday or Friday?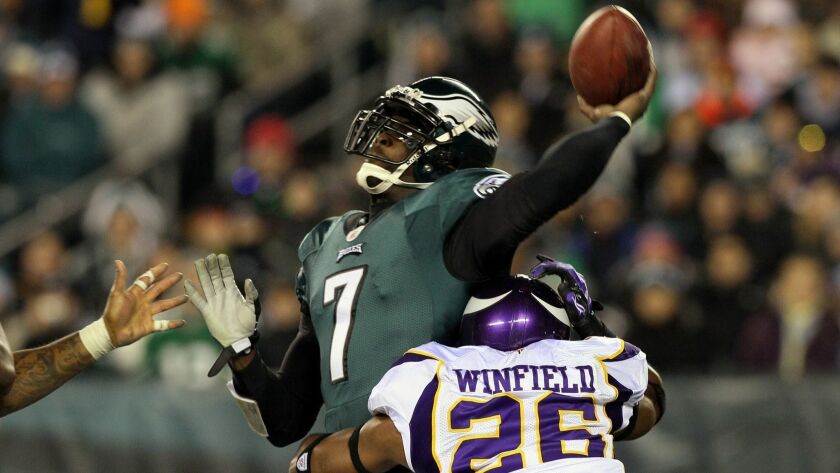 Have a question about the NFL? Ask Times NFL writer Sam Farmer, and he will answer as many as he can online and in the Sunday editions of the newspaper throughout the season. Email questions to: sam.farmer@latimes.com
There are NFL games on Sunday, Monday and Thursday, with occasional games on Saturday toward the end of the season or playoffs. Have there ever been games played on Tuesday, Wednesday or Friday?
Jim Roach
Glendale
Farmer: OK, let's start with Tuesday. It was only eight years ago that the NFL had a Tuesday game, when the Week 16 matchup between the Vikings and Eagles was moved from Saturday to Tuesday because of heavy snow in Philadelphia. It was the league's first Tuesday game since 1946.
Wednesday and Friday? For this we ask Jon Kendle, historian at the Pro Football Hall of Fame. In fact, there was an NFL team that had games on both of those days, even though the NFL has long avoided Friday games to not overshadow high school football.
Back in 1924, when the league was just 4 years old, the Buffalo Bisons played at the Frankford Yellow Jackets on Friday, Nov. 29, and lost 45-7. Three years later, the Bisons played on a Wednesday, losing to the New York Yankees 19-8 on Oct. 12, 1927.
The Bisons played three times that week, in fact, getting blanked by Frankford on Saturday and Sunday by scores of 54-0 and 23-0.
Know this: Buffalo played only five games that season, going 0-5, and the only points the Bisons scored were those eight against the Yankees. But three games in the same week? Hey, no more complaining about Thursday nights.
::
How could they have the goalposts in the middle of the end zone back in the day? I bet there were more than a few players colliding with them.
Louis Valverde
Los Angeles
Farmer: I'll touch on this more later in the season, because the reasons behind putting the goalpost on the goal line are interesting. They weren't moved back to the end line, where they currently reside, until 1974. So there are a lot of living retired players who had to deal with dodging them during their careers.
In 1967, the league switched from metal H-shaped goalposts to the contemporary version, which is a single-pole base supporting a crossbar and two uprights. Rams great Jack Youngblood, who played from 1971 to 1984, never ran into the goalpost when it was on the goal line, but remembers it being a nuisance.
"For sure, receivers used them as picks," Youngblood said. "The goalposts were wooden, and they had big pads on them. They were just an obstacle. When you're trying to track somebody and you're trying to go left to right, you'd have to dodge it. I had to wiggle around it."
Although Youngblood said he couldn't recall anybody slamming into one, "That had to happen. That had to be on a highlight film. Or maybe a blooper."
---
Get our high school sports newsletter
Prep Rally is devoted to the SoCal high school sports experience, bringing you scores, stories and a behind-the-scenes look at what makes prep sports so popular.
You may occasionally receive promotional content from the Los Angeles Times.