NFL's unfinished L.A. business: Will Chargers also relocate here? Raiders, maybe?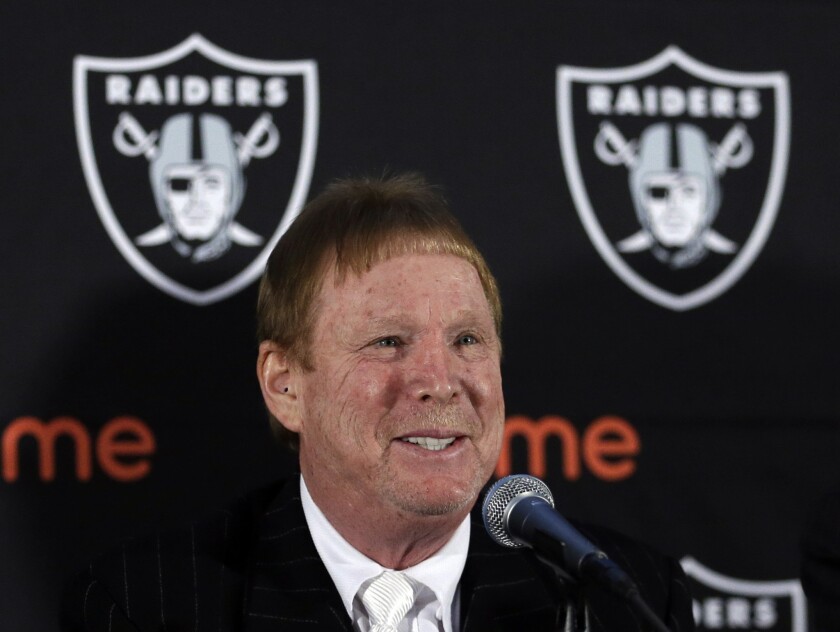 Reporting from BOCA RATON, Fla. —
With the Rams headed back to Los Angeles, the NFL's two-decade riddle has been solved. Almost.
There's another cleat to drop, though, and that's whether the San Diego Chargers or Oakland Raiders will wind up joining the Rams in Inglewood.
NFL owners received a briefing from league staff Monday, updating them on the stadium situations in San Diego, Oakland and L.A. The owners have convened in Florida for their annual meetings and, unlike in the past 20 years, L.A. is little more than a footnote.
Currently, the ball is in San Diego's court. The Chargers have a one-year option to be the second L.A. team, but are committed to stay in San Diego this season and to pursue a downtown stadium there. That entails getting a stadium initiative on the November ballot. If such a proposal were to be approved, the Chargers would have the ability to extend their L.A. option by a year to protect themselves from legal challenges.
If the Chargers were to pass on L.A., the one-year option would roll over to the Raiders, who haven't gotten any traction on a new stadium in Oakland.
"There's nothing new in Oakland," Raiders owner Mark Davis said Monday. "It just doesn't seem like there's going to be anything. There's really no place for us to build a stadium right now. That's the biggest problem up there."
Art Rooney II, Pittsburgh Steelers president and chairman of the league's now inactive L.A. committee, did not sound optimistic about a long-term solution for the Raiders in their current city. He indicated there is some hope in San Diego.
"I don't see anything in Oakland that you would describe as encouraging, that's for sure," Rooney said. "San Diego, they're exploring a new option there and a new site. It's too early to tell what's going to happen. They at least have a plan they're going to follow through and see if they can get it done."
The Raiders have agreed in principle to a lease that would keep them in the O.co Coliseum for one season, with two more one-year options. That deal is expected to be finalized within the next two months.
Two months after owners voted 30-2 in favor of the Rams' plan for a stadium on the site of the old Hollywood Park racetrack — as opposed to the Chargers' and Raiders' sharing a stadium in Carson — Davis said he has no hard feelings about the decision.
"The good news is, we came in third place," he said. "The bad news is, it was a three-horse race. You get your butt kicked, you get up off the ground, you wipe yourself off and you move forward. That's what you have to do in life. You learn that in this business; every Sunday is a different thing, you win and you lose some."
Davis said he loves the Hollywood Park site, where his father once hoped to build a football stadium, but said he doesn't know enough about the Rams' plan — aside from "pretty pictures" — to know if that would be a viable solution for the Raiders. The Inglewood stadium is scheduled to be completed in time for the 2019 season.
"I'd like to see what the final thing's going to be," he said. "I don't know how much development they're putting on there. I've said for the Raiders the most important thing is ingress, egress and parking, and I don't know whether they're going to create that there."
Asked if L.A. would be a fit for his team in general, he said: "I think L.A. is great, but it's up to Dean [Spanos, Chargers owner] to make his determination, and we want to give him the time to determine what he wants to do for his future as well, because he's got the same decisions to make. Then we'll just see what happens. That's really all we can do on that."
Davis did not rule out San Diego as a possible landing spot were the Chargers to move to L.A., nor did he take Las Vegas off the table as an option. He did repeat what he has said before, however, that he has no interest in moving the franchise to St. Louis.
"I just don't feel it in my heart that that's where the Raiders are going to be," he said. "Wherever we put the stadium is going to be for the rest of my life, and I just want it to be in the right place."
NFL in China?
As part of its initiative to expand the game internationally, the NFL is exploring the possibility of playing a regular-season game in China. The target date would be in the 2018 season, and the Los Angeles Rams likely would be in the mix to be one of the participating teams. The Rams have a three-year deal to play internationally, and are playing a game in London this fall. What's more, logistically speaking, it makes sense that a West Coast team would be a participant.
By the league's count, there were 4.8 million people in China following Super Bowl 50 onine, and 600,000 more watching on TV. The league estimates there are 17 million NFL fans in China.
Making his case
Patriots owner Robert Kraft recently wrote a letter to NFL Commissioner Roger Goodell, asking him to overturn the Deflategate penalties that cost New England a first-round pick in next month's draft.
"They had a full year of being able to observe Tom Brady play with all the rules of whatever the NFL was, and make any judgments there," Kraft told reporters. "We have laid it out pretty straightforward and now it's up to them to decide."
The courts are still sorting through the Tom Brady matter, and earlier this month heard arguments about the league's appeal of a lower-court decision to wipe out the four-game suspension imposed on the quarterback.
"When you join the NFL, it's a partnership and you agree to abide by certain rules and conditions," Kraft said. "We have tried to work the system as best we can, and now it's working itself out."
By the book
Rich McKay, chairman of the competition committee, and Dean Blandino, who runs the officiating department, met with reporters Monday to discuss potential rules changes that owners will vote on Wednesday.
Among the changes being considered are the elimination of chop blocks; a two-strikes-you're-out rule that would clear the way for an automatic ejection if a player is called for certain unsportsmanlike conduct penalties twice in a game; making permanent the new longer extra-point kicks; and adding an eighth on-field official for the 2017 season.
Twitter: @LATimesfarmer
---
Get our high school sports newsletter
Prep Rally is devoted to the SoCal high school sports experience, bringing you scores, stories and a behind-the-scenes look at what makes prep sports so popular.
You may occasionally receive promotional content from the Los Angeles Times.