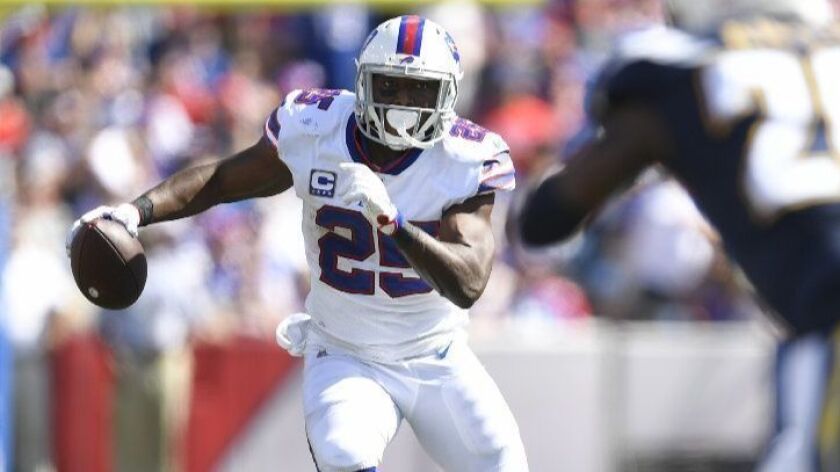 Buffalo Bills running back LeSean McCoy said allegations that he abused his 6-year-old son were "ridiculous" and being made by people attempting to further their own agendas.
"These people honestly have so much to gain by doing this," McCoy said after practice Wednesday. "But I'm not going to sit here and spend too much time even talking about it. It's crazy. It's ridiculous. Everything I do is for my little man, my son. And If I didn't care, I wouldn't be fighting for custody of my boy."
McCoy's comments came a day after he was called "a monster" by his son's mother in a three-page document filed in Fulton County State Court in Georgia. Stephanie Maisonet said her son would often come home crying and with bruises after visiting McCoy, allegations he denied.
On Wednesday, McCoy said he won't let Maisonet's comments affect him.
"In this world with social media, you could say what you want, the cameras and everybody will take it and run with it," he said.
"I can't control that. The only thing I can control is being a great dad. I love my son. Anybody that knows me or ever sees me around with my boy, they know what type of relationship we have."
McCoy has a custody hearing scheduled in November.
Sore winner
Case Keenum said he'll be back directing Denver's offense Thursday after missing Wednesday's workout with a sore knee.
"I woke up Monday a little sore ," Keenum said. "I could have practiced today. I wanted to practice today, but they wouldn't let me. So, a good mental day, come back and be ready to go tomorrow."
Although Keenum has thrown four interceptions already after getting picked off just seven times last year in Minnesota, he's led the Broncos to their sixth straight 2-0 start with a pair of fourth-quarter comebacks.
Matthews is back
The Philadelphia Eagles turned to a familiar face to bolster their depleted receivers corps, signing wide receiver Jordan Matthews and reuniting him with close friend Carson Wentz in time for the quarterback's return from injury.
The Eagles put Mike Wallace on injured reserve after suffering a broken fibula in a 27-21 loss at Tampa Bay.
Matthews played his first three seasons with the Eagles before he was traded to Buffalo in August 2017. He signed with the Patriots in April but was released during training camp after he injured his hamstring.
Falcons' Jones sits out practice
Wide receiver Julio Jones, held out of practice with a calf injury, has joined the Atlanta Falcons' long list of injured players.
Running back Devonta Freeman (sore right knee), who missed last week's win over Carolina, and defensive ends Takk McKinley and Derrick Shelby, who have groin injuries, also did not practice Wednesday.
Bengals out of backs
The Cincinnati Bengals are down to Giovani Bernard as their only experienced running back who knows their offense.
Joe Mixon had surgery to remove torn knee cartilage and will be out for a few games. Tra Carson got hurt in practice Monday and was waived Wednesday. The Bengals signed former Seattle running back Thomas Rawls, who was with the New York Jets in preseason and was released in their final cuts. They also have rookie Mark Walton, a fourth-round pick.
That's just Super
Maroon 5 reportedly will perform at halftime of Super Bowl LIII in Atlanta.
The NFL said no decision had been made, but Variety reported that Adam Levine and Co. would be performing at halftime on Feb. 3.
---