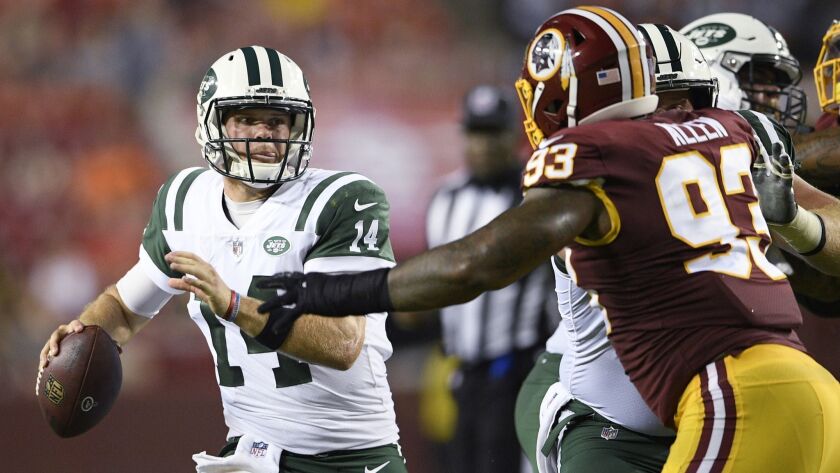 Sam Darnold threw an interception and showed some of the growing pains of a rookie quarterback in his first preseason start for the New York Jets, who lost to the Washington Redskins 15-13 on a last-second field goal Thursday night.
Darnold was 8 of 11 for 62 yards, but took two sacks and had a couple of throws batted out of the air, including the pass that was intercepted . It was a far cry from the impressive debut in which the third overall pick went 13 of 18 for 96 yards and looked like the front-runner to win New York's starting QB competition.
The former USC star played the entire first half before giving way to veteran Teddy Bridgewater. The former Vikings quarterback had his own inconsistences, going 10 of 15 for 127 yards, a touchdown and an interception.
Redskins starter Alex Smith was 4 of 6 for 48 yards in one series, his only work so far in the preseason.
Jets coach Todd Bowles has said he needs to evaluate Darnold the most because he's plenty familiar with incumbent starter Josh McCown and knows about Bridgewater. Darnold showed flashes for the Jets (1-1), going 5 of 5 on his second drive, but was sacked by Preston Smith to force a field goal on a night full of them.
Washington kicker Dustin Hopkins made all five of his field-goal attempts, including a 40-yarder as time expired to win it for the Redskins (1-1).
at Patriots 37, Eagles 20: Tom Brady moved the New England Patriots with ease in their Super Bowl rematch against the penalty-prone Eagles, with a little help from running back James White and fifth-round draft choice Ja'Whaun Bentley.
In his first action since losing in the NFL title game to Philadelphia, Brady completed 19 of 26 passes for 172 yards and two touchdowns on Thursday night to help stake New England to a 27-7 halftime lead.
Super Bowl MVP Nick Foles left in the second quarter with a shoulder injury after a strip sack that Bentley recovered and ran 54 yards for a touchdown.
White caught six passes for 61 yards, including a 20-yard touchdown, and also ran for 31 yards in the first half of the Patriots' 37-20 victory. The Eagles had five penalties for 50 yards in the first quarter — including two for lowering the head to initiate contact and one for hitting a defenseless receiver — and 97 penalty yards in all.
After sitting out last week's exhibition season opener, Brady led New England to scores on four of the six series he played. Foles, who outplayed Brady in a 41-33 Super Bowl victory, managed one first down in his first three possessions and then coughed the ball up on a hit from defensive lineman Adrian Clayborn.
Bentley scooped the ball up and ran unpursued to the end zone to make it 17-0.
The Eagles announced that Foles had a strained shoulder and was questionable to return; he did not, finishing 3 for 9 for 44 yards. Third-stringer Nate Sudfeld played most of the next three quarters, completing 22 of 39 passes for 312 yards, three touchdowns and an interception.
Erstwhile Eagles starter Carson Wentz is on the verge of returning to 11-on-11 practice, but the team is not sure if he will be ready for the Sept. 6 opener against Atlanta.
Philadelphia's Shelton Gibson had five catches for 90 yards and a 4-yard TD reception in the second quarter that made it 17-7.
Patriots backup Brian Hoyer completed 5 of 13 passes for 32 yards and an 11-yard touchdown pass to Cordarrelle Patterson.
at Packers 51, Steelers 34: Aaron Rodgers needed just one drive to look at home in his first action at Lambeau Field in almost a year.
Rodgers connected with tight end Jimmy Graham for an 8-yard score , and Tramon Williams had a 25-yard interception return for a touchdown on the first play from scrimmage of the Green Bay Packers' 51-34 win Thursday night over the Pittsburgh Steelers.
Five minutes after throwing the pick, Mason Rudolph found JuJu Smith-Schuster for a 4-yard touchdown pass. Rudolph, who is competing with Joshua Dobbs for a backup job, was just 5 of 12 for 47 yards in playing the first half.
Dobbs didn't look much better after throwing a 22-yard interception returned for a touchdown by rookie cornerback Josh Jackson in the third quarter. But Dobbs finished strong and connected with rookie receiver James Washington for two second-half touchdowns .
Starting quarterback Ben Roethlisberger watched from the sideline in shorts and a T-shirt. He and second-stringer Landry Jones had already been ruled out for the game when Roethlisberger left a training camp practice on Tuesday with a possible concussion.
Big Ben looked just fine while chatting with Rodgers as they walked to their respective locker rooms at halftime.
Rodgers was done for the night after one series, but he was much more productive.
"I thought Aaron did a heck of a job the little time he was in there," coach Mike McCarthy said.
Rodgers was 2 of 4 for 35 yards in his first game at Lambeau since Sept. 28. He broke his collarbone two weeks later at Minnesota, an injury that doomed the Packers in a 7-9 season.
Green Bay is always a threat in the NFC as long as Rodgers is healthy. This year, he has an intriguing option in the red zone in the 6-foot-7 Graham, who signed as a free agent in the offseason.
Rodgers drew the Steelers offside on third-and-10 from the 13 for a 5-yard penalty.
On the next play, he stood tall in the face of a rush before throwing a high pass into the middle of the end zone for Graham. He spiked the ball before heading into the stands for his first Lambeau Leap.
"That was fun. Those two have been having a great camp," McCarthy said.
Besides Roethlisberger, the Steelers didn't have two other stars. Receiver Antonio Brown sat out, while running back Le'Veon Bell still hasn't signed his franchise tender.
But Smith-Schuster is picking up where he left off following a promising rookie year after scoring his second preseason TD. The score wrapped up a wild opening 5 minutes in which the Packers raced out to a 14-point lead before the Steelers scored two straight touchdowns.
Green Bay's backups pulled away from there.
Second-string quarterback Brett Hundley was 6 of 9 for 77 yards. He also scored on a 10-yard run . Third-stringer DeShone Kizer connected with receiver Jake Kumerow for an 82-yard touchdown pass in the third quarter.
James Conner had a 26-yard touchdown run for the Steelers in the first quarter while the Packers still had many starters on the field. Washington scored on a 19-yard pass from Dobbs after turning and extending his arms past a defender to retrieve the ball.
---