Sports and politics, two worlds that usually like to stay clear of each other, found themselves on a collision course when President Trump decided to take on both the National Football League and the National Basketball Assn.
The response from players and the NFL was akin to a benches-clearing brawl.
At a political rally Friday night in Huntsville, Ala., Trump challenged NFL owners to fire any player who takes a knee during the playing of the national anthem.
Trump said the owners should say: "Get that son of a bitch off the field right now. Out! He's fired. He's fired!"
Then on Saturday morning, Trump disinvited the Golden State Warriors from the traditional meet-and-greet of championship teams at the White House after star player Stephen Curry said he didn't want to go.
"Going to the White House is considered a great honor for a championship team," Trump tweeted. "Stephen Curry is hesitating, therefore invitation is withdrawn!"
The NFL and the NFL Players Assn., who have an oil-and-water relationship, found themselves aligned against Trump's remarks.
NFL Commissioner Roger Goodell called Trump's comments "divisive" and said they "demonstrate an unfortunate lack of respect for the NFL, our great game and all of our players, and a failure to understand the overwhelming force for good our clubs and players represent in our communities."
NFL Players Assn. Executive Director DeMaurice Smith defended what he described as the peaceful protests of the players, most of whom have either taken a knee or raised a fist during the national anthem.
This could put Goodell at odds with his owners, some of whom were major backers of Trump. The Rams' Stan Kroenke, New England's Robert Kraft, Washington's Dan Snyder, Jacksonville's Shad Khan, Houston's Bob McNair, and Woody Johnson of the New York Jets each contributed $1 million to his campaign.
Stanford professor emeritus William Gould IV, former chairman of the National Labor Relations Board, can see such a divide between the commissioner and his bosses.
"I bet a lot of the owners, in fact, subscribe to everything he's saying," Gould said. "It's remarkable that the players association and the commissioner, who have been at odds with each other on a wide variety of issues, can come together. [Freedom of expression] is such a basic point."
Going to the White House was a great honor until you showed up!
LeBron James, via Twitter in response to President Trump's withdrawing his invitation for the NBA champion Warriors to visit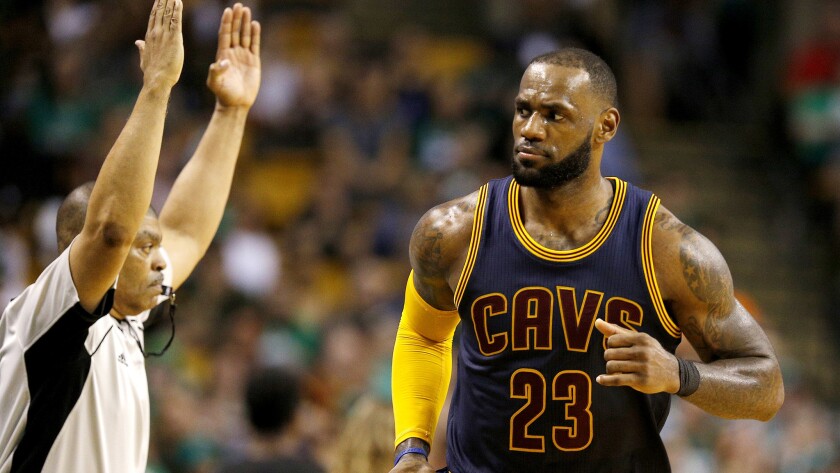 A few NFL executives, such as New York Giants owners John Mara and Steve Tisch, Miami Dolphins owner Steve Ross and San Francisco 49ers Chief Executive Jed York, came out against Trump, using language similar to Goodell's.
The reaction from the players was swift, conveyed on Trump's favored information platform.
Tweeted Richard Sherman of the Seattle Seahawks: "The behavior of the President is unacceptable and needs to be addressed. If you do not Condemn this divisive Rhetoric you are Condoning it!!"
NBA's LeBron James of the Cleveland Cavaliers called Trump a "bum" on Twitter and said that "going to the White House was a great honor until you showed up!"
Chris Paul, the former Clipper who now plays for the Houston Rockets, challenged Trump's manhood.
"I doubt he's man enough to call any of those players a son of a bitch to their face," Paul said on Twitter.
Even retired players took to the keyboard.
Former Laker Kobe Bryant tweeted Saturday that a president "whose name alone creates division and anger" and "whose words inspire dissension and hatred can't possibly 'Make America Great Again.'"
It's long been a tradition for championship teams to visit the White House. But Trump's canceling of the invitation was probably a preemptive strike. The Warriors were going to take a team vote and most likely would not have gone.
"We accept that President Trump has made it clear that we are not invited," the Warriors said in a statement. "We're disappointed that we did not have an opportunity during this process to share our views or have open dialogue on issues impacting our communities that we felt would be important to raise."
Curry foreshadowed the team's decision when he said that not going would send a message "that we don't stand for basically what our president has — the things that he's said and the things that he hasn't said in the right times, that we won't stand for it."
Players taking a knee during the national anthem has not been a big issue in the league. Of the more than 1,600 active players on NFL rosters, only six protested in Week 2.
The protests started during the 2016 preseason, when then-San Francisco quarterback Colin Kaepernick refused to stand for the national anthem in order to draw attention to police violence against African Americans.
Trump predicted in his Alabama speech that any owner who fires a player for sitting out the national anthem will "be the most popular person in this country." He also urged fans to "pick up and leave" if they see a player protesting.
The unintended consequences of Trump's comments could be a significant increase in protests at Sunday's NFL games.
Kansas City Chiefs receiver Chris Conley tweeted: "When will people learn that fear won't make someone sit down. It quite possibly will make more stand up for what they believe in."
Trump's adversarial relationship with the NFL dates to back to 1983, when he owned the New Jersey Generals of the United States Football League, which successfully sued the NFL for antitrust violations.
Trump said he wanted to buy the Buffalo Bills in 2014, a move the league viewed as mostly a publicity stunt. He was never seriously considered for ownership.
Times staff writer Jim Puzzanghera contributed to this story.
Follow Sam Farmer on Twitter @LATimesfarmer
---