Sam Farmer's NFL Week 15 picks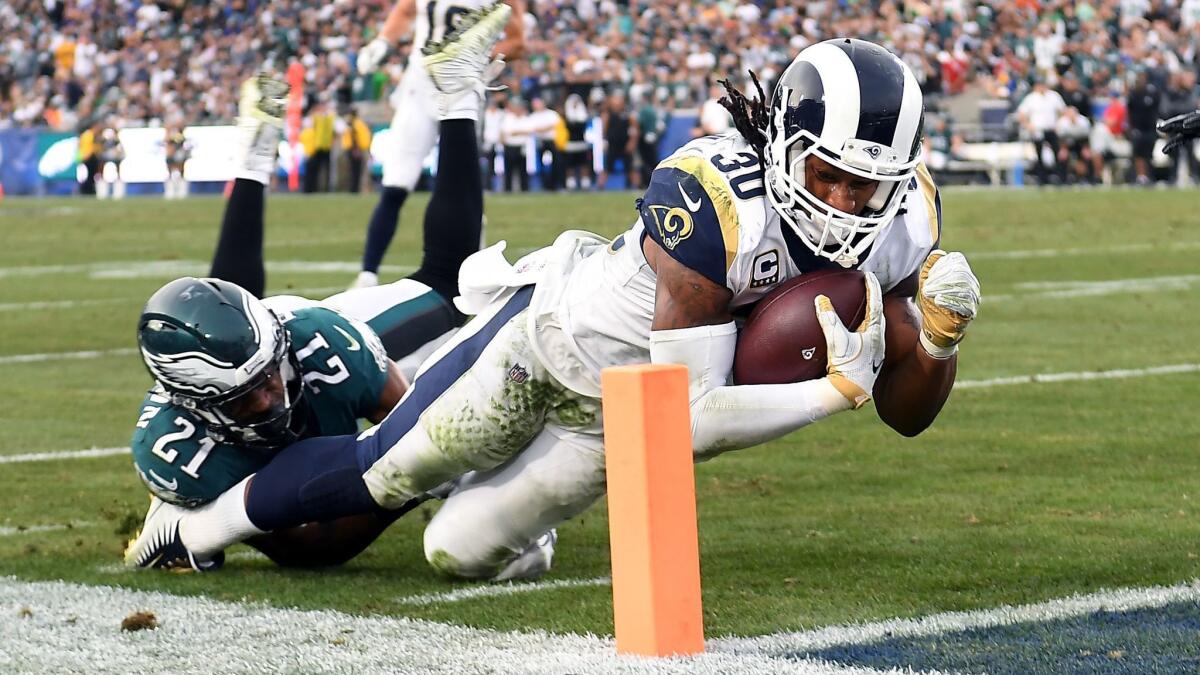 The Times' NFL writer, Sam Farmer, examines this week's matchups. Lines according to Pregame.com (O/U = over/under). Last week's record 9-7 (.563); season 135-71-2 (.655). Using point spreads with the scores Farmer predicted, the record against the spread last week would have been 8-8 (.500); season 99-101-8 (.495). Times Pacific.
Houston (9-4) at N.Y. Jets (4-9)
Saturday, 1:30 p.m.
Texans 28, Jets 24
TV: NFL Network.
Line: Texans by 6½. O/U: 41½.
The Jets had a good win over Buffalo last week, and they play better at home. That said, go with Houston, which will bounce back from its loss to Indianapolis ... because it has to.
Cleveland (5-7-1) at Denver (6-7)
Saturday, 5:15 p.m.
Browns 23, Broncos 21
TV: NFL Network.
Line: Broncos by 2½. O/U: 45½.
Cleveland is running and sticking with it, and that's allowing its defense to stay fresh. The Browns are stopping the run too, and that's key against a Denver team coming off a bad loss.
Oakland (3-10) at Cincinnati (5-8)
Sunday, 10 a.m.
Bengals 27, Raiders 23
TV: None. DirecTV: 705.
Line: Bengals by 3. O/U: 46.
The Bengals played a lot better at the Chargers last week than most expected. The Raiders are coming off a huge win over Pittsburgh. The Bengals don't have to travel and are used to the weather.
Miami (7-6) at Minnesota (6-6-1)
Sunday, 10 a.m.
Vikings 31, Dolphins 24
TV: Channel 2. DirecTV: 706.
Line: Vikings by 7½. O/U: 44½.
It's common for a team that fires a coach during the season to play well the next week, even if it's only a coordinator. Go with the Vikings over a Miami team coming off a stunning win over the Patriots.
Tennessee (7-6) at N.Y. Giants (5-8)
Sunday, 10 a.m.
Giants 28, Titans 21
TV: None. DirecTV: 707.
Line: Giants by 1½. O/U: 43 ½.
Both teams have won two in a row, and the Titans really have the ground game going. The Giants finally have figured out what they want to do on offense and are prepared to hold serve.
Washington (6-7) at Jacksonville (4-9)
Sunday, 10 a.m.
Redskins 13, Jaguars 10
TV: None. DirecTV: 708.
Line: Jaguars by 7½. O/U: 36.
Two teams in dueling tailspins. Apparently, you can run it on Jacksonville now, as Tennessee discovered in dramatic fashion. Washington is capable of cobbling together a close win.
Arizona (3-10) at Atlanta (4-9)
Sunday, 10 a.m.
Falcons 30, Cardinals 10
TV: None. DirecTV: 709.
Line: Falcons by 10. O/U: 44.
As disappointing as this season has been for the Falcons, they should be able to handle the Cardinals at home. Arizona was able to generate only three points last week in a home loss to Detroit.
Tampa Bay (5-8) at Baltimore (7-6)
Sunday, 10 a.m.
Ravens 23, Buccaneers 20
TV: None. DirecTV: 710.
Line: Ravens by 7½. O/U: 46½.
Buccaneers can be explosive on offense, but maybe not against this defense that gave Kansas City all it could handle last week. Baltimore grinds it out on the ground. Typical December football.
Detroit (5-8) at Buffalo (4-9)
Sunday, 10 a.m.
Lions 24, Bills 21
TV: None. DirecTV: 711.
Line: Bills by 2½. O/U: 39½.
Buffalo's defense is fairly stingy, but the Lions are a bit better team. Two mediocre teams that can occasionally get hot. Go with the more experienced quarterback, even though he's on the road.
Green Bay (5-7-1) at Chicago (9-4)
Sunday, 10 a.m.
Bears 28, Packers 21
TV: None. DirecTV: 712.
Line: Bears by 6. O/U: 45.
Bears might not be rolling on offense, but their defense is smothering. That will be good enough against the up-and-down Packers, especially because Aaron Rodgers can struggle in Chicago.
Dallas (8-5) at Indianapolis (7-6)
Sunday, 10 a.m.
Colts 23, Cowboys 21
TV: Channel 11. DirecTV: 713.
Line: Colts by 3. O/U: 47½.
The Cowboys are feeling good about themselves, as they should. The Colts are riding high too after an impressive divisional win. Leave it to Andrew Luck to find a way to take Dallas down a notch.
Seattle (8-5) at San Francisco (3-10)
Sunday, 1 p.m.
Seahawks 30, 49ers 29
TV: None. DirecTV: 714.
Line: Seahawks by 3½. O/U: 44.
These aren't quite the Seahawks of old, but they're winning in familiar fashion. The playoffs are inching ever closer. Kyle Shanahan deserves credit for keeping that 49ers MASH unit competitive.
New England (9-4) at Pittsburgh (7-5-1)
Sunday, 1:15 p.m.
Patriots 31, Steelers 27
TV: Channel 2. DirecTV: 715.
Line: Patriots by 2½. O/U: 52.
The Steelers are really struggling, and they've got a brutal one-two punch coming in New England and New Orleans. The Patriots rebound from their shocking, last-second loss to the Dolphins.
Philadelphia (6-7) at Rams (11-2)
Sunday, 5:15 p.m.
Rams 34, Eagles 17
TV: Channel 4.
Line: Rams by 11½. O/U: 52½.
After a so-so game and a terrible game, Jared Goff returns to form at home, and the Rams start looking like a top-shelf offense again. Watch them pull away in the second half.
New Orleans (11-2) at Carolina (6-7)
Monday, 5:15 p.m.
Saints 31, Panthers 21
TV: ESPN.
Line: Saints by 6½. O/U: 52.
The Saints are going for the No. 1 seed and they're determined not to let the Panthers derail them. Carolina's defense is a shell of its former self, and Drew Brees will capitalize on that.
Get our high school sports newsletter
Prep Rally is devoted to the SoCal high school sports experience, bringing you scores, stories and a behind-the-scenes look at what makes prep sports so popular.
You may occasionally receive promotional content from the Los Angeles Times.