Q&A: Rams GM Les Snead insists team will be up for playing in Coliseum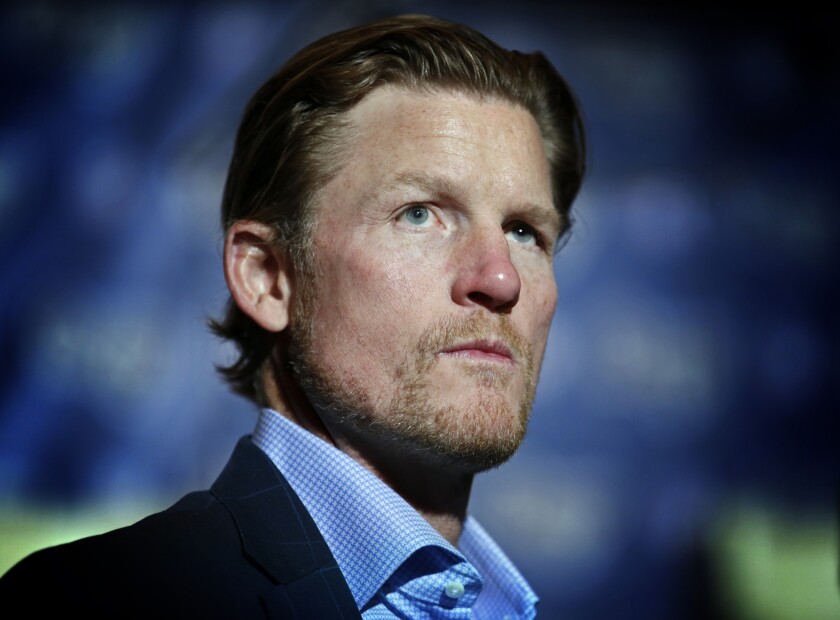 Reporting from Mobile, Ala. —
The Rams have begun the process of transitioning from St. Louis to Los Angeles, where they will play for first time in more than two decades.
The logistics of the move are only one of the issues the franchise faces as it prepares for the 2016 season, the first of three it is expected to play at the Coliseum before owner Stan Kroenke's Inglewood stadium is completed in 2019.
Coach Jeff Fisher must fill several spots on his staff, more than a dozen players will be free agents and the Rams must decide where they will train this season before a permanent practice facility is constructed.
Rams General Manager Les Snead is attending Senior Bowl workouts in preparation for the NFL draft, which is scheduled for April 28-30 in Chicago.
After watching practices at Ladd-Peebles Stadium, Snead sat down with Times reporter Gary Klein and answered questions about several topics.
Will you be playing in the Coliseum for sure?
I've been told that's where we're playing.
Any pitfalls to being in a temporary stadium that is not your own and not outfitted specifically for your team?
The Coliseum is such an historic place; that will be neat for our players. I think our players will really enjoy being outdoors. And judging from the initial ticket [deposits] and having a relatively full Coliseum, any pitfall there is, all those things will outweigh it by a longshot.
How about the locker rooms and amenities that NFL players are accustomed to? Will they care that those are lacking?
Nowadays you can draft players from certain schools and when they come to your NFL facility it's a downgrade. So I don't think so at all. I think because it's the Coliseum — and maybe for you in L.A. you think, 'Oh it's the Coliseum.' — but from afar, when you've seen USC play Notre Dame at night or what have you, it's a neat venue. It's something that I think our players relate to because they grew up watching college football. ... I could see where if it was in another town and just a temporary venue, it may be a problem. But for temporary sites, this one is pretty neat.
Will be there a permanent training facility at the stadium?
There is a vision to go out and vet some land and build a permanent training facility.
Will there be a reorientation program for the Rams players with the move to a new location?
I know Jeff [Fisher] has really been at the forefront, pushing with both our league office and the NFL Players Assn., to allow us to have a meeting before we report. Because, technically, this is their vacation. And with the collective bargaining, you can't meet with your guys. But I think all sides — players, the NFLPA, our league — think, 'OK it's probably needed.' So right now Jeff's vision is, 'Yes, when we have the information, let's have a meeting and kind of orientate them to what's about to happen.... You have to have some processes in place to get people as comfortable as possible. So we'll design those as best we know how.
What about the temptations available to players in L.A.? Are you concerned, as the GM, about how some of your players will handle that?
I've definitely thought about it because it's a larger market with more distractions.... I do know that some of the teams have been very, very successful in L.A., on the field, on the court and in the rink. So it's proven that you can be a professional athlete and be young and still thrive…. I definitely think it would be prudent to go out and visit some of those teams and see how they handle it and go from there.
Last season, the Rams got off to a good start and then struggled and again missed the playoffs. In this market, with what could be fickle fans, do you have to be great from start to finish?
The goal is to be consistently good and I think that should be the goal whether you're moving to L.A. or you're in a very small town somewhere else…. If you come out and you consistently compete and you're consistently good and you earn some equity … [fans are] going to get behind you…. Take L.A. out of it. Let's be a good football team, consistently good. We've had some inconsistencies in the past. That's why you keep doing it. Keep evolving, keep maturing, all those things to get consistently good.
Jeff Fisher has said that Case Keenum would go into training camp as the starter at quarterback. But he will be a restricted free agent. You're pretty confident you'll retain him?
That is a goal. We're not going to let him go somewhere else.
In regard to the draft, are you seriously considering taking a quarterback up high?
You definitely have to prepare that you might do it.… Sometimes with QBs we've seen some very successful ones go in the second round, and the third round seems to be hot of late. I'm thinking of Russell Wilson. I'm thinking of Kirk Cousins [fourth round]. So the thing about the draft is, because it's become a nice entertainment segment … there's so much attention on the first round, especially at the QB position, that sometimes the third-round QB, it's 'Oh, he's a third-round QB.' But the long story short on all of that is we'll definitely scout QBs, and we'll definitely look at the trade market and free-agent market.
What about Nick Foles? At something like $12-13 million, can you keep a guy like that as a backup?
His contract is not exactly that. I don't want to get into the exact numbers, but it's about half of that. There's a lot of things that get written about contracts. The answer from a salary standpoint is, yes, he's easily keepable.
Running back Todd Gurley had a breakout rookie season. Who will be the other marquee guys that fans should be looking for?
There are bright people in marketing and they may unveil some of those guys in the near future. I think we'll let the fans wait on that. But if I gave them a hint, you could probably tune in to the Pro Bowl. That may be the start. [Gurley, defensive tackle Aaron Donald and punter Johnny Hekker are in the Pro Bowl on Sunday]. This thing is a team sport, so really, we want to market the L.A. Rams. I know there are going to be some marquee individuals and that's L.A. and that's what the billboards are for, but it's a team.
Is Gurley a new-age Eric Dickerson?
It's hard for me to compare him to one guy. I've always been able to compare him to three or four guys and I've kind of mentioned that's what makes Gurley special and unique. It takes four guys to make one Todd Gurley. And hey, like Eric can run between the tackles big and strong, can run through tackles, like some others guys can hurdle you, or make a cut here or there and make you miss, and like a few other guys can run away from you … and like a few other guys can catch it out of the backfield. And he definitely proved that he can protect the passer as a sixth offensive lineman when that's called upon. It takes a few people to make up one Todd Gurley.
You gave up the least amount of sacks and had a good running game. Do you finally have the right combination on the offensive line?
The answer is yes.... Last year we went into [the draft] needing [offensive linemen]. Four of our five starters from the 2014 team, when we went to draft, still weren't on our roster for various reasons. We needed to draft, develop some guys and let them grow together … we think we're on our way to see it come to fruition.
Tavon Austin has been a receiver, return man and sometimes a running back. Do you want to define his role?
We want to keep evolving it. He had a few [touchdowns] called back. As a returner, he's probably had more touchdowns called back than any other player I've been around has scored touchdowns on returns.
Will you eventually be able to use the new stadium as a recruiting tool for free agents?
Yes, and I actually think it's got a chance to become a selling point before it's built. Because I think, as you've seen, the artist renderings of the facility are pretty impressive. I think guys may go, 'Wow, I'd love to go play there.' And I think the city will as well. Those things combined are attractive to young professional athletes.
Fans are infatuated with uniforms. What are your thoughts on what the Rams uniform should look like?
It's definitely not my decision. I've probably got an opinion and I'd probably get in trouble for saying it, so I'll keep it to myself. Here's what I think everyone needs to know: There is a set of guidelines to go through for uniform changes in the NFL, and I probably can't recite those guidelines…. We can't just do a poll in the L.A. Times, say these are our favorite uniforms and then unveil them the next day. There is more of a process and guidelines that the NFL has in place so that teams aren't doing that and changing frequently.
The Rams were 4-2 in the NFC West last season and struggled against the rest of the league. What does that tell you in terms of establishing a foothold in the division? Do you feel like you have done so, or are on your way to?
We're on our way to. This season showed signs of being on our way to. But because we have never conquered the division I think we still got a little bit of a hill to climb.… If you win that division you get a golden ticket to the tournament. So that's a definitely a point of emphasis for us. Because you play those guys twice a year. That's where we should start.
gary.klein@latimes.com
Twitter: @latimesklein
---
Get our high school sports newsletter
Prep Rally is devoted to the SoCal high school sports experience, bringing you scores, stories and a behind-the-scenes look at what makes prep sports so popular.
You may occasionally receive promotional content from the Los Angeles Times.