Olympian Tasha Schwikert and sister sue USA Gymnastics, alleging racketeering that included sex abuse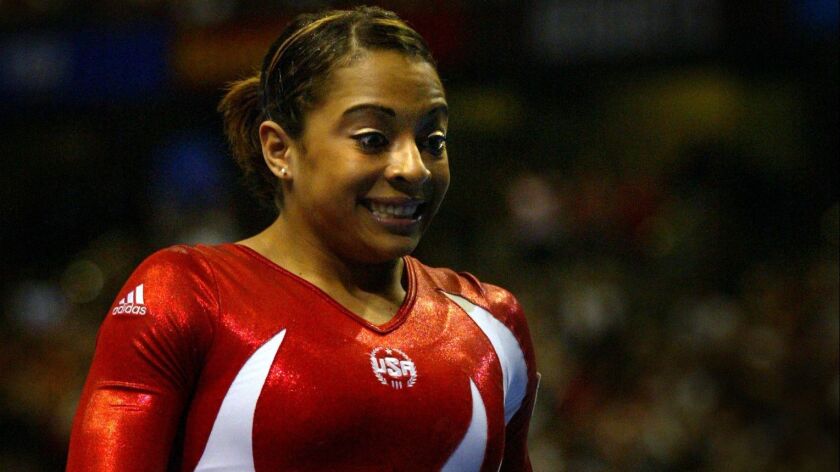 In February 2017, as the Larry Nassar sexual abuse scandal was exploding through the sports world, USA Gymnastics defended itself with a post on social media.
The tweet featured Tasha Schwikert, a former Olympian, extolling the virtues of the organization, insisting it always had "my health and well-being top of mind."
Now, almost two years later, the 2000 Olympic bronze medalist is claiming she was pressured into making the statement and, along with her younger sister, Jordan, another elite gymnast, is suing USA Gymnastics, the U.S. Olympic Committee and others in the sport.
Their lawsuit, which includes unnamed defendants, claims USA Gymnastics helped create an environment that not only allowed Nassar to molest scores of young athletes, but also allowed coaches to over-train and mistreat national team members.
"It's just an awful, awful culture," Schwikert said. "I don't think they realize what it does to the athletes long term."
USA Gymnastics has a policy of not commenting on pending litigation. However, it released a statement that read: "USA Gymnastics is deeply sorry that Tasha and Jordan Schwikert, or any athlete, were abused by Larry Nassar during their gymnastics careers. The organization has undergone significant reforms in the wake of his horrific acts that have impacted our athletes and community forever. The new board of directors and staff are working every day to make meaningful changes to ensure that athlete safety and well-being remains at the forefront of our work. We are focused on fostering an environment that is safe, positive and encouraging for athletes and all members."
The suit was announced at a Monday news conference in West Los Angeles, less than two weeks after former USA Gymnastics President and Chief Executive Steve Penny was arrested on suspicion of tampering with evidence in the Nassar case.
That arrest and turmoil within the organization, which has seen recent leadership changes, prompted Schwikert, 33, to go public with her claims.
"These recent developments were what really got my blood boiling," she said. "Enough is enough."
Schwikert claims that Penny contacted her in early 2017, saying his organization was in "some trouble" and needed a comment about her positive experiences in the sport.
At the time, Schwikert says she was studying for the bar exam and caring for a young child while her husband was playing professional basketball overseas. Penny intimidated her, she claims, into signing off on a comment drafted by USA Gymnastics.
"As a member of the National Team from 1999-2004, I firmly believe USA Gymnastics always had my health and well-being top of mind," the tweet stated. "The program provided me with the resources and experiences that helped me achieve my goals."
At roughly the same time, other top gymnasts appeared on "60 Minutes" alleging abuse by Nassar.
"It made me look horrible," said Schwikert, now an attorney. "No one knew the manipulation."
The Schwikerts, who also both competed for UCLA, joined a long list of elite competitors — including Simone Biles, Gabby Douglas and Aly Raisman — who have spoken out against USA Gymnastics and, in many cases, the U.S. Olympic Committee. Much of Monday's suit covers familiar territory.
The sisters say they were abused by Nassar, a former national team doctor expected to spend the rest of his life in prison after pleading guilty to molesting girls under the guise of providing medical treatment.
They say that, as young athletes leading "isolated" lives, they did not fully understand "the sweating and the panting" Nassar exhibited while tending to them.
"We didn't know what he was doing down there," Tasha Schwikert said.
The Schwikerts also contend that national team staff — led by the famed coaching duo of Bela and Martha Karolyi — forced gymnasts to over-train, leading to chronic injuries, and under-eat to maintain a dangerously thin build.
Like other gymnasts who have come through the program, Tasha Schwikert said she battled with an eating disorder during and after her competitive career. She spoke about young athletes who never complained for fear of losing a coveted spot on the U.S. team.
Asked about the Karolyis' role in creating this atmosphere, Schwikert said: "I think it's hard to point fingers at one person or two people. … The problem with this whole culture was the national staff rubber-stamped it."
Jordan Schwikert, 32, a gymnastics coach, added that athletes' parents were similarly intimidated into complying with whatever the national team demanded.
"If you make waves, your kid is not going to make the Olympic team," the younger sister said. "Simple as that."
Their complaint, filed in Los Angeles County Superior Court on Monday, is the first to seek damages under the RICO Act, alleging the defendants engaged in a pattern of racketeering activity that included sexual exploitation and abuse.
The suit also alleges that USA Gymnastics kept a "secret file" of allegations against Nassar.
Twitter: @LAtimesWharton
---
UPDATES:
2:59 p.m.: This article was updated with a statement from United States Gymnastics.
This article was originally published at 1:05 p.m.
---
Get the latest on L.A.'s teams in the daily Sports Report newsletter.
You may occasionally receive promotional content from the Los Angeles Times.