L.A. officially awarded 2028 Olympic Games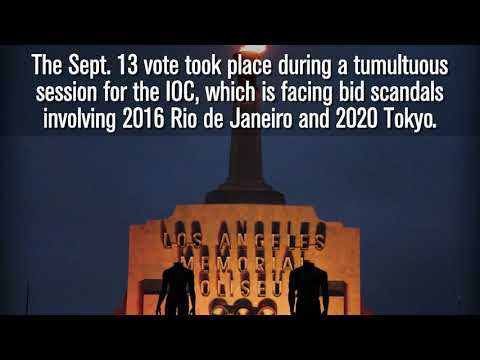 Los Angeles' rollercoaster campaign to host the Olympics — an effort marked by early defeat and last-second negotiations — reached its conclusion Wednesday when the city was formally awarded the 2028 Summer Games. (September 13, 2017) (Sign up for o
Los Angeles' roller coaster campaign to host the Olympics for a third time — an effort marked by early defeat and last-second negotiations — reached a conclusion Wednesday when the city was formally awarded the 2028 Summer Games.
International Olympic Committee members voted their approval with a show of hands at a session in Lima, Peru, ending an unusual bid competition that resulted in two winners, with Paris simultaneously awarded the 2024 Games.
"Like anything worth fighting for, this was a long journey," Mayor Eric Garcetti said. "Little by little, we got a victory."
After the membership gave the cities a standing ovation, IOC President Thomas Bach added: "It is really this win-win-win situation we were all together looking for."
Bach and Garcetti sat at a long table where the mayor signed the "host city contract," obligating L.A. to serve as a financial backstop, paying off any debts should the estimated $5.3-billion sporting event run over budget.
The private LA 2028 bid committee has vowed to control costs by using existing venues such as the Coliseum and Staples Center, as well as the Rams' stadium currently under construction in Inglewood. Bid leaders have emphasized that the city's two previous Games, in 1932 and 1984, were financially successful.
This time, they expect to cover all expenses through revenues from broadcast rights, sponsorships, ticket sales and other sources. But critics have noted that previous hosts — including Rio de Janeiro, which staged the 2016 Summer Olympics — had promised to balance their budgets only to come away with large deficits.
"Despite the fact that the IOC has awarded L.A. the bid to host the 2028 Summer Olympics, the fight isn't over," a grass-roots group called NOlympics LA said in a statement. "The notion that 'L.A. is going to have the Olympics, one way or another' isn't necessarily true, as many opportunities still exist to intervene and stop them entirely."
Wednesday's host-city selection proceeded smoothly with the candidates giving brief presentations before the ratifying vote.
L.A. offered 30 minutes of slickly produced videos interspersed with speakers who thanked each other, thanked the Olympic movement and thanked Paris in the slightly flushed manner that often marks host-city selections.
The women in the Southern California group wore bright pink and yellow. The men were dressed in suits and sneakers, which bid chairman Casey Wasserman — grandson of Lew Wasserman, the late movie mogul — alluded to in his speech.
"Now, I know what you're thinking. These L.A. guys seem pretty laid back," Wasserman said. "My grandfather told me the key to success was two simple things: Always be honest, and always stay true to who you are. Well, what you see onstage here today reflects who we are, and the unique brand of California-cool that we will bring to the 2028 Games."
Sounding a different note, U.S. Olympic Committee chairman Larry Probst spoke of the bid's ups and downs, saying: "It has been a formidable journey to get here, but we never gave up hope or confidence in our ability to support and advance the Olympic movement."
L.A.'s campaign appeared to be over in the winter of 2015 when the city lost to Boston in a USOC competition to become America's sole bidder.
But the Massachusetts capital soon withdrew in the face of public opposition, allowing L.A. to join what eventually became a two-city race with Paris for the 2024 Games.
The competition appeared to be neck-and-neck, then took a dramatic turn with whispers that the IOC might name two winners, giving 2024 to one city and 2028 to the other.
The move made sense if only because there have been so few willing candidates in recent bid cycles. Hamburg, Rome and Budapest had also withdrawn from the 2024 race.
With two viable proposals, Olympic leaders warmed to the idea of locking up summer hosts for the next 11 years. Tokyo is hosting the 2020 Summer Games.
"This way was not usual," Paris Mayor Anne Hidalgo said. "We invent this new way together."
The main question was: Which city would agree to take 2028?
From the start, Paris insisted it could not wait. Negotiations between L.A. and the IOC began in earnest in July and within weeks, the deal was done.
In return for going second, L.A. will not have to pay tens of millions in IOC fees and will get a $180-million advance, most of which will go to funding youth programs citywide beginning as soon as next year.
LA 2028 will also receive a larger slice of IOC revenues and will not have to give the IOC a standard 20% of its surplus if the Games run under budget.
The Los Angeles City Council unanimously supported the agreement last month at a session marked by a small but vocal protest.
"When people say costs could run over, I say, 'For what?'" Garcetti said Wednesday. "For a [Rams] stadium we don't own? For arenas that are already built and used every day?"
LA 2028 now turns its attention from the stress of bidding to the hard work of organization. Unlike other hosts, it will have more than a decade to prepare.
"What does history feel like?" Garcetti asked. "It feels like this."
Follow @LAtimesWharton on Twitter
ALSO
What will Los Angeles transportation be like when the Olympics arrive in 2028?
Would an 11-year wait for the Olympics lead to greater risks for L.A.?
Jules Boykoff: The currency of Olympic politics is often just currency
Get the latest on L.A.'s teams in the daily Sports Report newsletter.
You may occasionally receive promotional content from the Los Angeles Times.