Column: Americans fail to medal in free skate, but Mirai Nagasu could earn one for excuses
Reporting from PYEONGCHANG, South Korea —
Watching the free skate program was unnecessary to figure out how the women's individual figure skating competition ended for the United States. Listening to Mirai Nagasu would suffice.
"I'm ready to go home," she said.
That's the kind of rhetoric expected of an overfed and overpaid newspaper columnist, not an Olympic champion.
Which is, well, why she isn't an Olympic champion, except in the field of complaining.
This might be unpleasant to read, but many others in the field encountered the same obstacles she did.
The 24-year-old Nagasu was the senior member of the three-woman U.S. contingent here, and it's little wonder the Americans had their worst showing in the modern era of the Olympics.
Nagasu piled up excuses the way Russian gold medalist Alina Zagitova did combination jumps.
Nagasu was emotionally drained after winning a bronze medal in the team competition. She traveled four hours last week to attend a lunar new year party. She couldn't take hot showers.
But, hey, she wasn't the only one who choked Friday at the Gangneung Ice Arena.
"I'd like to point out that Gabrielle Daleman, who is an Olympic gold medalist (for Canada in the team event), also didn't have a strong outing here in the individual," Nagasu said.
By the way, if ABC is looking for a contestant for the next season of "Dancing With the Stars," Nagasu is available.
"I would like to be on 'Dancing With the Stars' because I want to be a star," she said.
Of course, she could have become a star if she didn't mentally check out of this competition.
The once-dominant U.S. team's decline in women's figure skating has become a major talking point at these Games, with explanations varying from the reluctance of Americans to take the kinds of risks rewarded by a new scoring system to how the absence of a transcendent figure such as Michelle Kwan has affected the sport's popularity in the country.
What the skaters said in the post-competition interviews pointed to another problem: the lack of mental and emotional fortitude.
National champion Bradie Tennell was the top U.S. finisher here at ninth. Nagasu was 10th and Karen Chen 11th.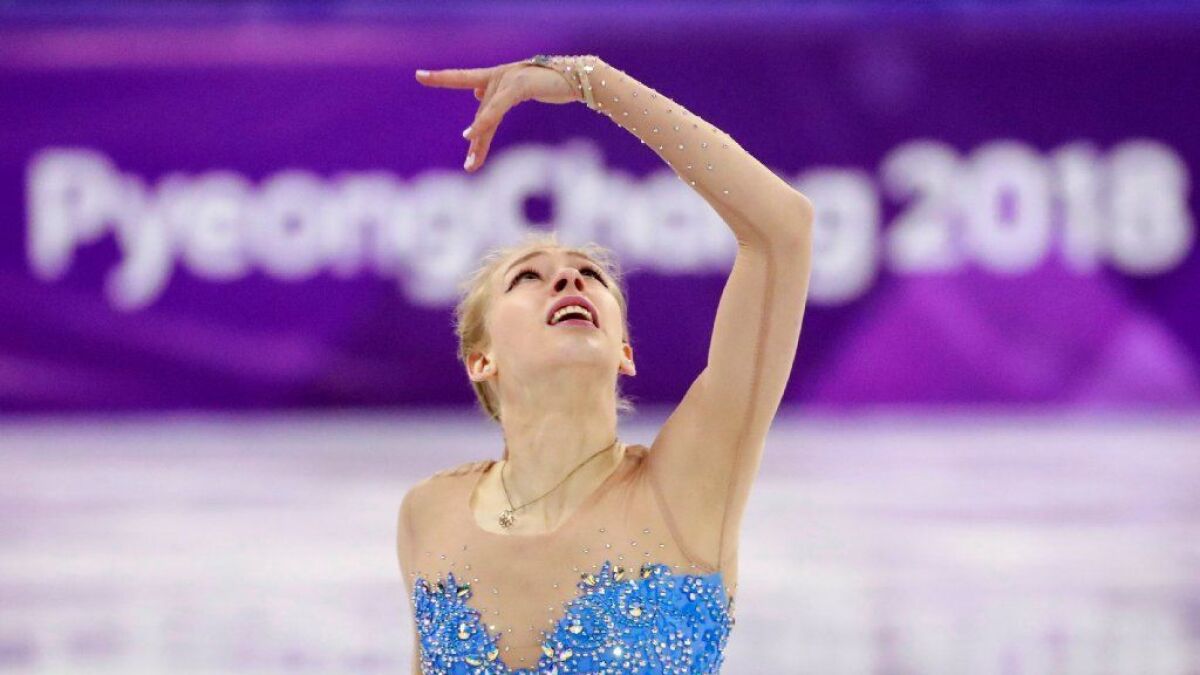 Until Friday, an American woman had finished sixth or higher at every Olympics since World War II.
The Russians — pardon, the Olympic Athletes From Russia — reaffirmed their dominance in this discipline, with 15-year-old Zagitova and 18-year-old Evgenia Medvedeva outclassing the field by a significant margin.
The top American, Tennell, finished more than 35 points behind Medvedeva, the silver medalist.
"The rest of the world just has to catch up," Tennell said.
Tennell never gave herself a chance to compete, as she was 11th after the short program. To her credit, the 20-year-old responded with America's best performance Friday.
She stumbled on a double axel-triple toeloop combination, and her left hand touched the ice on a triple lutz. She salvaged the program by following up with a successful triple loop-double-toeloop-double loop combination.
"It wasn't that perfect Olympic program, but I'm really happy for getting out there and pulling myself together," she said.
Tennell pledged to be part of a U.S. resurgence.
"I can't speak for everybody, but for me, I'm sticking around and I'm going to work as hard as I possibly can to bring us up in the rankings," she said.
The 18-year-old Chen dropped a place, from 10th to 11th. She fell on a triple loop and landed clumsily on a triple salchow.
She had no explaination for the U.S.'s problems at the Olympics. The last American woman to win an individual medal was Sasha Cohen, in 2006.
"What I can say is that there is a lot of pressure," Chen said, "and Bradie and I, this is our first time at the Olympics. To be honest, when I first came here I didn't know what to expect. I knew it was going to be big, it was going to be grand, but that was about it. I didn't know what the media was going to be like, I didn't know what the ice was going to be like, I didn't have an idea of what the village was going to be like, so it was all so brand new and all so different."
She mentioned another factor: She couldn't see her mother.
"The biggest change for me was not being able to see my mom 24/7," she said. "For me, that was something that I really missed.
"We tried to call and FaceTime each other as much as possible. I actually did run upstairs to give her a hug and just talk for a brief second before I came down to warm up. For sure, I definitely missed her."
Nagasu said she was satisfied with the bronze medal she won in the team event. In that competition, she became the first American woman — and only the third woman from any country — to land a triple axel at the Olympics.
Nagasu failed to land the jump in the short program and failed to land it again Friday, popping it.
"I've been crying every day since the team event because I was so happy, but then we had to keep training and training and training," Nagasu said.
You know who else skated in the team event? The three skaters who won medals, including Kaetlyn Osmond, the bronze medalist from Canada.
"Maybe it won't be enough for another person or maybe someone else could have done a better job," she said, "but I didn't back down."
Actually, that's exactly what it looked like she did. And if the next generation of American skaters fails to develop more resilience, it won't be winning any medals, either.
Follow Dylan Hernandez on Twitter @dylanohernandez
---
Get the latest on L.A.'s teams in the daily Sports Report newsletter.
You may occasionally receive promotional content from the Los Angeles Times.