There are signs that second-year Rams QB Jared Goff might be much improved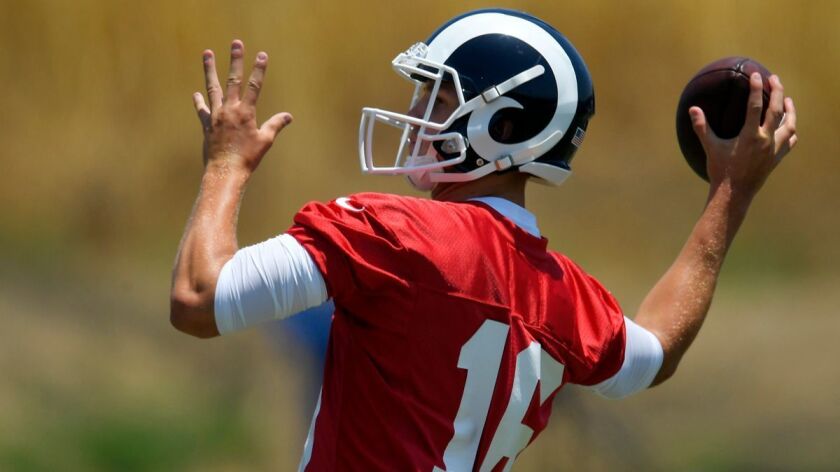 Three weeks ago, when the Rams began organized team activity workouts, quarterback Jared Goff was asked to assess the change in offensive systems from last season.
"It's way different," he said.
That was no surprise: The Rams have a new coach in Sean McVay, a new quarterback-friendly scheme and ostensibly a new vibe.
As the Rams progressed through their 10 OTA workouts, Goff also looked different.
"More confident," receiver Mike Thomas said. "More relaxed. More poised in the pocket."
The real evaluation, of course, will not begin until the NFL season starts in September.
So Goff still has three months to prepare for the scrutiny.
But as the Rams get ready for this week's mandatory minicamp, there are signs — some obvious and some subtle — that Goff could be much improved in his second season.
The No. 1 pick in the 2016 NFL draft has added a few pounds of muscle. He also made more decisive choices and throws during the final week of OTAs.
During one workout, he connected with receiver Pharoh Cooper on a slant route for a short touchdown, fired a pass into a seam that receiver Nelson Spruce turned into a long scoring play and zipped multiple mid- to long-range completions to Thomas, Robert Woods and others.
He was especially adept executing two-minute drills, and appeared more confident taking charge in and out of the huddle.
"We have a lot of confidence in what he's done," McVay said, adding, "He's getting better every single day and he's definitely commanded that role."
Goff, 22, has "a little swagger to him," new left tackle Andrew Whitworth said.
"He has kind of taken ownership and is trying hard to become that franchise quarterback that so many teams look for. You can tell that's his goal and his mission."
Goff did not look the part of a franchise quarterback last season.
He was inactive for the season opener at San Francisco and then sat for eight more games as Case Keenum's backup.
He started the final seven games and the Rams lost them all, including two in the final minutes.
He completed 54.6% of his passes, five for touchdowns, with seven interceptions. He was sacked 26 times and was pressured relentlessly.
"It's only seven games," Goff said after the finale against the Arizona Cardinals, "but it's enough to know what I did well and what I didn't do well and what I need to work on."
Goff knew that he would have a new coach and offensive system this season, but he did not know at the time that it would be McVay.
As part of McVay's interview with the Rams, the quarterback went through tape with the young coach, who turned 31 shortly after he was hired in January. Goff came away encouraged by the possible opportunity of working together.
"Coming out of that meeting," he said later, "I was like, 'If they pick him, I'm going to be really excited.'"
In February, Goff followed the lead of Tom Brady, Matt Ryan, Drew Brees and other elite NFL passers and enlisted help from quarterback trainers Tom House and Justin Dedeaux. During sessions in Newport Beach, they helped refine his mechanics.
Almost immediately after free-agent wide receiver Woods signed with the Rams in March, Goff and the former USC standout started working out together. Goff also threw passes to then-draft hopeful Cooper Kupp — who is represented by the same agency as the quarterback — before the Rams selected Kupp in the third round.
The results of the extra work have been evident.
Goff will not have an opportunity to reestablish and improve timing with veteran receiver Tavon Austin until training camp opens in late July. Austin, regarded as a possible centerpiece in McVay's offense, is recovering from wrist surgery and did not participate in team drills during OTAs.
During minicamp, Goff will attempt to continue his upward trend. The three days of workouts, which begin Tuesday in Thousand Oaks, are the last team practices until the Rams reconvene for training camp at UC Irvine.
McVay said he was "very pleased" with what Goff has established "above the neck" in terms of handling different situations.
"He has done a nice job improving every single day," McVay said, "and that's what's going to give us a chance."
Follow Gary Klein on Twitter @latimesklein
---
Get the latest on L.A.'s teams in the daily Sports Report newsletter.
You may occasionally receive promotional content from the Los Angeles Times.