Rams linebacker Connor Barwin feels at home in Wade Phillips' 3-4 scheme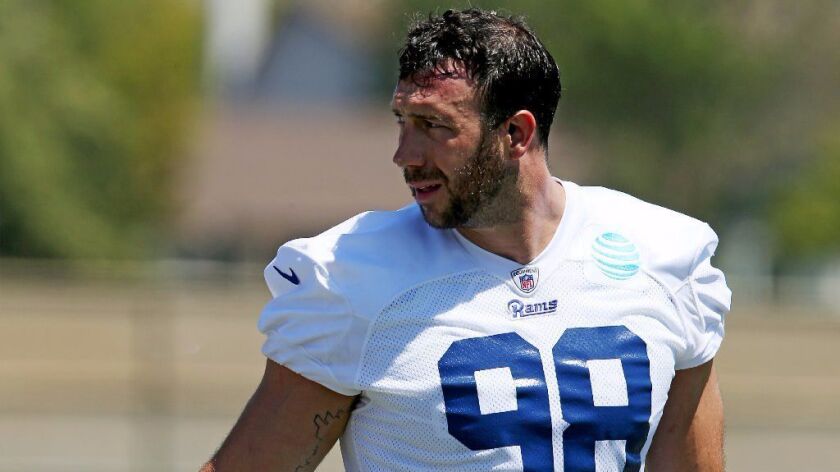 Photos posted to Connor Barwin's social media accounts last week showed the NFL veteran enjoying a honeymoon trip in Italy.
Upon his return to Southern California, the eight-year pro will resume preparations for his first season with the Rams.
After stints with the Houston Texans and Philadelphia Eagles, including last season's trials as a defensive end in a 4-3 scheme, Barwin has been reunited with defensive coordinator Wade Phillips.
Perhaps more importantly, he is again playing outside linebacker in Phillips' hybrid 3-4 scheme.
The position feels like home.
"It really does," Barwin said this month at minicamp before leaving for Europe. "I mean there's certain things I can do and I can take advantage of that you can't necessarily do being down in an even front every single play.
"And it feels good to be back in this system."
Barwin, 30, is one of several free agents signed by the Rams during the offseason. Barwin, offensive tackle Andrew Whitworth and receiver Robert Woods were pursued for their on-field talent and the leadership and example they would bring to the locker room, new coach Sean McVay said.
Barwin, 6 feet 5 and 255 pounds, played in college at Cincinnati and was a second-round draft pick by the Texans in 2009. He had 4½ sacks as a rookie but was sidelined nearly the entire 2010 season because of an ankle injury.
In 2011, Phillips took over the Texans' defense and installed a 3-4, turning Barwin loose off the edge. Barwin developed into a premium pass rusher and produced 11½ sacks.
Six years later, Barwin has 50½ sacks.
"He's bigger and stronger than he was," Phillips said. "He ran a 4.5-something at the [NFL scouting] combine when he came out, so he can run.
"But he's a big, strong fast guy now."
Barwin is three years removed from his most productive NFL season.
In 2014, playing in a 3-4 scheme for the Eagles, Barwin recorded a career-best 14½ sacks and was voted to the Pro Bowl.
He moved to right defensive end last season when the Eagles switched to a 4-3. Barwin did the gritty work against elite NFC East left tackles such as Tyron Smith of the Dallas Cowboys and Trent Williams of the Washington Redskins.
But he was credited with only five sacks.
"It was a big adjustment for me," said Barwin, who in March was released by the Eagles in a move to clear salary-cap space. "I thought the last month of the season was probably my best four games. And I was excited to be back there and continue to adjust in that new role because it takes time.
"But that didn't work out and this couldn't be a better situation for me."
Barwin joins a Rams defense that includes three-time Pro Bowl tackle Aaron Donald, veteran tackle Michael Brockers, inside linebackers Alec Ogletree and Mark Barron, and outside linebacker Robert Quinn, who played end in a 4-3 scheme in his first six NFL seasons.
Barwin is "energetic and fresh, like a rookie," Brockers said, and already has made an impression with his knowledge of the 3-4.
"He just locks up his side and does what he has to do for the defense," Brockers said. "You don't have to stress about a new guy in a new position.
"He's been in this defense and he knows what he's doing. So you just throw him in there and he gets to work."
After Barwin was released by the Eagles, he weighed an opportunity to sign with the Cincinnati Bengals. But the chance to play again for Phillips in the 3-4 was too attractive.
Phillips, 70, has not changed all that much, Barwin said. But Phillips' 3-4, while familiar, has evolved.
"There's a lot of calls I remember from my two years in Houston with him," Barwin said, "but there's a bunch of new stuff that, I think, is a sign of a good coach.
"He's always evolving with what's happening in the league and making adjustments. And that's who Wade's always been and that's why he's been so good."
The Rams expect Phillips to bring out the best in Barwin, who will earn $3.5 million on a one-year contract, with potential for millions more in bonuses.
"This is really where I want to be playing, the system I want to be in and where I'm going to have the most success," Barwin said. "And, obviously, this is a great set of guys on defense already.
"So, hopefully, I can add to the group."
Follow Gary Klein on Twitter @latimesklein
---
Get the latest on L.A.'s teams in the daily Sports Report newsletter.
You may occasionally receive promotional content from the Los Angeles Times.