Rams quarterback Jared Goff is growing on and off the field
He is listed on the roster at 6 feet 4 and 215 pounds.
But Rams quarterback Jared Goff began organized team activities this week larger if not taller. Goff said he had gained five to 10 pounds.
"Every year I've kind of gotten bigger and stronger, and I'm still growing," said Goff, 22. "I don't think I'm growing in height, as much as I'm getting a little bit wider."
The most important growth benchmarks for Goff will be measured once the season begins in September.
But a sturdier frame is a good start, especially for a quarterback who endured a pounding last season.
The No. 1 pick in the 2016 draft did not play in the first nine games before starting the final seven. The Rams went 0-7 with Goff under center en route to a 4-12 record.
Goff completed 54.6% of his passes, five for touchdowns, with seven interceptions. He was sacked 26 times.
The Rams made multiple offseason moves to nurture Goff's development, hiring 31-year-old Sean McVay as head coach and signing receiver Robert Woods and left tackle Andrew Whitworth to improve an offense that ranked last in the NFL the last two seasons.
McVay last season coordinated the NFL's third-best offense with the Washington Redskins. His staff features offensive coordinator Matt LaFleur — who worked as the Atlanta Falcons' quarterbacks coach the last two seasons — and quarterbacks coach Greg Olson and offensive line coach Aaron Kromer, both former NFL offensive coordinators.
That's substantially more schematic experience than a 2016 Rams offensive staff that featured a first-year NFL offensive coordinator and second-year quarterbacks coach.
"It's a way different offense," Goff said after the Rams' first OTA workout on Monday. "I've had a quicker time learning it, easier time learning it.
"I don't know whether that's scheme or the way it's taught or whatnot, but I've enjoyed spending time with the coaches and picking it up pretty quickly."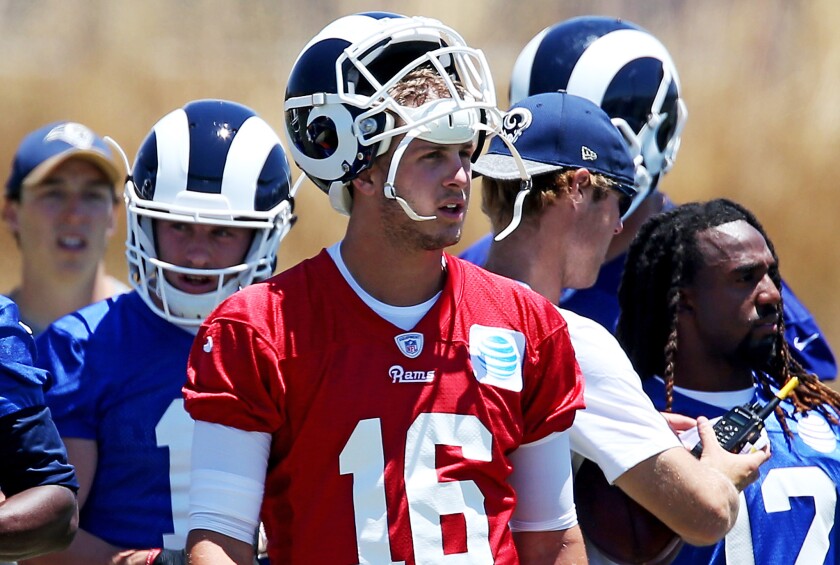 Every year I've kind of gotten bigger and stronger, and I'm still growing.
— Rams quarterback Jared Goff
McVay, who will call the offensive plays, has emphasized making the quarterback position easier,, Goff said.
"There's a lot of things that may have been on our plate before aren't now," Goff said. "But, there's also some things that are.
"It goes back and forth."
During an April minicamp, McVay praised Goff's ability to handle the rudimentary, such as getting the offense in and out of the huddle. On Monday, after the first OTA workout, he noted additional developments by Goff the passer.
"He's seeing some things, progressing through based on what coverages we're seeing," McVay said.
Goff also is making strides as a leader.
"What resonates with players is if you're genuine and authentic about it," McVay said. "I think he's got a nice way of just being himself and guys naturally gravitate toward him from what I've seen so far."
Said running back Todd Gurley: "He's always one of the first people in here. He's definitely always the last person out. … He's been doing a great job, doing what a quarterback is supposed to do."
Veteran receiver Tavon Austin is sitting out OTA drills while recovering from wrist surgery, but Goff is working to establish rapport and timing with Woods and other receivers such as rookie Cooper Kupp.
Woods and Goff worked out together before the voluntary offseason program began.
"He's been great," Goff said of Woods, who signed a five-year, $34-million contract in March. "He's been more than I could have really expected honestly. His work ethic and you can tell how much it means to him and how bad he wants it."
Goff worked out with Kupp, a third-round pick, before the NFL draft. The players share the same agents. Goff observed Kupp and other draftees during a rookie camp this month and practiced with them for the first time Monday in a team setting.
"He's looked really good,' Goff said of Kupp. "I'm excited for him and excited to see what he can do with us."
Goff won't start a regular-season game until September, so he has about four months to continue getting stronger and mastering the offense.
The Rams have eight more OTA workouts and a three-day mandatory minicamp before a break in mid-June. They will report for training camp in late July.
"Obviously, a lot of stuff to work on, still early on in the spring here," Goff said. "But, I feel good."
Notes
The Rams' workout on Tuesday was closed to the media. Thursday's workout also is closed. … The Rams this week waived tackle Kwayde Miller and defensive back Dravious Wright. They signed undrafted free-agent defensive tackles Omarious Bryant and A.J. Jefferson.
Follow Gary Klein on Twitter @latimesklein
ALSO
Super Bowl in Los Angeles is delayed a year; Inglewood will host in 2022
Danny Harris uses his time on the streets as a cautionary tale
Watch Reds' Joey Votto turn the tables on a heckler while in the on-deck circle
---
Get the latest on L.A.'s teams in the daily Sports Report newsletter.
You may occasionally receive promotional content from the Los Angeles Times.