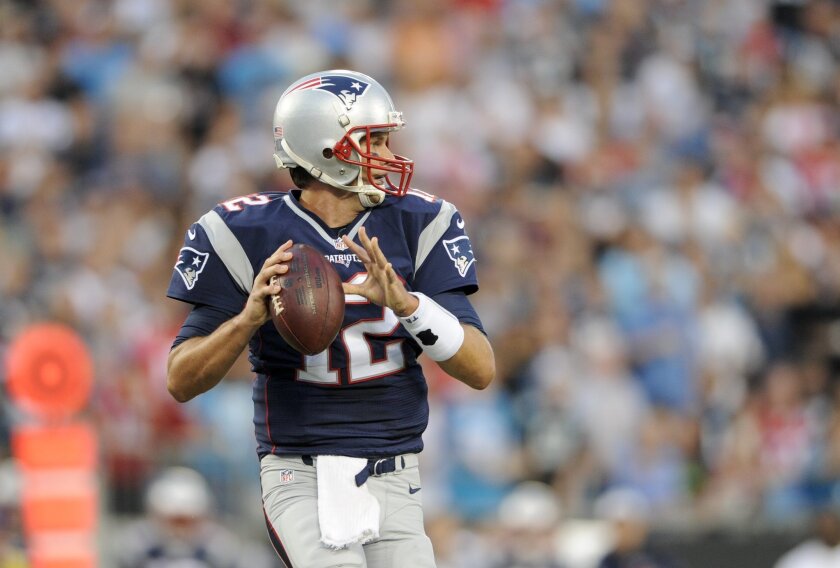 FOXBOROUGH, Mass. —
He spent the week immersed in controversy, trying to navigate through an impossible-to-win public relations battle with a popular hall of fame player.
No wonder Rams Coach Jeff Fisher was giddy to leave Southern California and the Eric Dickerson feud behind.
Fisher and his team also want to distance themselves from last week's humiliating defeat at New Orleans.
"Just a short trip," Fisher said, laughing, before the Rams departed on a near 3,000-mile journey to play the New England Patriots. "Hop, skip and a jump."
Sunday's game at Gillette Stadium marks the final long sojourn for a Rams team that returned home with victories after cross-country trips to Tampa Bay and East Rutherford, N.J., and losses at Detroit, London and New Orleans.
The matchup against the Patriots will probably be the most difficult.
The 4-7 Rams, losers of six of their last seven games, are 13 1/2-point underdogs against a Patriots team that is 9-2 and almost certainly on its way to a 14th playoff appearance in 17 seasons under Coach Bill Belichick.
Quarterback Tom Brady served a four-game suspension for the "Deflategate" scandal but the four-time Super Bowl champion is playing better than ever.
Brady faces a Rams defense that ranked among the NFL's best for nine-plus games before melting down in the final minutes against Miami and giving up 555 yards and 49 points against the Saints.
"Sometimes you get a wake-up call," defensive coordinator Gregg Williams said. "We've been pretty dominant for four or five weeks and all of a sudden, that wakes you up.
"I haven't had any problem holding their attention in the meetings this week."
The prospect of facing the 39-year-old Brady – with or without sidelined tight end Rob Gronkowski – also will do that. The 17th-year pro has passed for 18 touchdowns, with only one interception.
A week after future Hall of Famer Drew Brees accounted for five touchdowns for the Saints, the Rams must try to control a quarterback regarded by some as perhaps the best in NFL history.
"He doesn't make mistakes," cornerback Trumaine Johnson said.
"We have to find ways to do different things to get to him — some way, somehow," defensive tackle Aaron Donald said.
Fisher has not experienced recent success against Belichick and Brady.
In 2009, Fisher's Tennessee Titans lost at Gillette Stadium, 59-0. In 2012, the Patriots beat the Rams, 45-7, at Wembley Stadium in London.
The Patriots are averaging 26.6 points a game this season, which ranks sixth in the NFL.
The Rams rank last at 15.5.
That did not stop Belichick from engaging in hyperbole. During a teleconference with reporters this week, he described the Rams' offense as "explosive" multiple times.
The Rams won two games this season without scoring a touchdown.
"This is not going to be a 6-3 game," Fisher said. "That's not going to happen."
Last week, rookie quarterback Jared Goff passed for three touchdowns, with an interception and a fumble.
Now the No. 1 pick in the draft he faces a defense designed by Belichick and coordinator Matt Patricia.
"He's going to see different looks," Rams offensive coordinator Rob Boras said. "We know they're going to try to create confusion."
Goff, who like Brady grew up in the Bay Area, said he would be prepared.
"You don't really know what to expect going in," he said. "You have an idea on film, but you know they're going to bring something new every week – you have to be ready to adjust."
Running back Todd Gurley is among those eager to see the Rams open the playbook more. After constraining Goff with a conservative game plan against Miami, Boras gave him more opportunities to throw downfield against the Saints.
It could expand more against the Patriots, forcing Belichick to move safeties out of the area known as the tackle box, providing Gurley with better matchups.
"I'm pretty sure the Patriots are smart," Gurley said. "I'm pretty sure they'll know [Goff] can sling it a little bit. Hopefully, that takes a couple out of the box."
The forecast calls for game-time temperatures in the low 40s.
Not a problem, according to Goff.
"I've played in a bunch of cold weather," he said.
But never against the Patriots.
Twitter: @LATimesklein
---