Rams are reaping returns from receiver Pharoh Cooper on special teams
The Times' Gary Klein and Lindsey Thiry discuss the Rams (4-2) week in Jacksonville before they travel to London to face the Arizona Cardinals (3-3) in an NFC West divisional matchup. 
Reporting from JACKSONVILLE, Fla. —
Almost every time her son prepares to field a kickoff, when nerves overcome Tanya Cooper and it gets to be too much, she defaults to a tried-and-true game plan.
She turns her head to look away and asks her husband Glenn — or anyone else nearby — an urgent question.
"What did he do? What did he do?"
Last Sunday at EverBank Field, for a reason she cannot explain, Tanya kept her eyes on Pharoh Cooper.
From a seat high above the field, she and about 20 family members and friends watched as he caught the opening kickoff three yards deep in the end zone and returned it 103 yards for his first NFL touchdown, starting the Rams on their way to a 27-17 victory over the Jacksonville Jaguars.
"I was in awe. I was speechless," Tanya said, laughing. "I was yelling at the same time."
Cooper's return for a touchdown was the first by a Rams player since 2005. It moved Cooper to the top of the NFL's kickoff-return rankings at 31.7 yards per return, and earned him recognition as the NFC's special-teams player of the week.
It also fulfilled, at least for the time, Cooper's stated goal of becoming the best kickoff returner in the league.
"Finally busted one out," he said. "I told the guys all year long, 'We going to get one.' "
Cooper's emergence as an effective return specialist was not unexpected. The second-year receiver was a multipurpose star at South Carolina before the Rams selected him in the fourth round of the 2016 draft.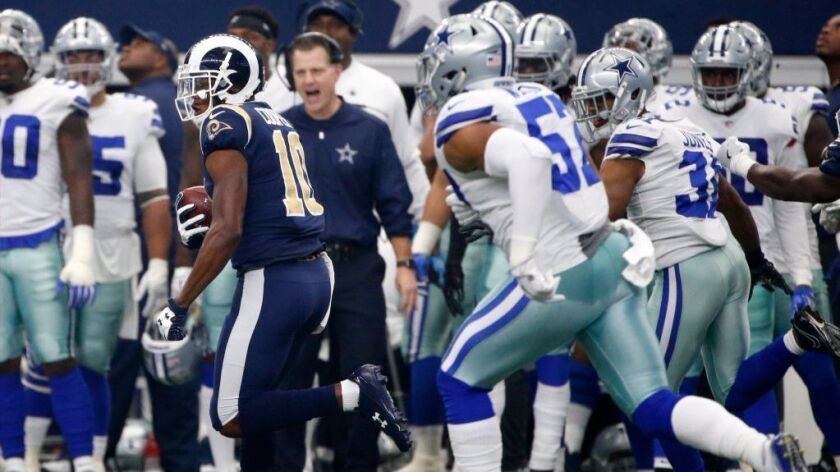 In Week 4, against the Dallas Cowboys, Cooper returned a kickoff 66 yards. In the next game, against the Seattle Seahawks, he caught two passes, one for 19 yards. Last week, he took over as the punt returner.
"Those are the kind of guys you love to have on your roster, and he's made an impact in a variety of ways for us," coach Sean McVay said.
The 5-foot-11, 207-pound Cooper is the younger of Glenn and Tanya Cooper's two sons.
The couple named his older brother Christian. Then came Pharoh.
"Not the spelling in the Bible — Pharoh minus the last A," Glenn said. "Still with the same meaning: ruler, exalter, king of sorts.
"I was like, 'That's a cool name, so I'm going to go with Pharoh.' "
Cooper grew up watching Percy Harvin star in college at Florida and then for the Minnesota Vikings as a multipurpose standout. Their size and skill sets, Cooper thought, were similar.
"He was the type of guy that did everything on the field like I did," Cooper said. "He was not too big, a guy I could relate to."
At Havelock (N.C.) High, Cooper played receiver, running back, defensive back and return specialist for team that won a state title his junior season. The next year, he started at quarterback and led his team to another title.
It was also in high school that he adopted the social media handle King Tutt_chdown.
"Just having some fun with it," said Cooper, who now drives a Porsche with the vanity plate KNGTUTT.
Despite his skills on offense, South Carolina recruited Cooper as a safety. When then-coach Steve Spurrier went to watch him, then-Havelock coach Jim Bob Bryant offered some advice.
"He's a great defensive player," Bryant told Spurrier, "but I'd figure out a way to get the ball in his hands."
A few weeks into practice at South Carolina, coaches told Cooper he would probably not get on the field on defense as a freshman. They asked whether he wanted to play receiver.
"I said, OK," Cooper said, grinning. "Best decision of my life."
Cooper played three seasons at South Carolina. He caught 18 touchdown passes and rushed for four touchdowns. He also passed for four touchdowns.
But he did not score on a kick return.
As a rookie last season, Cooper averaged 23.1 yards per kickoff return. His longest was 51 yards. His 66-yard return a few weeks ago against the Dallas Cowboys at AT&T Stadium indicated he was not far from breaking one for a touchdown.
Against the Jaguars, he caught the ball, began running and said he "pressed" to his left so he could then break to his right toward the sideline. A defender closed in to tackle him at the 17-yard line, but Cooper did a full spin to avoid the collision.
"Instincts," he said.
Mike Thomas delivered a good block, Blake Countess another.
"Everybody made key blocks," Cooper said. "The rest was up to me."
Cooper glanced down to make sure he was inbounds and began pulling away as he raced up the sideline.
As he crossed midfield and escaped a diving Jaguars player, he looked up at the giant video board at the end of the stadium. As he sped toward the end zone, he saw one last Jaguars player closing in at the 10-yard line.
"He wasn't going to catch me," said Cooper, who crossed the goal line, dropped the ball and then ran the width of the end zone toward the Rams' sideline, where he was greeted by elated teammates.
"It was a long run so I just feel like I had to keep running," he said, chuckling.
His parents could hardly believe it.
"I think we were happier for the whole event than he was," his father said. "He did what he set out to do."
Bryant, his high school coach, sent Copper a congratulatory text.
"I've seen that spin move a few times," he wrote.
So has Cooper's mother.
"That's from all that chasing when I gave him a spanking for cutting up," she said, laughing. "I told Pharoh it would come to use one day."
Cooper is happy to have found a role as a kick returner, but he is continuing to work toward earning more opportunities as a receiver.
He has three catches for 26 yards.
"The more plays you make," he said, "the more opportunities you get."
He is looking forward to his next kickoff return, Sunday against the Arizona Cardinals at Twickenham Stadium in London.
Now that he has one touchdown, he is eager to do it again.
"We're happy about the first one," he said. "Now we want to get some more."
Etc.
Safety Lamarcus Joyner, who has not played in the last three games because of a hamstring injury, was a full participant in practice at North Florida University and is on track to start against the Cardinals, McVay said. "It was a little bit modified tempo just dealing with the atmosphere," McVay said, "but he felt good and the anticipation is that he'll be ready to go and start for us."… Linebacker Mark Barron (thumb) and safety Cody Davis (thigh) did not practice. ... Quarterback Jared Goff, who started a fundraising campaign to aid those affected by the Northern California fires, said funds will be directed to the Sonoma County Fire Assn. ... The Rams will practice Thursday afternoon and then depart for London.
Follow Gary Klein on Twitter @latimesklein
---
Get the latest on L.A.'s teams in the daily Sports Report newsletter.
You may occasionally receive promotional content from the Los Angeles Times.