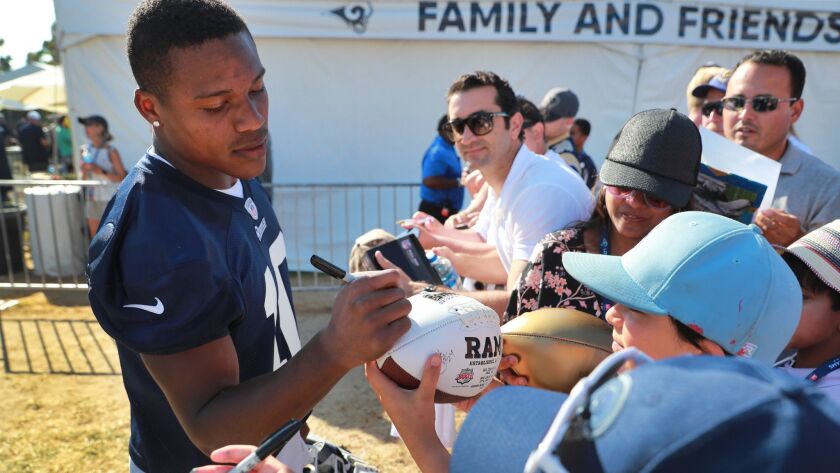 A season opener on "Monday Night Football" against the Oakland Raiders provides the Rams with the national spotlight.
Pharoh Cooper welcomes it.
"Monday Night Football," he said, "that's what everybody dreams of growing up."
Cooper made the Pro Bowl last season by averaging 27.4 yards per kickoff return and 12.5 yards per punt return. His highlight reel included a 103-yard kickoff return for a touchdown in a victory over the Jacksonville Jaguars.
But the season ended on a sour note, when Cooper was involved in two costly turnovers in the Rams' wild-card playoff defeat by the Atlanta Falcons.
Cooper muffed a punt, and the ball hit teammate Blake Countess and Cooper before the Falcons recovered it. Cooper also fumbled on a kickoff return in the 26-13 loss.
Cooper said throughout offseason workouts and training camp that he had put the game behind him. He reiterated that this week.
"We ain't worried about last year," he said.
Cooper is eager to build on last season's performance as a returner, and perhaps take on a greater role in the offense.
Last season, coach and play-caller Sean McVay consistently put receiver Tavon Austin in motion, mainly as a decoy. With Austin now playing for the Dallas Cowboys, Cooper could fill a similar role and more, especially if he proves a reliable pass catcher.
"Pharoh's a guy that definitely provides a similar skill set," McVay said Saturday.
Cooper is leaner this season, having dropped from 205 pounds to 200.
"I feel faster, lighter," he said. "When you drop a few pounds, it kind of makes a difference."
Big step
Rookie defensive lineman John Franklin-Myers is excited about the opener, but there is no special significance for him that it will be on "Monday Night Football."
"I don't care what it's on," he said. "I don't care if it's on Tuesday or anything. I'm just happy for the opportunity."
Franklin-Myers, a fourth-round draft pick from Stephen F. Austin, sat out the first preseason game because of shoulder soreness. He impressed coaches during the next two games and could play in a rotational role.
Franklin-Myers anticipates having to quickly acclimate to regular-season intensity.
"Until you feel that contact, you're anxious because you don't know how it's going to be," he said. "Then you get that contact and you realize, 'OK, I belong here.'
"You make your tackle, a sack, whatever it may be and then it's, 'This isn't nothing I'm not accustomed to.'"
Going home
Cornerback Marcus Peters' most recent memory of playing in hometown Oakland is not a pleasant one.
Last season with the Kansas City Chiefs, Peters was on the losing end when the Raiders tied the score on an untimed down at the end of regulation, and then kicked the extra point for a 31-30 victory.
But Peters is looking forward to playing again in front of family and friends.
"It's always a special moment for me to go home and play in the atmosphere of east Oakland, where I grew up playing and all those things," he said.
Etc.
Linebacker Mark Barron did not practice and is listed as doubtful. Ramik Wilson remains on track to start in his spot…. The Rams added Aaron Donald to the active roster and waived rookie offensive lineman Jamil Demby, a sixth-round draft pick from Maine.
Follow Gary Klein on Twitter @latimesklein
---