Rams fans won't know how their Super Bowl-buzzworthy team really will look until the remade roster steps onto the field for its Sept. 10 season opener at Oakland.
But the majority of the Rams faithful no doubt rejoiced Friday about a decision that directly influences what quarterback Jared Goff, running back Todd Gurley, defensive lineman Ndamukong Suh and their teammates will be wearing.
The Rams announced they will don their royal blue, yellow and white "throwback" uniforms for five home games this season, increasing by three the number of times they will don the popular and nostalgic ensemble. The throwbacks are now the team's primary color uniform until new uniforms are unveiled in 2020.
Uniforms have been a lightning rod of controversy for Rams fans since the Rams returned to Southern California from St. Louis in 2016.
Kevin Demoff, the Rams' chief operating officer and vice president for football operations, said the team sent correspondence from fans to the NFL as it considered the franchise's request to wear throwbacks more often.
"I'm excited for our fans because their voice was heard at the NFL office," Demoff said.
The Rams had blue and white uniforms in the mid-1960s and then changed to blue, yellow and white in the '70s. The St. Louis Rams colors were blue, gold and white.
The Rams' home uniform last season was a white and blue jersey with gold accents, white pants with a navy blue stripe and a blue helmet with white horns and a white face mask.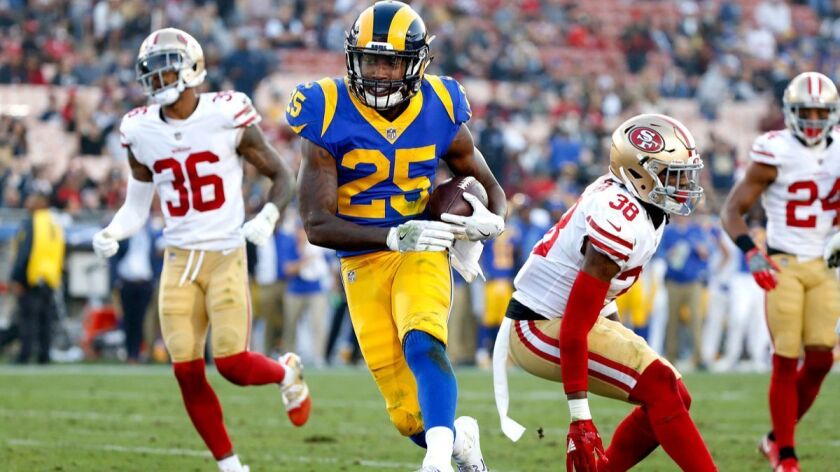 The road uniform was most often the white jersey with blue pants that featured a white stripe. Against the Dallas Cowboys, the Rams wore navy blue jerseys and blue pants.
The increased use of the throwbacks eliminates the unpopular navy blue ensemble.
The Rams will wear their white ensemble for preseason home games against the Oakland Raiders and Houston Texans and the first two regular-season games against the Arizona Cardinals and Chargers. The decision to wear white for those games was made because of expected heat in August and September, a team spokesperson said.
The Rams will wear so-called "Color Rush" uniforms in games at San Francisco and against the Kansas City Chiefs at Mexico City.
"I certainly have an appreciation for it," coach Sean McVay said of the decision to wear throwback uniforms more. "But we still got to go play football whether we're wearing whatever color.
"It's not something that I've really have given too much thought to, but throwbacks do look good, so that's good news."
Demoff said the Rams are in the early stages of formulating a plan for uniforms that will coincide with the team's move into their new Inglewood stadium in 2020. The Rams are working with Nike, the NFL and a local design firm.
"We're at the very beginning of that process," Demoff said. "We haven't looked at designs. We haven't looked at colors. We're still very much at the brand, logo and concept discussion."
Demoff said he felt "a ton of pressure" to get the uniform right, and that the Rams would seek fan feedback.
"We're going to figure out the best ways to do that," he said, adding, "We know where fans' passion on the colors of the uniforms lie, but we also want to make sure we walk into the world's newest, most modern stadium with a uniform design that's reflective of our history but also reflects the building we've just constructed."
Brown situation
Offensive lineman Jamon Brown, suspended for the first two games of the season for violating the NFL's substance abuse policy, pleaded guilty in January to misdemeanor charges of driving under the influence and speeding, according to court records in Kentucky.
Brown said Thursday that his suspension stemmed from an incident in 2017 when police stopped him for speeding and found marijuana in his car.
On Feb. 10, 2017, in Henry County, Brown was charged on suspicion of driving 26 miles per hour or more over the speed limit, careless driving, operating a vehicle under the influence, possession of marijuana and possession of drug paraphernalia, a spokesman for the Jefferson County Commonwealth Attorney's office said.
The careless driving, marijuana and paraphernalia charges were ultimately dismissed. Brown paid $538 in fines and was sentenced to four days of house arrest, the spokesman said.
Brown continued to work with the first-team offense Friday. He can participate in preseason games, but is suspended for the season opener at Oakland and the home opener against the Arizona Cardinals. He is eligible to return for the Sept. 23 game home against the Chargers.
Etc.
Defensive tackle Aaron Donald, absent because of a contract dispute, is now officially listed on the reserve/did not report list. … Rookie defensive lineman John Franklin-Myers worked some with the first-team defense. ... Receiver Mike Thomas was carted to the locker room after practice. He was treated for dehydration, a team spokesman said. … Receiver Brandin Cooks, working against new cornerback Marcus Peters, made an impressive catch over the middle on a pass from Goff. … Tight end Gerald Everett caught a deep pass from Goff in tight coverage. ... Tight end Temarrick Hemingway made a diving sideline catch on a pass from Sean Mannion. … Former Rams receiver Sammy Watkins' decision to cut his dreadlocks caused a social stir throughout the NFL. "I was actually surprised," said Rams receiver Robert Woods, who played with Watkins for four NFL seasons. "I had to doublecheck like, that's a new look. He's been talking about it for like some years now, and to finally see it is kind of funny. But it will grow. It's the new Sammy I know he has some philosophy to it, I'm sure." ... Rams will practice for the first time in pads on Sunday.
---