The Rams are unbeaten, they have given up the fewest points in the NFL and they rank sixth in the league in total defense.
And they achieved those feats with star defensive tackle Aaron Donald off to a slow start, at least if measured by sacks.
Donald, who signed a $135-million extension on Aug. 31, entered the season with 39 sacks and the title of reigning NFL defensive player off the year.
The Rams have just four sacks — second fewest in the league — and Donald has zero.
The fifth-year pro acknowledged that he was frustrated.
"It's going to come," he said, "so I ain't worried."
Donald gets another chance to start rolling when the Rams play host to the Minnesota Vikings on Thursday at the Coliseum.
The Rams are counting on Donald, Ndamukong Suh and Michael Brockers to be disruptive against a Vikings offense led by quarterback Kirk Cousins, who will face a Rams secondary depleted by injuries.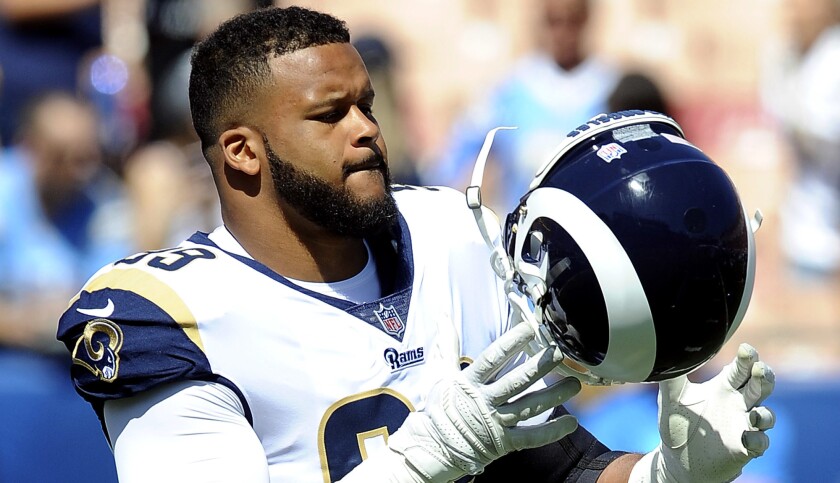 On Wednesday, the Rams put cornerback Aqib Talib on injured reserve. The 11th-year pro is scheduled to have ankle surgery Thursday, and he will be sidelined at least eight weeks.
Star cornerback Marcus Peters is regarded as questionable for Thursday's game because of a calf injury.
Sam Shields and Troy Hill are expected to start at cornerback against the Vikings.
They could use help from a defensive front that has applied pressure and been disruptive, but has not consistently taken quarterbacks to the ground.
The lack of sacks does not concern defensive coordinator Wade Phillips.
"As long as we're 3-0," he said, "I'm pretty comfortable."
Donald historically is not a fast starter.
As a rookie in 2014, he had one sack in his first three games and finished the season with nine. In 2015, he had 3½ sacks in the first three games and finished with 11.
In 2016, after the Rams returned to Los Angeles from St. Louis, Donald had zero sacks in the first three games and finished with eight. Last season, he had one sack in the first three games and finished with 11.
"We need to get to the quarterback a lot more, get him down," Donald said, adding, "We got to keep working the little things, find a way to open certain things so we can get to him."
Last season at Minnesota, the Vikings defeated the Rams, 24-7. It was Rams' lowest point total during an 11-5 season.
Cousins has replaced Case Keenum at quarterback for coach Mike Zimmer's team, but the defense returns.
"It was a humbling day for us, specifically offensively," Rams coach Sean McVay said of last season's defeat, adding, "After our first drive they regulated us.
"I put us in some bad down-and-distance situations, didn't make very good calls and coach Zimmer did and those guys made plays."
The Rams are averaging 34 points a game behind quarterback Jared Goff, who has passed for more than 350 yards in each of his last two games, including last week's 35-23 victory over the Chargers.
"He's got a much better feel for the offense," Zimmer said. "He throws the ball a lot better than I thought a year ago. He's more accurate. …
"He took a jump from his first year to his second year, but I feel like this year he's taken another jump — a big jump."
The Rams also have received a lift from their special teams.
Despite injuries suffered by kicker Greg Zuerlein and kick returners Pharoh Cooper and JoJo Natson, special teams have provided key plays in each of the last two victories.
Against the Chargers, Cory Littleton blocked a punt and Blake Countess recovered the ball in the end zone for a touchdown.
Littleton, the starting middle linebacker, was a special teams standout after signing with the Rams as an undrafted free agent in 2016. Last season against Jacksonville, he blocked a punt near the end zone that was recovered by Malcolm Brown and returned for a touchdown.
"It was my first excitement coming into this league, it was my main role," Littleton said of special teams play. "It's something that, honestly, most people don't like doing.
"But it grew on me, so I can't stop doing it."
Countess, a third-year defensive back, was named NFC special teams player of the week after scoring the touchdown against the Chargers, and also returning kickoffs after Natson suffered a broken hand during the game.
Countess had returned kicks in high school and in college at Auburn, but never in the NFL.
"I was nervous, just because I hadn't done it in awhile," said Countess, who averaged 25.5 yards for two returns. "I kept saying to myself, 'Just stick to your fundamental technique. Secure the catch and make something of it.'
"That's what I did."
Countess said he had informed teammates he would return kicks from the end zone rather than kneeling for a touchback.
"I let them know, 'If there's any doubt, I'm bringing it out,' " he said, laughing. "That's what it's really all about, stepping up when you're needed …
"That's how you stick around in this league. The more you can do, the more valuable you are to your team."
Follow Gary Klein on Twitter @latimesklein
---