Galaxy discovers their defense in time for crucial stretch drive
The Galaxy didn't win a game in August, which is a poor way to start a playoff chase. But they did find something they had been looking for and that might be enough to help them keep pace for the rest of the race.
After surrendering 14 goals in their previous five games, giving up leads five times in a four-game winless streak, the Galaxy showed some defensive muscle in last week's 1-1 draw with the cross-town rival Los Angeles Football Club. The only goal allowed came on a penalty kick, marking the team's best effort in more than a month.
"At least we know we have it and we can turn it on," said defender Dave Romney, who played one of his best games of the season against LAFC before leaving in the 89th minute after rolling his right ankle. "And it's something we have to keep turned on for the last stretch of games before the playoffs."
The question now is did they turn it on too late? The Galaxy enter Saturday's crucial road game with Real Salt Lake one spot out of a postseason berth with seven games to play. And they may have the most difficult schedule of any playoff contender over the final two months, beginning in Sandy, Utah, where RSL is unbeaten in its last 12 games.
"This one's big," midfielder Chris Pontius said. "The last four games we've dropped points and it's kind of bitten us in the butt."
Added midfielder Perry Kitchen: "For us, it's crucial to get three points."
The Galaxy could be hampered by more than just Utah's high altitude though. They played the last two games without four injured starters in midfielders Romain Alessandrini (knee), Jonathan dos Santos (groin), forward Gio dos Santos (quadriceps) and center back Michael Ciani (hamstring). And now you can add Romney to that list.
All five players trained Friday before the team headed to the airport for its flight to Utah.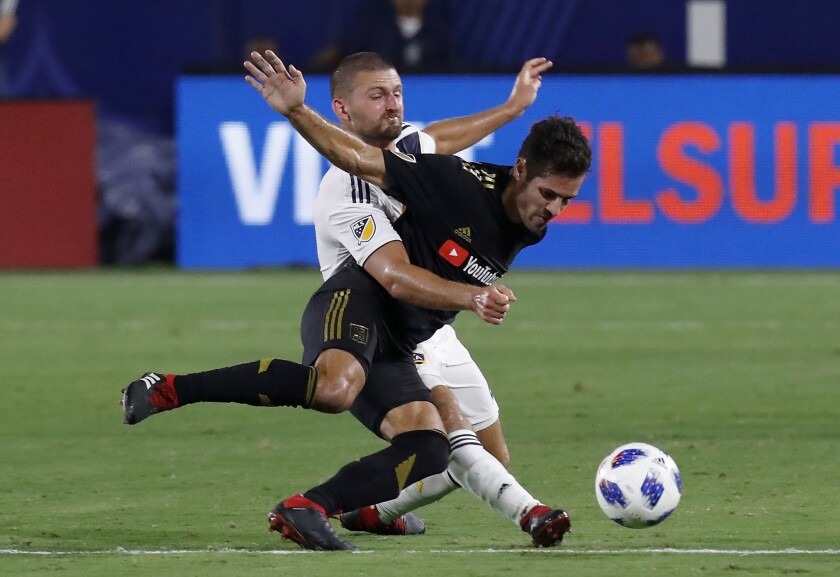 "We need all hands on deck," said coach Sigi Schmid, who believes his team must win its final three home games and pick up at least three more points on the road to have a realistic chance at a postseason berth.
Romney, whose ankle injury threatens a career-high streak of 14 consecutive starts said the team's chances of getting those 12 points likely rests with the defense. The team has scored 49 goals, second-best in the Western Conference, but it has given up 48. Only Vancouver, among playoff contenders, has allowed more.
"It's kind of like a whole team mentality rather than just the defenders," Romney said of the LAFC game. "Everyone on the team was extremely helpful defensively."
On the other end of the field, Zlatan Ibrahimovic needs just one goal to join Lionel Messi and Cristiano Ronaldo as the only active players with 500 for their career. But he'll also be playing his first game at altitude since coming to MLS.
"When you play, you just play the game. And if I can't breathe," he said with a shrug "another one comes in."
kevin.baxter@latimes.com | Twitter: @kbaxter11
---
All about the beautiful game
Go inside the L.A. pro soccer scene and beyond in Kevin Baxter's weekly newsletter.
You may occasionally receive promotional content from the Los Angeles Times.