Galaxy players take responsibility after firing of coach Sigi Schmid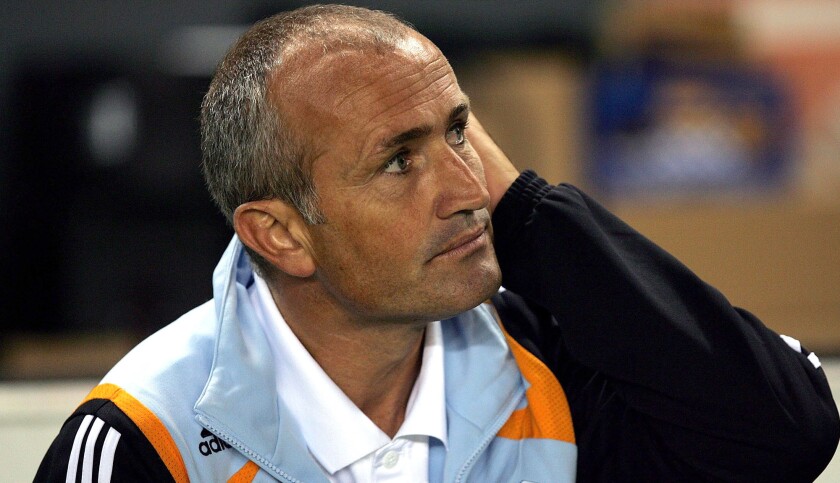 Reporting from Nashville —
A day after the Galaxy's second coaching change in 14 months, several players took responsibility for their former manager's fate while vowing to push forward in the MLS playoff race.
Captain Ashley Cole said the decision to relieve Sigi Schmid of his duties with six games left in the regular season was a wake-up call for a team that is two spots and three points removed from a Western Conference postseason berth.
"As players, when the manager gets sacked you have to look in the mirror and say 'it's not always the manager,' " Cole said Tuesday after the team's second training session under new coach Dominic Kinnear. "It's down to the players. We weren't winning games.
"This club should be fighting for playoffs, fighting for championships," he continued. "The last two years I've been here we haven't done that."
Although Schmid is the winningest coach in MLS history, the Galaxy were 12-18-12 since he took over for Curt Onalfo in July 2017 and are winless in their last six matches. The team has also been hemorrhaging goals, conceding 12 in the last three games and a conference-worst 54 on the season.
That left management with no choice but to make a change or write off the season, forward Zlatan Ibrahimovic said.
"This is football. I've been through it before and it will happen again, that's the way it is," he said. "When things don't go well and the results are not there, it's always the coach that takes that responsibility. This time it was Sigi."
Some players said privately that Schmid, who was also forced out in Seattle 20 games into the 2016 season, was not popular in the locker room. Ibrahimovic didn't disagree.
"Dominic talks more than what Sigi did. Different personalities," he said. "I think he has a good relationship with everybody. He's the one who does the tactics and goes through the opponents. He has been a head coach before, so I think everybody respects him."
Kinnear, who took the Houston Dynamo to consecutive MLS Cups a decade ago, said he was told Sunday the Galaxy were making him the fourth head coach in less than two years. The players didn't find out until they showed up for practice Monday.
"We were a little surprised, for sure," midfielder Servando Carrasco said. "You take a little bit of accountability for something like that. The coach's job is to get us prepared for the game, but once the game starts it's our job to get results."
Their next chance comes Saturday in Toronto against the defending MLS champions.
"Everyone knows the urgency of the situation," Kinnear said. "The only thing we can do the last six games is just to treat it like you should every game. You have to play with pride and play from minute one to 90 and try and win."
kevin.baxter@latimes.com | Twitter: @kbaxter11
---
All about the beautiful game
Go inside the L.A. pro soccer scene and beyond in Kevin Baxter's weekly newsletter.
You may occasionally receive promotional content from the Los Angeles Times.