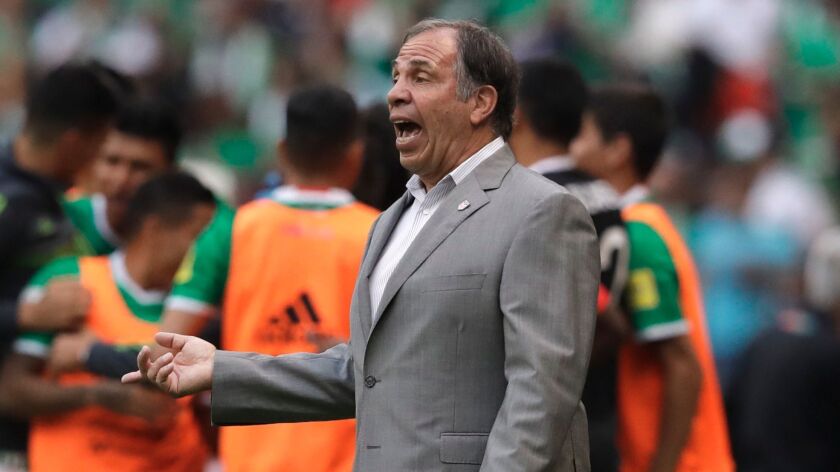 The last time Bruce Arena coached in the CONCACAF Gold Cup, the field included South Africa and Colombia, attendance averaged less than 14,000 a game and the U.S. won the title on a penalty kick from a 24-year-old Brad Davis following 120 scoreless minutes against Panama.
That was a dozen years ago and since then attendance has tripled, the field has been limited to teams from North America, Central America and the Caribbean, Davis has retired and the U.S. has won just one title since 2007. So when Arena returns to the Gold Cup on Saturday in Nashville, about the only thing he's likely to recognize is the opponent: The U.S. opens the 12-team competition against Panama.
The Gold Cup is set to kick off Friday with two Group A games in Harrison, N.J.: French Guiana plays Canada and Honduras meets Costa Rica in the first of nine group-play doubleheaders. Saturday's U.S.-Panama game at Nissan Stadium will be followed by a second Group B match between Martinique and Nicaragua, while Mexico, the defending champion, plays its first game Sunday in San Diego's Qualcomm Stadium against El Salvador, following the Group C opener between Jamaica and Curacao.
The top two finishers in each group, along with the top two third-place teams, will advance to the quarterfinals. The final is scheduled for July 26 at Levi's Stadium in Santa Clara, Calif.
And though all that is familiar to some, it's a little fuzzy to others.
"I don't know the exact guidelines they have this time around," Arena confessed earlier this week. "Regardless of that, it's important to win your confederation championship. And we're certainly setting our sites on that."
In addition to regional bragging rights, though, winning the biennial tournament now guarantees the victor a place in a 2019 playoff to determine the CONCACAF representative in the next Confederations Cup. That's nice, but it pales in comparison to a berth in next summer's World Cup — which is why the U.S., Mexico and other teams are starting the Gold Cup with "B" teams, resting their top players for the resumption of World Cup qualifying in September.
For the group stage, that means no Christian Pulisic, Michael Bradley or Clint Dempsey for the U.S. and no Javier Hernandez, Gio dos Santos or Hirving Lozano for Mexico. Also among the missing are goalkeepers Jamie Penedo (Panama) and Keylor Navas (Costa Rica), forward Luis Tejada (Panama), midfielder Christian Bolanos (Costa Rica) and defender Emilio Izaguirre (Honduras).
Teams are permitted to amend their rosters after the opening round, however, meaning some of those players could eventually take part.
In the meantime, those absences have created opportunities for others. The roster Arena called up, for example, features 13 players who have appeared in fewer than 10 games with the national team, and 11 players who are no older than 26. That can mean headaches for a coaching staff that must build a team around players who have never played together before.
"That's always the challenge with national teams. Especially this time around where we have to give certain players a break," Arena said. "In some ways we have a new identity with this team."
Mexican coach Juan Carlos Osorio agrees. He had his first-choice team in Russia for the Confederations Cup last week, leaving him to start the Gold Cup with a whole new roster — one that includes 17 players who have fewer than 10 international caps.
"We need to give our players a chance … to compete against the best and become better and better and better," Osorio said. "In terms of improving the level of play, that's the best thing we have done for Mexico — giving the chance to new players and consolidating new players."
Mexico has won three of the last four Gold Cups, while the U.S. is coming off a fourth-place performance under Jurgen Klinsmann in 2015, its worst finish since it placed fifth in Arena's first tournament 17 years ago.
GOLD CUP SCHEDULE
Group A
Friday: French Guiana vs. Canada and Honduras vs. Costa Rica, Red Bull Arena, Harrison, N.J.
Tuesday, July 11: Costa Rica vs. Canada and Honduras vs. French Guiana, BBVA Compass Stadium, Houston
Friday, July 14: Costa Rica vs. French Guiana and Canada vs. Honduras, Toyota Stadium, Frisco, Texas
Group B
Saturday: U.S. vs. Panama and Martinique vs. Nicaragua, Nissan Stadium, Nashville, Tenn.
Wednesday, July 12: Panama vs. Nicaragua and U.S. vs. Martinique, Raymond James Stadium, Tampa.
Saturday, July 15: Panama vs. Martinique and Nicaragua vs. U.S., FirstEnergy Stadium, Cleveland
Group C
Sunday, July 9: Curacao vs. Jamaica and Mexico vs. El Salvador, Qualcomm Stadium
Thursday, July 13: El Salvador vs. Curacao and Jamaica vs. Mexico, Sports Authority Field, Denver, Colo.
Sunday, July 16: Jamaica vs. El Salvador and Curacao vs. Mexico, Alamodome, San Antonio, Texas.
Knockout stage
Quarterfinals
July 19: Group A winner vs. Group B runner-up and Group B winner vs. third-place team from Groups A or C, Lincoln Financial Field, Philadelphia.
July 20: Group C winner vs. third-place team from Group A or C and Group C runner-up vs. Group A runner-up, University of Phoenix Stadium, Glendale, Ariz.
Semifinals
July 22: Winners of Philadelphia quarterfinals, AT & T Stadium, Arlington, Texas
July 23: Winners of Glendale quarterfinals, Rose Bowl, Pasadena
Final
July 26: Levi's Stadium, Santa Clara
NOTE: Clear Bag Protocol
CONCACAF, following the lead of the Galaxy and other teams, will enforce a "clear bag" policy at each of the Gold Cup's 14 venues, including the Rose Bowl, Santa Clara's Levi's Stadium and Qualcomm Stadium in San Diego. Bags that do not meet the following criteria will not be allowed into the venue:
-- Clear plastic, vinyl or PVC not exceeding 12" x 6" by 12"
-- One-gallon freezer bags (Ziploc or similar)
-- Small clutch bags approximately the size of a hand will also be permitted.
Twitter: kbaxter11
---