FC Dallas goalkeeper Seitz is heroic in the net and as a bone marrow donor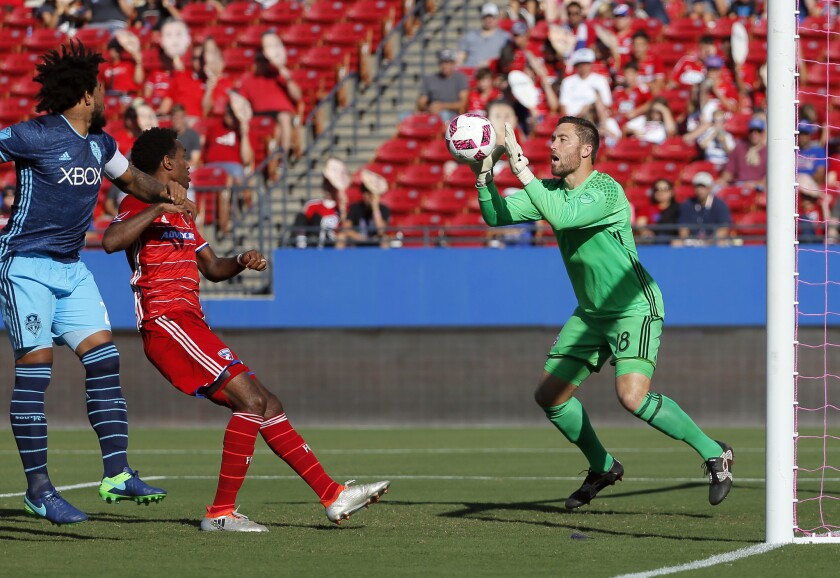 A year ago Chris Seitz was FC Dallas' third-string goalkeeper, a status he owed partly to the fact FC Dallas didn't have four goalkeepers.
Now he's the best in the league at his position. And the change, says his coach, started with Seitz's desire to make a difference.
"Last year was just a big wakeup call," said Drew Keeshan, FC Dallas' goalkeeping coach. "There's obviously a couple of ways you can respond to that. Chris did it in the right way.
"Everything he did in the off-season, you could tell that this needed to be a big season for him. You're seeing that on the field now."
Indeed. Heading into Sunday afternoon's regular-season finale with the Galaxy at the StubHub Center, Seitz leads MLS starters in goals-against average (1.07) and winning percentage (51.9%) and ranks second in shutouts (9) and victories (14). That has helped Dallas to the best record in the league and its first U.S. Open Cup title in 19 years.
But it's not the first time Seitz stepped up to make a difference. Four years ago, with just two months left on his contract and a pregnant fiancée to care for, Seitz put everything on hold to donate bone marrow to a dying cancer victim he had never met.
It proved to be the most important save of his career because Phil Richiuso, once given only six months to live, is now healthy and his cancer is in remission.
For Keeshan, Seitz's willingness to embrace both challenges – one that changed his career and another that changed a life – came from the same place.
"His character," the coach said. "That just sums it up in one action. He's a selfless guy."
Which makes Seitz the kind of guy ideally suited for a position where big plays routinely go unnoticed but one mistake can cripple a season. With goalkeepers, making personal sacrifices is part of their DNA.
Just ask Richiuso, a Navy veteran and retired missionary from Erie, Pa., who was diagnosed with acute myeloid leukemia in June 2012.
"We just started praying," Richiuso said.
In Dallas, Seitz was in his second season as a backup keeper, playing for his third MLS team in four seasons. A few years earlier, when Seitz was with Real Salt Lake, the whole team had registered with a bone-marrow database in solidarity with the wife of a teammate who was battling leukemia. By the time Seitz got to Dallas, though, he was routinely discarding the monthly emails from the donor center.
However Richiuso's case was so urgent that Seitz – who proved to be a near-perfect match – got a phone call. Weeks earlier Seitz's father had donated bone marrow in an unsuccessful effort to save a brother, so Seitz understood the gravity of the situation.
"It actually hit really close to home in terms of what it would mean to the person in need and to the family," Seitz said. "So it made the decision pretty easy."
What wasn't as easy was telling the club. The season still has months to go and Seitz, the team's only backup, would be left sore and fatigued by an operation in which doctors would make two incisions in his lower back, then use 32 needles to remove marrow from his bones. According to the donor center, no other professional athlete had ever agreed to donate marrow while his sport was in season.
The team could release him, Seitz knew. It almost certainly wouldn't re-sign him. Not that any of that mattered.
"For me it was more of a principle thing," he said. "If it didn't go well…and FC Dallas didn't give me their best wishes, I was willing to take a chance."
Instead, the team rallied to his side. Then-coach Schellas Hyndman, who said he was so moved by Seitz's sacrifice he teared up, readily gave his blessing. Ownership, meanwhile, not only picked up his contract option, but added a 20% raise.
Four years later, the gesture still moves Richiuso to tears.
"It just amazed me that someone you don't know would risk his career, basically his livelihood, to help a total stranger," he said. "That someone would step up the plate and say, 'Listen, a life is worth more than a career in soccer.' How can that not touch you?"
Before the operation, Rischiuso said he didn't understand soccer, much less follow it. Now he watches Seitz's games on the Internet or on TV in Spanish, a language he doesn't speak.
"Because of [him] I've had four years more," said Richiuso, 58. "I really love this guy."
Those who have played with Seitz say the episode only underscores the kind of person he is. After goalkeeper Dan Kennedy, now with the Galaxy, took over the starting job in Dallas last spring, Seitz remained supportive, often making suggestions that raised Kennedy's game – and pushed Seitz farther down the bench.
"He's got a great moral compass about him," Kennedy said. "He's just a good man. He has the trust of every single guy in that locker room.
"He's always going to do the right thing and he's always going to lend a helping hand."
Although the bone-marrow transplant won Seitz the league's Humanitarian of the Year award, his play this season has Dallas among the favorites to win the MLS Cup, something the team has never done.
But if Seitz comes up short there's little chance the father of three young girls will have trouble remembering what's really important.
"Soccer is my profession. It's something I love to do," he said. "But my family and my life outside soccer is the most important thing. Obviously the donation is a big part of that."
To register as a bone-marrow donor, go to www.bethematch.org or www.dkms.org
Twitter: @kbaxter11
---
All about the beautiful game
Go inside the L.A. pro soccer scene and beyond in Kevin Baxter's weekly newsletter.
You may occasionally receive promotional content from the Los Angeles Times.