FIFA president raises political stakes with comments on World Cup expansion
Reporting from moscow —
FIFA President Gianni Infantino is again meddling in Middle East politics.
Speaking Friday at his only formal World Cup news conference, Infantino made it clear as he has previously that he would like to see the World Cup field expand to 48 teams when the tournament resumes in Qatar in 2022. That would be problematic for the tiny kingdom, so Infantino is pitching a plan that would have Qatar share the World Cup with some of its Middle East neighbors.
Here's the rub: Several of those countries — including Saudi Arabia, Bahrain, Egypt and the United Arab Emirates — abruptly cut off diplomatic relations with Qatar 13 months ago and imposed a blockade on the country.
"Maybe we could bring those who are having difficulties communicating with each other to start dialogue," Infantino said. "The door is slightly ajar and we will see how it moves on from there."
The emir of Qatar is expected to attend the World Cup final on Sunday, and Infantino sat with the Saudi crown prince at the opening game on June 14.
Infantino says Qatar can insist on keeping a 32-team format, though he is "pretty sure that all options will be on the table." FIFA had originally planned to expand the World Cup to 48 teams in 2026, when the U.S., Mexico and Canada will jointly stage the tournament.
Infantino sees participation in a World Cup as a powerful tool to help grow the sport in developing countries.
"There is nothing more powerful than participating in an event like the World Cup to boost football," he said.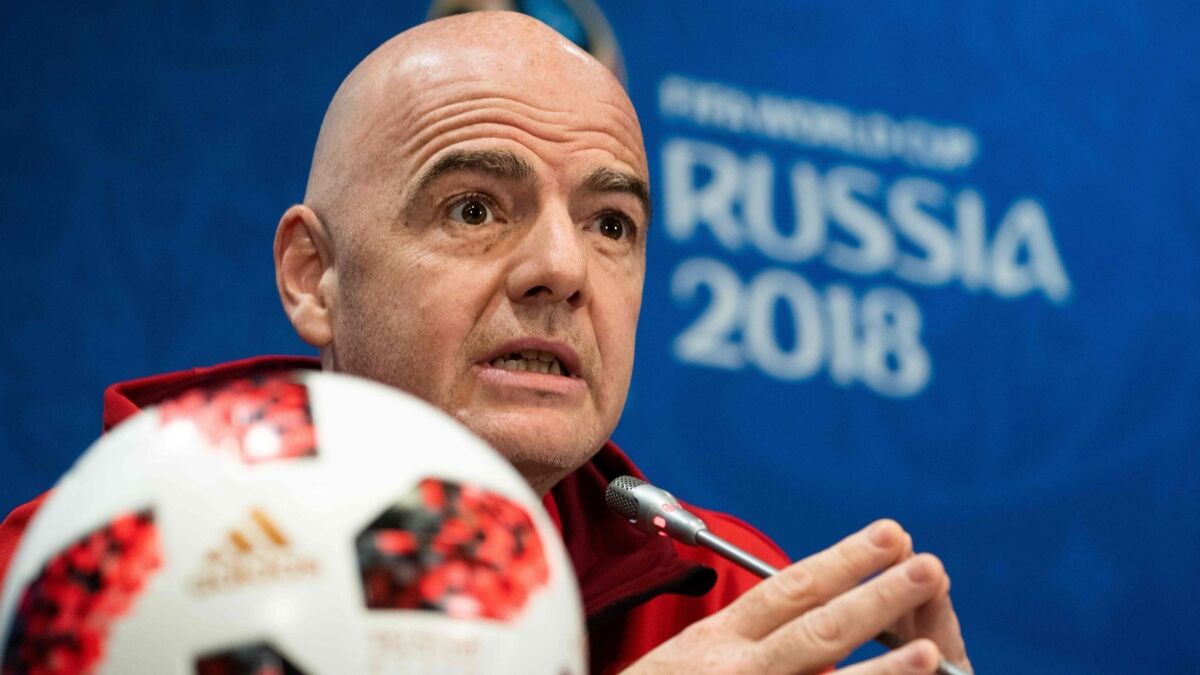 Among the options that have been considered is a playoff round involving 32 nations from which 16 winners would join 16 seeded teams in a traditional group stage. But that format was rejected in January 2017 by FIFA's ruling council when it agreed to expand the World Cup.
"Yes, it's doable, we just need to figure out how it is done," Nasser Al Khater, Qatar's assistant secretary general for tournament affairs, told reporters earlier this month. "If the format is done right, it could actually be an addition that is exciting."
A further barrier to expanding the tournament to 48 teams and 80 games in Qatar is any format that would add to the 28-day World Cup schedule already agreed to for November-December 2022. Those dates are already a departure from the regular midyear schedule and Europe's top leagues have said it would be unacceptable for them to lose another weekend of games in November to add extra World Cup playing days.
FIFA and Qatari organizers have said that final decisions about the 2022 tournament are needed before the worldwide program of qualifying games starts early next year.
Thai soccer team invited
The boys' soccer team rescued from a flooded cave in Thailand has been invited to FIFA's annual awards ceremony in September. The 12 boys and their coach were originally invited to attend Sunday's final, but authorities feared they weren't healthy enough to make the trip.
Nike was uniformly successful
Regardless of the score on Sunday, Nike will be a big winner since both Croatia and France will be wearing kits designed by the Oregon-based company in the first all-Nike World Cup final.
Adidas sponsored 12 of the 32 teams at the World Cup compared to Nike's 10. The 2014 final was an all-Adidas affair with both Argentina and Germany wearing kits designed by the German sports apparel giant.
Of the other manufacturers in 2018, Puma supplied kits for four teams, New Balance for two and Errea, Hummel, Uhlsport and Umbro one apiece.
The Associated Press contributed to this report.
kevin.baxter@latimes.com | Twitter: @kbaxter11
---
All about the beautiful game
Go inside the L.A. pro soccer scene and beyond in Kevin Baxter's weekly newsletter.
You may occasionally receive promotional content from the Los Angeles Times.