U.S. loses to Costa Rica, 2-0, in danger of not qualifying for World Cup
Reporting from HARRISON, N.J. —
When it comes to World Cup qualifying, Costa Rica has found a way to bring out the worst in the U.S.
With Marco Urena scoring two goals and goalkeeper Keylor Navas making two splendid saves, Costa Rica dealt the U.S. a loss of historic proportions Friday, winning 2-0 before a sellout crowd of more than 26,000 at Red Bull Arena. And that leave the Americans' chances of qualifying for an eighth consecutive World Cup very much in doubt.
The loss was the first in a home qualifier with Costa Rica in 32 years. And combined with a loss to Mexico last fall, it marks the first time the U.S. has dropped two home games in the same qualifying cycle since 1957.
With Costa Rica having beaten the visiting U.S. 4-0 in a November qualifier, Friday's loss also marked the first time the U.S. has been swept in two qualifiers since Mexico did it 1972.
The difference between then and now is the U.S. wasn't expected to qualify for the World Cup in 1957 and 1972. They are these days. And after losing for the third time in seven qualifiers, they have a lot of work to do to meet those expectations.
"We've got to put this past us real quick," said coach Bruce Arena, who lost for the first time in 15 games this year. "We lost to a team that played better than us tonight.
"We're not going to be able to get this game back. It's over with. And we've got to regroup."
They'll have to do that quickly because on Tuesday the U.S. will travel to play Honduras — a 2-1 winner over Trinidad and Tobago on Friday — in San Pedro Sula. With three games left in the CONCACAF tournament the U.S. is tied with Honduras for third place, trailing both Mexico and Costa Rica and leading Panama by a point.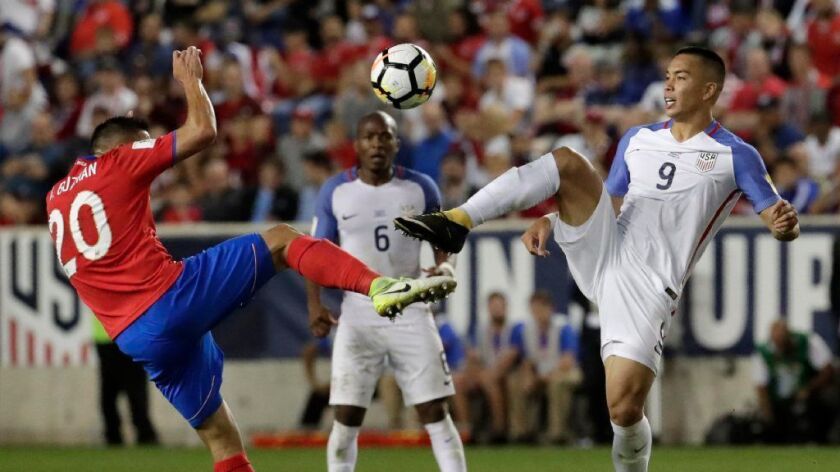 Only the top three teams qualify automatically for next summer's World Cup in Russia.
"It's all still in our hands," captain Michael Bradley said. "We're ready to go down to the wire to get ourselves into the World Cup."
The difference Friday was Urena, who capitalized on a shoddy U.S. defense to score a goal in each half. On the first, in the 30th minute, he latched on to a through ball from Bryan Ruiz and outraced U.S. defenders Geoff Cameron and Tim Ream deep into the U.S. end.
Near the edge of the 18-yard box Urena spun away from Cameron to the right, got around Ream to the outside, then slipped a sliding right-footed shot under goalie Tim Howard at the back post.
It was the first time in 10 games that the U.S. had allowed the first goal — an ominous stat considering the Americans entered Friday having won just once in 37 qualifiers that they trailed at the half.
It was also a rough baptism for Arena's central defense. With John Brooks unavailable because of injury, Cameron and Ream started together in the middle of a four-man back line for the first time — and they were punished again for the second Costa Rican goal in the 82nd minute.
That sequence started with David Guzman intercepting a poor pass from Cameron and sending the ball ahead for Urena, who went in alone on Howard and rolled a shot by him from the edge of the penalty area.
"Our backline made some mistakes," Arena said. "We didn't come up with any big saves."
The best U.S. scoring efforts both came midway through the second half and Navas thwarted both, reaching up with his right hand from a sitting position to bat down a Christian Pulisic shot, then smothering an attempt by Jozy Altidore minutes later.
Altidore also drew a yellow card late in the second half, making him ineligible for Tuesday's game in Honduras, one that is now a just-win match for the U.S.
When the final whistle sounded, the Costa Rican sideline emptied and the joyous players and coaches embraced near the center circle, then turned to salute their fans, who accounted for about a quarter of the sellout crowd.
Arena, meanwhile, was left fielding questions about whether his team has the character to rebound after losing a game it expected to win.
"Well we're going to find that out aren't we?" he said. "You hate to look at one game and not look at the whole. Tonight was not our night. We didn't play well.
"[But] we still have three games left in the competition. We're still in position to qualify for the World Cup."
Follow Kevin Baxter on Twitter @kbaxter11
---
All about the beautiful game
Go inside the L.A. pro soccer scene and beyond in Kevin Baxter's weekly newsletter.
You may occasionally receive promotional content from the Los Angeles Times.