Jameis Winston accused of grabbing the crotch of a female Uber driver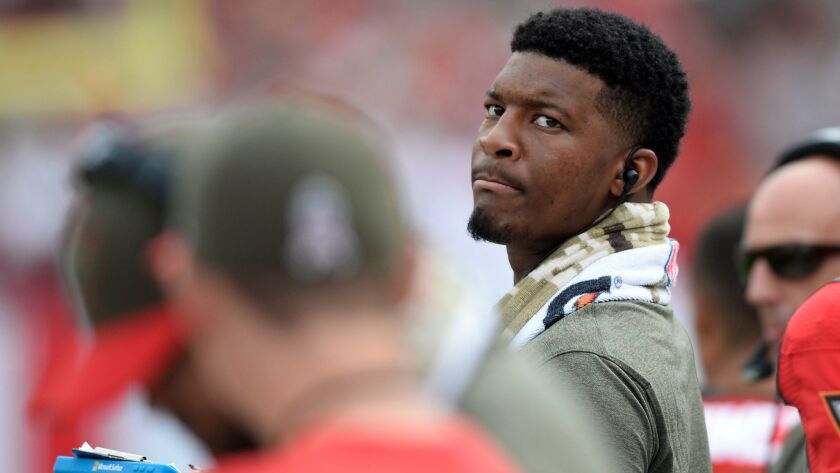 The NFL is investigating allegations that Tampa Bay Buccaneers quarterback Jameis Winston grabbed the crotch of a female Uber driver last year, according to BuzzFeed News.
When asked by the Tampa Bay Times to confirm the report, NFL spokesman Brian McCarthy said, "The matter is under review." McCarthy also said that the league has requested any information on the alleged incident from Uber.
The Buccaneers said in a statement: "We take these matters seriously and are fully supportive of the investigation that is being conducted by the NFL."
The Uber driver told BuzzFeed that she picked up Winston as a passenger downtown in Scottsdale, Ariz., around 2 a.m. March 13, 2016. He was in the area for a charity flag football event.
"I started driving, and right away, Jameis behaved poorly," she said, adding that he yelled homophobic slurs toward pedestrians.
She said he requested that she take him to get something to eat at Los Betos Mexican Food. While waiting in the drive-through line, the driver said, "he reached over and he just grabbed my crotch." She said he held it there for three to five seconds and removed it only after she angrily said, "What's up with that?"
The driver told BuzzFeed: "I mean he's an NFL quarterback and I'm 5-foot-6. I'm not prepared for that. So I completely froze."
She added that she's not seeking any money from Winston but just wanted to tell her story "about a powerful man who felt entitled to my body when all I wanted to do was my job."
Winston denied the allegations Friday with a statement on Twitter:
"A news organization has published a story about me regarding an alleged incident involving a female Uber driver from approximately two years ago. The story falsely accuses me of making inappropriate contact with this driver. I believe the driver was confused as to the number of passengers in the car and who was sitting next to her. The accusation is false, and given the nature of the allegation and increased awareness and consideration of these types of matters, I am addressing this false report immediately. At the time of the alleged incident, I denied the allegations to Uber, yet they still decided to suspend my account.
"I am supportive of the national movement to raise awareness and develop better responses to the concerns of parties who find themselves in these types of situations, but this accusation is false. While I am certain that I did not make any inappropriate contact, I don't want to engage in a battle with the driver and I regret if my demeanor or presence made her uncomfortable in any way."
Winston's representative, Russ Spielman, told BuzzFeed in a statement: "We categorically deny this allegation. It is our understanding the uber driver was unable to identify the specific individual who allegedly touched this driver inappropriately. The only reason his name is being dragged in to this is that his uber account was used to call the ride."
BuzzFeed posted screenshots of the complaint the driver filed with Uber and also of a text the driver sent to a friend later that day. Both featured similar accounts of the alleged incident.
NFL special counsel for investigations Lisa Friel sent a letter to an Uber driver stating that the NFL has opened an investigation into an alleged incident between her and Winston, according to BuzzFeed.
Winston was accused of sexual assault in 2012 but not charged with a crime. He settled a civil lawsuit with his accuser late last year.
Twitter: @chewkiii
---
UPDATES:
11:20 a.m.: This article was updated with a statement from Jameis Winston.
11 a.m.: This article was updated with a statement from the Tampa Bay Buccaneers.
This article was originally posted at 10:50 a.m.
---
Get the latest on L.A.'s teams in the daily Sports Report newsletter.
You may occasionally receive promotional content from the Los Angeles Times.